10 Ways to Have a Frugal DIY Christmas on Your Homestead
With a little bit of imagination, you can decorate your homestead with a budget of a few dollars. Check out this DIY Christmas inspiration.
As joyous as this time of year is, it can be incredibly expensive. Between the gifts and the parties, it's far too easy to empty your bank account without even trying. However, you can give your wallet a break when it comes to Christmas decor. With so many wonderful holiday DIYs floating around, decking the halls has never been easier (or cheaper)!
Here are a few of my favorite DIY Christmas decor ideas for this holiday season!
1. Thumbtack & Canvas Art
Since craft stores practically give away canvas during the holiday season, it's not a bad idea to stock up and DIY this lovely "Joy" sign at the same time. Grab a box of thumbtacks from the dollar store and you're good to go! You can paint the canvas any color you desire with either acrylic paint or spray paint. Make sure to use thin coats so the texture of the canvas still shows.
Instructions and Photo via At Home With H
2. Snowy Wine Bottle Centerpiece
No need to buy fake snow to make these lovelies! A little bit of Epsom salt and spray adhesive is all it takes to turn these upcycled wine bottles into a mini wintery wonderland! You could probably even put candles in them if you wanted to.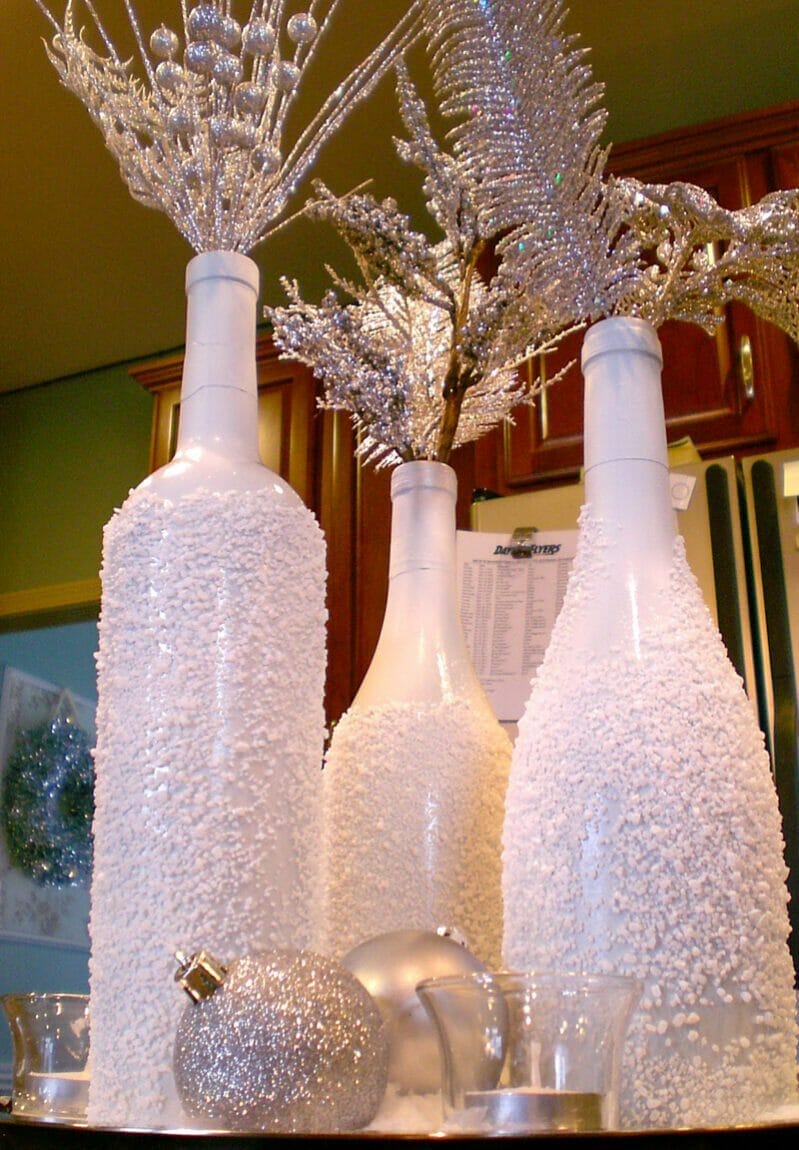 Instructions and Photo via Cleverly Inspired
3. Simple and Festive Mason Jar DIY Ornaments
Have spare mason jar lids and craft supplies laying around? Take 20 minutes to make a few of these adorable mason jar ornaments. This is a fantastic beginner DIY Christmas project, and perfect to do with the kids!
Instructions and Photo via The Frugal Homemaker
Another kid-friendly mason jar ornament is a wreath ornament made from mason jar rings with hot glue and your choice of card stock snowflakes, pom poms, greenery, and/or berries.
Instructions and Photo via Design Improvised
For more mason jar crafts (including holiday decor), check out 16+ Enchanting Mason Jar Craft Ideas You'll Love to DIY.
4. DIY Candy Cane Vase
Candy canes aren't exactly a dime a dozen, but they're not far off. Use these inexpensive Christmas staples to create a delightful vase — perfect for any festive bouquet. The bow literally ties it all together.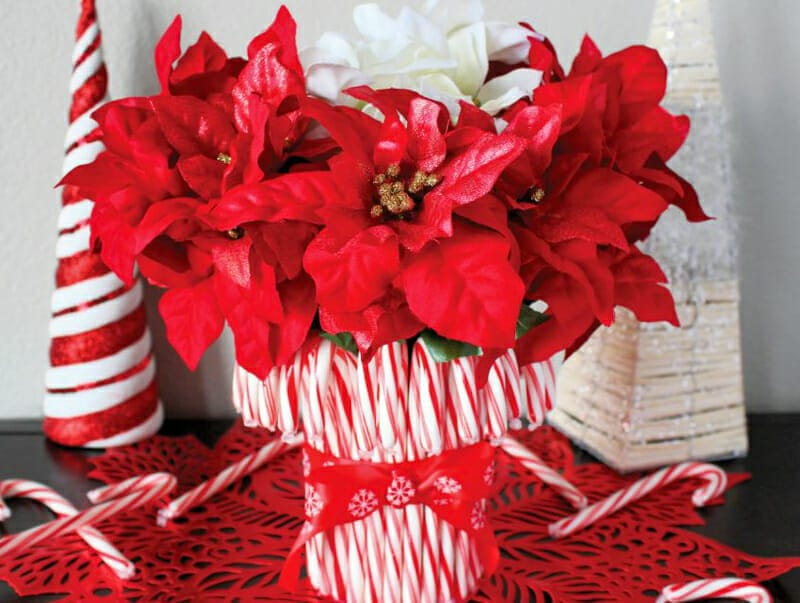 Instructions and Photo via Living Well, Spending Less
5. Bow Wreath
How amazing is this wreath? For only $15 in supplies, this 30-minute wreath of bows is bound to get tons of oohs and ahhs from your impressed guests. This would be so cute hung on a covered porch. I'm not sure how well it will handle extreme elements.
Instructions and Photo via Design Improvised
6. Ornament Garland
How can something so easy to make look so complicated? This stunning ornament garland is made with ribbon and baubles — both of which can be purchased at the dollar store! If you're feeling super crafty, you can use homemade ornaments like these crochet ones.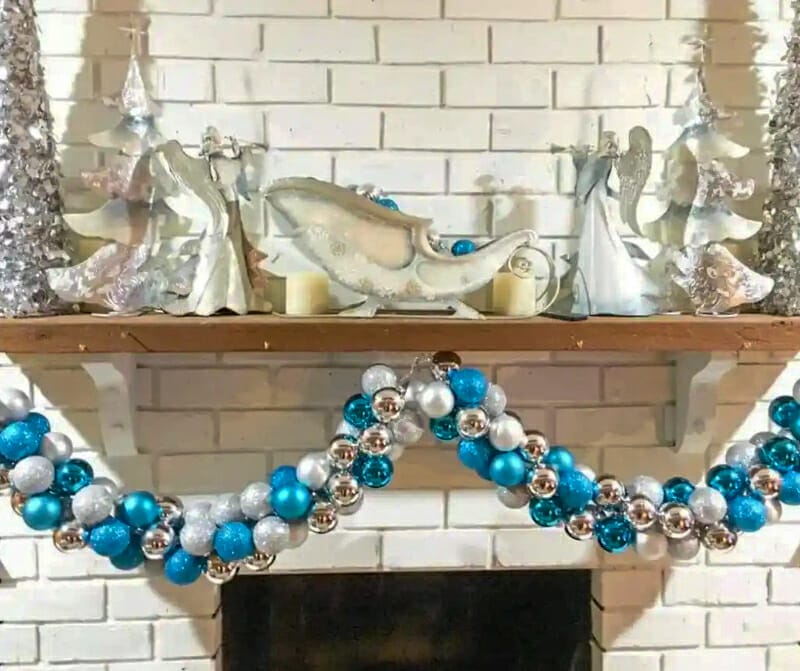 Instructions and Photo via Jasper & Willow
7. Framed Christmas Quote
Free printables combined with thrift store frames are a great way to up your decor game without breaking the bank. These look really cute on the mantel.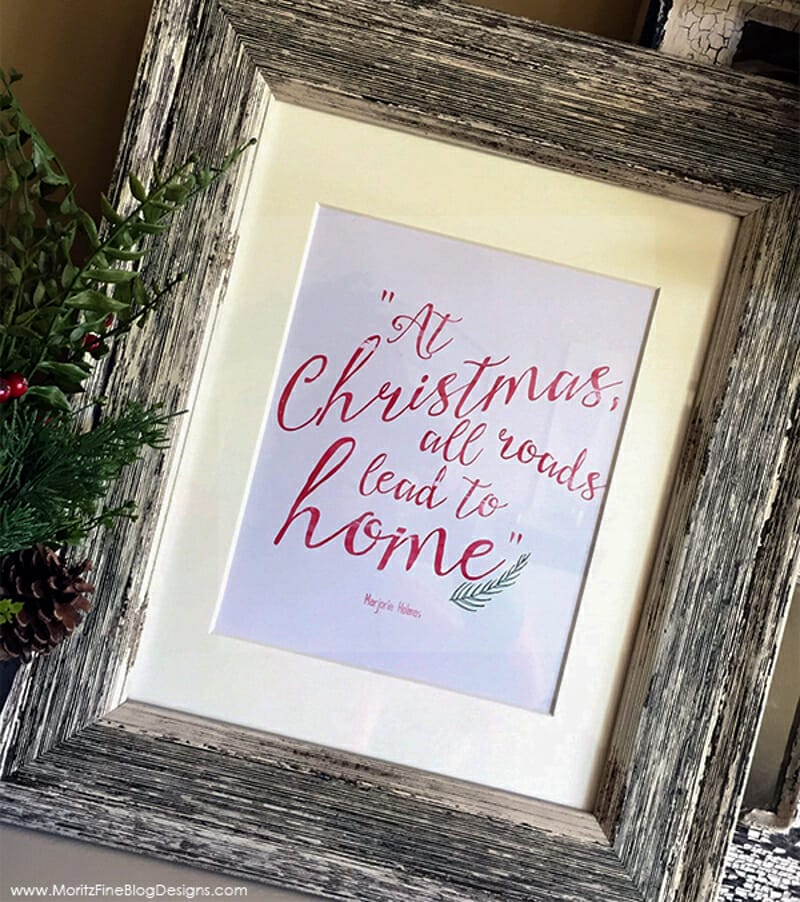 Printable and Photo via Moritz Fine Designs
8. Easy Holiday Wall Art
These gorgeous pieces are as simple as hot gluing holiday-themed fabric to inexpensive foam board. Check out your local fabric store's sale bin to make this DIY Christmas craft even more affordable!
Instructions and Photo via Pens & Needles
9. DIY Merry Christmas Garland
If you're the type to regularly raid the scrapbooking section at the local craft store, then this tutorial is for you. Scrapbooking paper, letters, clothespins, and twine make this DIY Christmas garland quick and easy!
Instructions and Photo via Vicky Barone
10. Cinnamon Ornaments
I remember making these ornaments as a child and the smell is so fresh in my memory that it's hard to believe it was over 20 years ago. Whether you dress them up with glitter or leave them plain, their spicy smell will bring joy to both your Christmas tree and your heart.
Instructions and Photo via Wholefully
Wreaths, garlands, and tabletop decor — all can be created affordably without sacrificing style. Save your money for bringing smiles to friends and family, and get crafting. You never know what you discover! Get more ideas for DIY Christmas decorations in Christmas Decorating on a Budget.