The Trick to Perfectly Cooked Hard-Boiled Eggs Without Any Fuss
Do you always struggle with getting your hard-boiled eggs just right? Get perfectly cooked hard-boiled eggs every time with this trick.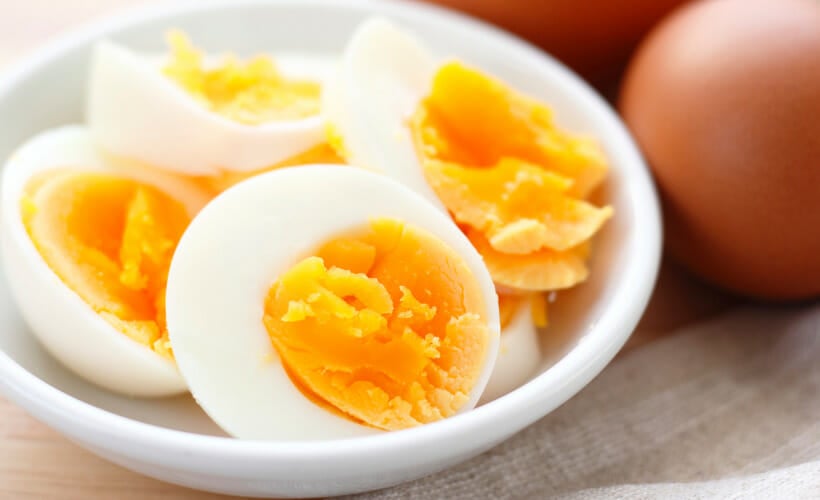 Are you constantly left with undercooked, hard-boiled eggs that are too hard to peel? Or maybe you end up with overcooked eggs with a green ring around the yolk? You're not alone; according to a survey by the American Egg Board, two-thirds of Americans struggle to master the simple task of boiling eggs. It's time to start cooking hard-boiled eggs perfectly every time!
Getting the Perfect Hard Boil Every Time
Four steps and 20 minutes is all you need to nail the perfect hard-boiled egg every time.
Step 1: Place Eggs In A Pot & Covering With Water
Place the eggs in a single layer at the bottom of the saucepan. Add cold water so that the eggs are covered by at least an inch of water. The more eggs in the pan, the more water you should have covering them.
Step 2: Bring The Water To A Rolling Boil
Get the water up to a rolling boil at high heat to begin cooking your eggs. A rolling boil is where large, rapidly rising bubbles roll over across the entire surface of the pot.
Step 3: Remove From Heat, Cover, And Let Sit For 10 Minutes*
Gently stir the eggs. Stirring helps keep the yolk from settling on one side of the egg. After stirring, remove them from the heat. Cover the saucepan and start your timer. A hard-boiled egg takes 10 minutes in the hot water to turn out perfect.
Step 4: Drain Water and Use an Ice Bath To Cool Eggs Faster
As soon as the timer goes off, dump out the eggs and plunge them into an ice bath. Leave them submerged for about until they're cool enough to handle but still warm, 2 to 3 minutes.
* Getting the perfect soft & medium boils
For soft, runny yolks, you want to make sure to hit the four-minute mark for soft-boiled eggs. Medium-boiled eggs need to be removed from the hot water around 6-7 minutes.
* Boiling duck & quail eggs
Duck eggs are larger and require a longer cooking time. Let them sit in the hot water for 19 minutes. Hard-boiled duck eggs are just like hard-boiled chicken eggs, only a bit richer.
Quail eggs take less time than a chicken egg, requiring only 4 minutes. Quail eggs are richer than chicken eggs like duck eggs are, but their small size makes them perfect for salads or pickled eggs.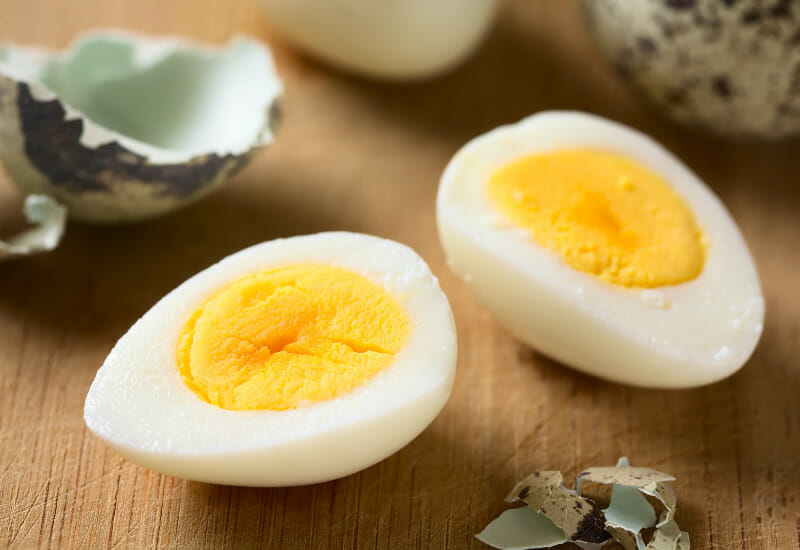 Tips for Peeling Hard-Boiled Eggs
Tap the egg gently on a hard surface, such as a countertop, to create micro-fractures in the shell, making it easier to peel. Carefully and gently roll the egg between your hands to help loosen the shell. Start peeling at the egg's fat end. The air pocket at the fat end will make it easier to start the process. Make sure to gently lift and peel away the thin membrane beneath the shell that surrounds the egg white.
If you're still having trouble removing the shell, hold the egg under cold running water while peeling it or submerge it back in the bowl of ice water to help loosen the shell.
Note: Older eggs always peel easier than fresh eggs. I like to save a carton of eggs at the back of the fridge specifically for boiling.
How long do hard-boiled eggs last in the fridge?
When it comes to cooked eggs, they can last up to one week when stored in the refrigerator. Keep in mind that storing them in an airtight container will help them last longer. In addition, make sure that the eggs are not exposed to extreme temperatures—meaning that you should not store them in the fridge door. If you are regularly eating hard-boiled eggs and want them to last longer, it is best to cook them in batches every few days.
Do you need ideas for using hard-boiled eggs?
There are many reasons why you should incorporate hard-boiled eggs into your daily diet. Not only are they a great source of protein, but they also contain essential vitamins and minerals that help to support a healthy body. Here are some of my favorite recipes to get you started.
Diy Ramen Soup
If you're looking for something new to add to your dinner rotation, this homemade ramen with eggs recipe is perfect. Recipe from Sauder's Eggs.
Muffuletta Deviled Eggs
Muffuletta deviled eggs make the best Mardi Gras appetizer that goes well with Jambalaya and gumbo! Recipe from Take Two Tapas.
Fried Deviled Eggs
Deviled eggs are taken to the next level with this recipe for deep-fried deviled eggs. Perfect for parties or as a fun twist on a classic dish. Recipe from Tasty.
Little Devil Deviled Quail Eggs
Absolutely adorable and perfectly bite-sized, these classic deviled eggs made from quail eggs are going to be the talk of every event you bring them to. See my recipe and other quail egg recipes here.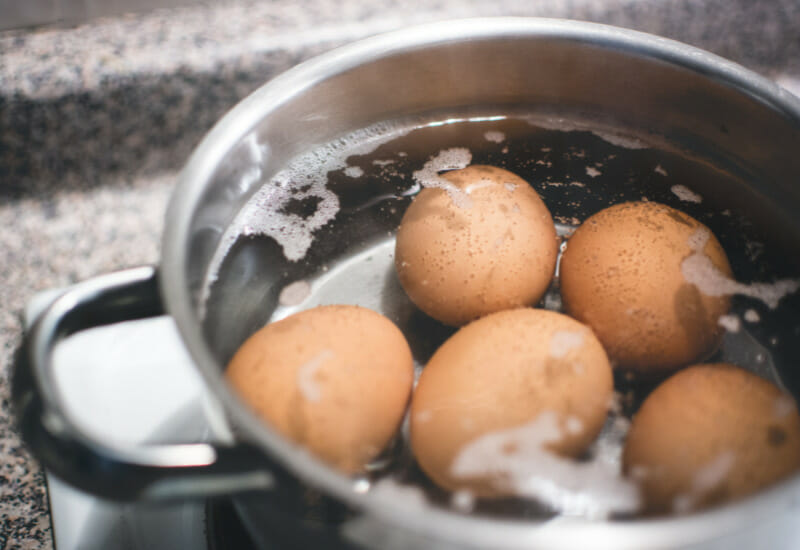 Kale & Bacon Salad with Honey-Horseradish Vinaigrette
Totally scrumptious and packed with nutrition, this recipe incorporates healthy greens without sacrificing flavor. Recipe from Taste of Home.
BLT Chicken Salad
Everything in the salad is perfectly cooked without going over the top. You have crisp, salty pieces of bacon, juicy chicken breasts, and perfectly cooked hard-boiled eggs. Recipe from The English Kitchen.
The Best Egg Salad Sandwiches
A simple, basic recipe that serves as a jumping-off point for your perfect egg salad. Make the best sandwich with this recipe from The Modern Proper.
Cobb Salad Sandwich
This cobb salad sandwich takes all of your favorite parts of a classic cobb salad and puts it into a hearty sandwich that's no match for anyone's appetite. Recipe from Nutmeg Nanny.
Avocado Egg Salad Toast
Layered with lemony smashed avocado, a simplified egg salad, and everything bagel seasoning, this toast is perfect for breakfast, lunch, or snacks. Recipe from Cooking for Keeps.
Curried Egg Salad
Curried egg salad is an easy, creamy, delicious lunch that's perfect for sandwiches, wraps or lettuce wraps or with crackers and veggies. It's just 5 ingredients and ready in about 30 minutes. Recipe from Family Food on the Table.
Southern-Style Potato Salad
Southern Potato Salad is super creamy, blending mayonnaise and mustard, hard-boiled eggs, sweet onion, sweet pickle relish, and celery. Recipe from Spicy Southern Kitchen.
Scotch Eggs
Traditional Scotch Eggs are hard-boiled eggs wrapped in sausage meat, breaded and fried. Served with a delicious mustard dipping sauce, this is quintessential British fare. Recipe from Culinary Ginger.
Mastering the art of perfectly cooked hard-boiled eggs is no longer a challenge with these simple tips and tricks. By following the four easy steps outlined in this post, you can enjoy consistently delicious eggs every time. Additionally, we've provided ideas for incorporating hard-boiled eggs into various recipes, showcasing their versatility and nutritional benefits. Whether you're making an avocado egg salad toast for breakfast or indulging in muffuletta deviled eggs for a special occasion, hard-boiled eggs are a fantastic addition to any meal. So, say goodbye to undercooked or overcooked eggs and hello to perfectly cooked eggs that are easy to peel. Start boiling your eggs with confidence and enjoy the delightful satisfaction of a well-cooked, hard-boiled egg.