The 4-Day Stress-Free Thanksgiving Dinner Game Plan
Make Thanksgiving dinner stress-free with a 4-day game plan that covers make-ahead dishes, last-minute preparations, and helpful tips.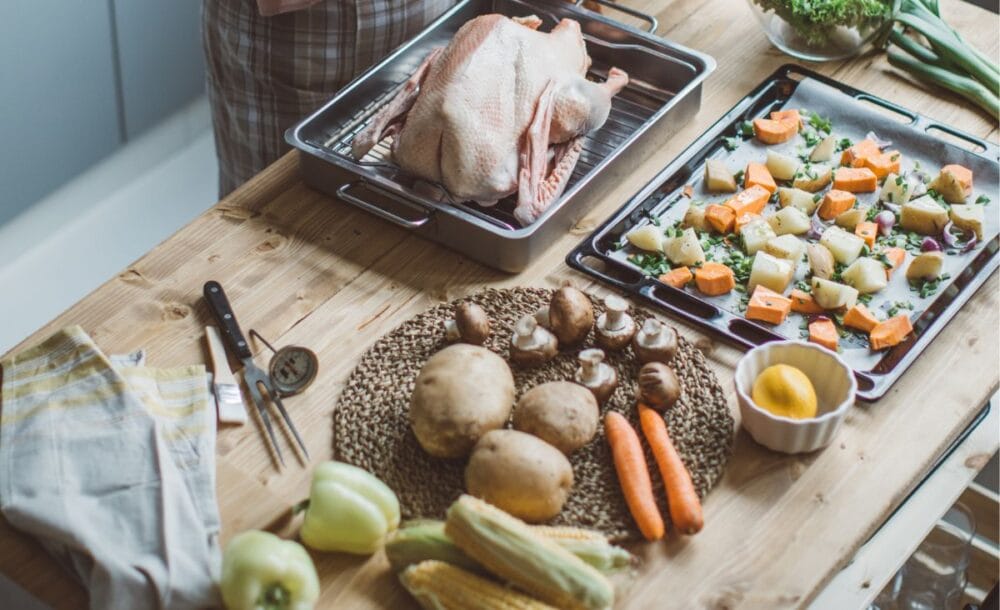 Thanksgiving is a time of joy, gratitude, and delicious food shared with loved ones. However, preparing a Thanksgiving dinner can often feel overwhelming, especially if you're hosting the gathering. But fear not! With a well-thought-out game plan, you can conquer the kitchen and create a memorable feast without breaking a sweat.
In this post, I will provide you with my 4-day Thanksgiving dinner game plan that will help you stay organized, reduce stress, and ensure that everything is ready to go on the big day.
So, grab a pen and paper, and let's get started on your journey to a stress-free Thanksgiving dinner!
Tip: Invite your guests to help out by assigning them individual dishes to prepare. This not only makes your work easier, but it also brings you closer together and gives you a sense of shared holiday responsibility.
3 Days Before Thanksgiving
If you start preparing the meal three days before Thanksgiving, you can save yourself time and reduce the amount of stress you feel that day. Here are some ideas for things to prepare on Monday:
Create Cranberry Sauce
Prepare homemade cranberry sauce and let it chill in the refrigerator. The flavors meld and improve over time, making it a perfect make-ahead side.
Make and Roll Pie Crusts
Make your pie crusts from scratch, roll them out, and then put them in the fridge or freezer until you are ready to use them. In this way, you will be able to devote more of your attention to the fillings for the pies as Thanksgiving approaches.
Stuffing/Dressing Base
Prepare the base for your stuffing or dressing by sautéing vegetables and herbs. Refrigerate or freeze it, and finish the dish on Thanksgiving.
Vegetable Prep
Prepare the vegetables that will be used for side dishes by cleaning, peeling, and chopping them. Store them in airtight containers so they're ready to go when you start cooking.
Make a Soup or Broth Base
If you intend to serve soup, you should prepare the base ahead of time and store it in the refrigerator. You only need to give it a quick reheat and then add any finishing touches before serving.
Create Homemade Stocks
Create turkey or vegetable stock and divide it into separate containers to store in the freezer for later use in a variety of Thanksgiving dishes.
Whip-Up Dessert Toppings
Create whipped cream or any other toppings you like for dessert and put them in the refrigerator until ready to use.
Make Compound Butter
Using herbs and spices, you can make butter with a flavorful flavor. Form it into a log, then chill it before slicing it. In addition to its use as a spread, it can also be put to use to improve the flavor of food.
Assemble Casseroles
Some casseroles can be assembled and refrigerated a few days in advance. Examples include green bean casserole or sweet potato casserole.
For the best results when serving, be sure to follow any special storage or reheating instructions listed in the recipe.
Two Days Before Thanksgiving
Two days before Thanksgiving, you can keep up the cooking and preparations to make the big day easier to handle. Here are some tasks and dishes you can tackle on Tuesday:
Prepare Pie Fillings
Make the fillings for your pies, whether they be pumpkin, apple, or pecan, and set them aside. You should store them in the refrigerator until you are ready to assemble the pies and bake them. My perfect pumpkin pie is an absolute crowd-pleaser!
Pre-Baked Pie Crusts
If you're making pies with pre-baked crusts, go ahead and bake the crusts. After they have cooled, place a cover on them and set them aside so that you can assemble the pie at a later time.
Brine the Turkey
If you want to have a turkey that is full of flavor and juices on Thanksgiving, start the brining process two days before the holiday. This will ensure that your turkey turns out perfectly.
Chop and Prep Vegetables
Carry on chopping and preparing the vegetables to be used in the various dishes. Keep them cold in the refrigerator until you are ready to use them.
Prep Garnishes and Toppings
Prepare any garnishes or toppings you plan to use for your dishes, such as grated cheese, crumbled bacon, or chopped fresh herbs.
Set the Table and Decorate
Get your tableware, dishes, and decorations ready. You can save some time on Thanksgiving Day by setting the table and determining seating arrangements in advance.
Make Homemade Croutons
Make homemade croutons for salads or stuffing. They are great for adding a satisfying crunch to a number of different foods.
Assemble Dessert Decorations
Make chocolate curls, candied nuts, or whatever else you want to use as garnish for your desserts.
To make sure you follow the exact steps for storing and reheating, double-check your recipes.
The Day Before Thanksgiving
You should wrap up any loose ends that can be done in advance on the day before Thanksgiving. Here are some tasks and dishes you can cook or prepare on Wednesday:
Make-Ahead Gravy
Make your gravy the night before. It can be refrigerated until Thanksgiving Day when it can be quickly reheated.
Nearly Finish the Stuffing
Prepare the stuffing up to the point just before baking. Wrap it up and put it in the fridge. Bake it on Thanksgiving Day for a fresh, flavorful side.
Prepare Potatoes for Mashed Potatoes
Peel and chop potatoes for mashed potatoes. Place the raw potatoes in a bowl of water in the refrigerator to prevent browning.
Marinate Proteins
Meats and other proteins are best marinated the day before they are prepared to bring out their full flavor.
Brine or Season Turkey
If you have not already brined the turkey, you might want to think about dry-brining it or seasoning it the day before you plan to cook it in order to get the most flavor out of the bird.
Prep Salad Components
You should wash and chop the individual components of salads and then store them in separate containers until the time comes to put the salads together.
Label Your Dishes
Label your dishes and organize them in the refrigerator. I put the name of the item, how much more prep time it requires, and the cooking temperature and time on some masking tape. This makes the next day's cooking more efficient.
Clean and Organize the Kitchen
Make sure you have all of the required tools and equipment, clean up your kitchen, and put your ingredients in order in preparation for Thanksgiving Day.
Review Your Plan
Check and recheck your cooking plan to make sure that nothing important has been forgotten.
The Big Day: Stay Calm and Cook On!
On Thanksgiving Day, follow this timeline to ensure smooth and timely preparation:
Morning
Prepare Turkey for Cooking: Take the turkey out of the refrigerator to bring it to room temperature. Preheat the oven as per your turkey cooking instructions.
Start Cooking Turkey: Roast the turkey in the preheated oven. Follow your recipe for the appropriate cooking time.
Afternoon
Bake the Pies: Bake all of the pies that require baking.
Finish Gravy: If you made the gravy ahead of time, reheat it. If not, make the gravy while the turkey rests.
Cook Remaining Side Dishes: Cook any pre-prepared and remaining side dishes like green beans, Brussels sprouts, or corn.
Warm Bread or Rolls: If you have bread or rolls, warm them in the oven just before serving.
Just Before Dinner
Finish Salad: Assemble and dress the salad just before serving.
Heat Plates: Warm plates in the oven for a few minutes before serving to keep the food warm.
Serve the Meal: Bring out all the prepared dishes, carve the turkey, and invite everyone to the table.
After Dinner
Dessert Time: Serve your pre-made desserts or finish any last-minute dessert preparations.
Relax and Enjoy: Once everything is served, take a moment to relax, enjoy the meal, and give thanks.
By planning and organizing your Thanksgiving Day tasks in this way, you can manage your time effectively and have a stress-free and enjoyable holiday with your loved ones.
Frequently Asked Questions
With a well-executed game plan, preparing a Thanksgiving dinner can be a stress-free and enjoyable experience. By dividing tasks over the course of three days, you can tackle each aspect of meal preparation with ease.
See the delicious slow-cooker recipes I make with my leftovers.
If you've found value in this blog post and enjoyed reading it, why not share it with your Pinterest community? Pin the image below and spread the love!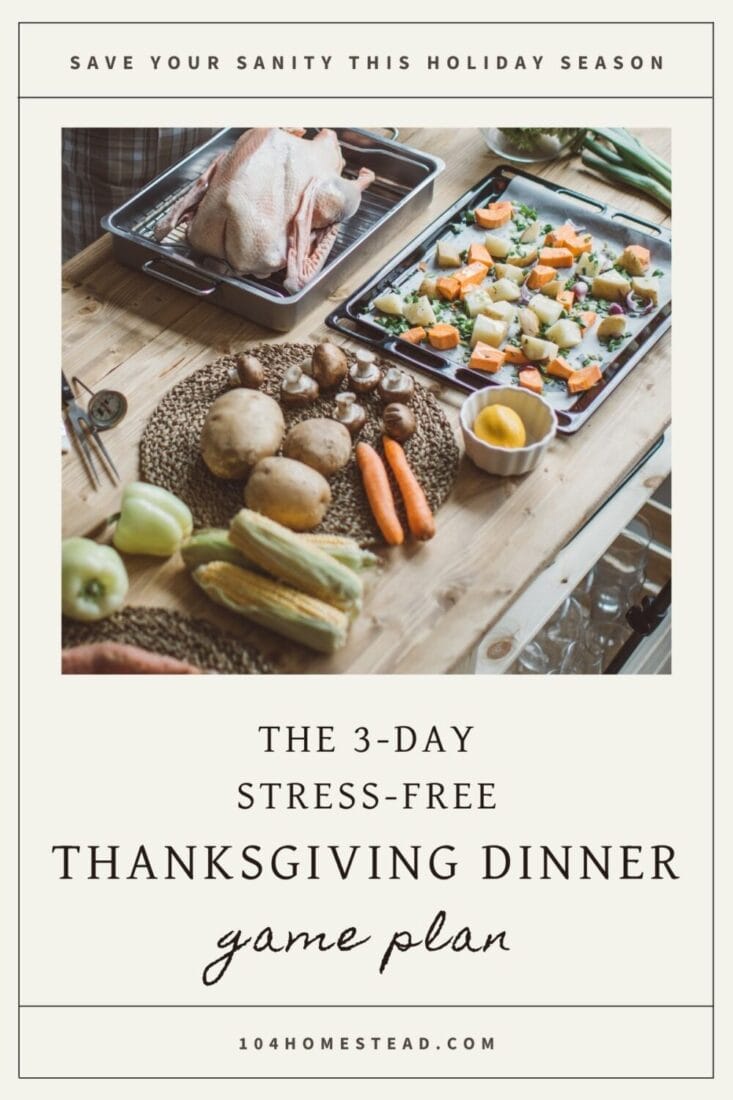 From make-ahead dishes to last-minute preparations, staying organized and following a timeline will ensure that everything is ready to go on the big day.
What are your favorite Thanksgiving dinner preparation tips or make-ahead dishes?