Elevating Thanksgiving with Homegrown Ingredients
From succulent turkey to flavorful side dishes and delightful desserts, elevate your feast with the bounty of your own homestead harvest.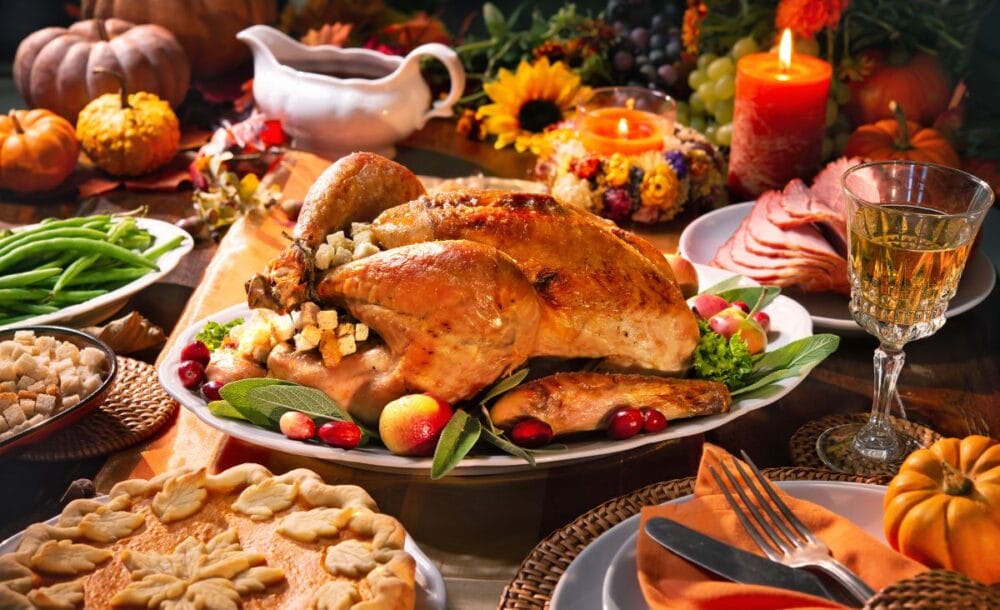 As Thanksgiving gets closer, there's something about using homegrown ingredients that just screams "homesteader feast!" It's not just about filling our bellies but also about embracing the spirit of self-sufficiency.
So, let's take a culinary adventure together and discover why adding homegrown elements to our Thanksgiving dinner makes it all the more special. From the star of the show to the delicious desserts, every dish is a celebration of the bounty we've grown on our own little homestead.
Why Homegrown?
Embracing homegrown ingredients for your Thanksgiving dinner is more than just a culinary choice; it's a celebration of the homesteader's way of life. Here's why you should consider incorporating the fruits of your labor into your holiday feast:
Flavorful Authenticity
Food that is grown at home and cared for has a deeper flavor than food that is bought in a store. Each ingredient, from heirloom tomatoes to herbs grown in your garden, has a flavor that shows how real your homestead is.
Nourishment from the Land
Thanksgiving is a time to be thankful for all the good things in the world. By using ingredients that you grew yourself, you can not only enjoy the fruits of your labor, but you can also feed your family with the healthy foods that you grew on your homestead.
Sustainable Living
Opting for homegrown ingredients aligns with a sustainable lifestyle. By reducing reliance on commercially sourced produce, you contribute to a more eco-friendly Thanksgiving, minimizing your carbon footprint and fostering a connection between your plate and the land.
Personalized Touch
Each ingredient you grow on your homestead represents your hard work and dedication. Adding these things to your Thanksgiving dishes makes them more personal and makes the meal a reflection of your journey as a homesteader.
Joy of Harvest
Thanksgiving marks the end of the harvest season. When you use homegrown ingredients, you can really get into the spirit of the season. You can also celebrate the bounty of your homestead and share it with the people at your table.
The Star of the Thanksgiving Show
Begin your Thanksgiving feast with a showcase of the homestead's centerpiece—a succulent turkey rubbed with a medley of fresh herbs harvested from your garden. Sage, thyme, and rosemary come together to infuse the roast with earthy, aromatic flavors that set the tone for the entire meal.
This is Bobby Flay's recipe for Thanksgiving Pioneer-Style Herb Roasted Turkey. I have yet to find a better turkey tutorial.
Side Dishes that Highlight Your Turkey
The Thanksgiving meal would not be complete without the turkey, but the side dishes are just as important. Along with enhancing the turkey's flavor, these sides are a great way to highlight a farm's abundance.
Butternut Squash and Sage Stuffing
Elevate your stuffing game with butternut squash harvested straight from your homestead. Paired with fragrant sage, this stuffing captures the essence of autumn, adding a delightful twist to a classic Thanksgiving side.
The butternut squash stuffing recipe from Lemon Tree Dwelling is absolutely delicious.
Homestead Sweet Potato Casserole
This sweet potato casserole brings out the flavors of seasonal sweet potatoes. If you grow these nutrient-dense tubers in your garden, you will be able to tell the difference in flavor and texture. This dish brings a welcome dose of comfort and health to the holiday table.
This easy sweet potato casserole recipe from Spend with Pennies is topped with pecans and marshmallows.
Farmhouse Honey Glazed Carrots
Sweeten up your Thanksgiving menu with honey-glazed carrots sourced from your garden. This simple yet flavorful dish highlights the natural sweetness of homegrown carrots, creating a side that's both wholesome and delicious.
These honey-glazed carrots from Downshiftology are an easy sheet pan recipe that transforms the everyday carrot into a show-stopping sweet and savory side dish.
Cranberry and Apple Chutney
Put a homestead spin on the cranberry sauce by incorporating fresh apples from your orchard. This chutney brings a perfect balance of tartness and sweetness, highlighting the vibrant flavors of homegrown fruits.
Tangy, sweet, savory, and chunky, this apple-cranberry chutney from Reluctant Entertainer is the perfect condiment for all your fall and holiday meals!
Creamy Mashed Potatoes with Garlic
Elevate your mashed potatoes by using homegrown garlic to infuse a subtle, savory flavor. Creamy, comforting, and rich, these mashed potatoes are a homesteader's take on a classic Thanksgiving side.
Tip: For velvety mashed potatoes, use Yukon Gold or Russet potatoes for their high starch content. After boiling, let the potatoes dry for a few minutes in the pot before mashing, and gradually incorporate warmed milk and butter for a smooth, creamy texture.
A simple recipe for delicious mashed potatoes flavored with garlic can be found on Creme de la Crumb.
Homegrown Green Bean Casserole
Elevate the classic green bean casserole by using freshly harvested green beans from your garden. The crispness and flavor of homegrown beans add a delightful dimension to this Thanksgiving staple. Toss them in a sauce made of homegrown herbs and creamed mushrooms.
Fresh green beans, homemade cream of mushroom soup, and a bread-and-butter topping are the basis of Brown Eyed Baker's version of the traditional green bean casserole.
Herb-Infused Gravy
Make your Thanksgiving gravy stand out by infusing it with herbs freshly picked from your homestead. Thyme, rosemary, and sage add layers of flavor, creating a savory and aromatic companion to your roasted turkey.
Self Proclaimed Foodie's simple recipe starts by making homemade turkey stock from the giblets, which easily gets transformed into the best-tasting savory herb gravy you can make.
Delightful Desserts
Thanksgiving is a time for indulging in delicious desserts that bring warmth and comfort to the table.
Pumpkin Pie with Homestead-Produced Puree
No Thanksgiving is complete without pumpkin pie. Take it to the next level by using homemade pumpkin puree from your garden pumpkins. The result is a pie that embodies the true essence of farm-to-table goodness.
Check out my post for the perfect pumpkin pie recipe, complete with ingredients, methods, and presentational pointers.
Apple Pie with Homegrown Apples
Celebrate the season's apple harvest with a delicious apple pie. Sweet and tart apples, cinnamon, and a buttery crust create a comforting treat.
The apple pie filling recipe from Simplify, Live, and Love can be canned or frozen for later use. It's perfect for pulling out for Thanksgiving dessert.
Frequently Asked Questions
Need ideas for your Thanksgiving leftovers? You'll love these slow-cooker recipes and these scrumptious potato pancakes. Got kids? Check out these adorable handprint turkey teeshirts.
If you've found value in this blog post and enjoyed reading it, why not share it with your Pinterest community? Pin the image below and spread the love!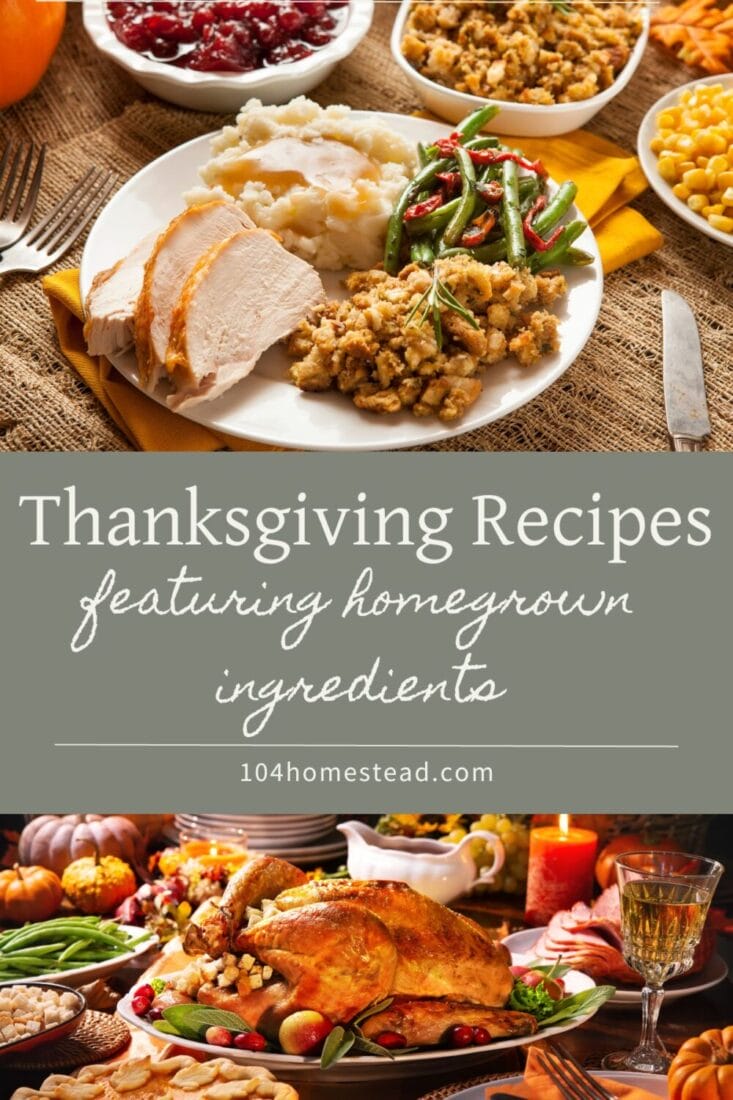 Celebrate the bounty of your own harvest this Thanksgiving with these dishes that highlight the flavors you have grown in your own backyard. Your homemade ingredients shine through in every course, from the hearty main to the sweet finish. Share a table full of food that you grew and harvested to celebrate what a homesteader's Thanksgiving is all about.
What are some of your favorite homegrown ingredients to incorporate into your Thanksgiving feast?