Harvesting Homestead Style: DIY Decor for Thanksgiving
Looking to add a touch of rustic charm to your Thanksgiving decor? Check out these DIY ideas for creating a homestead-style harvest display.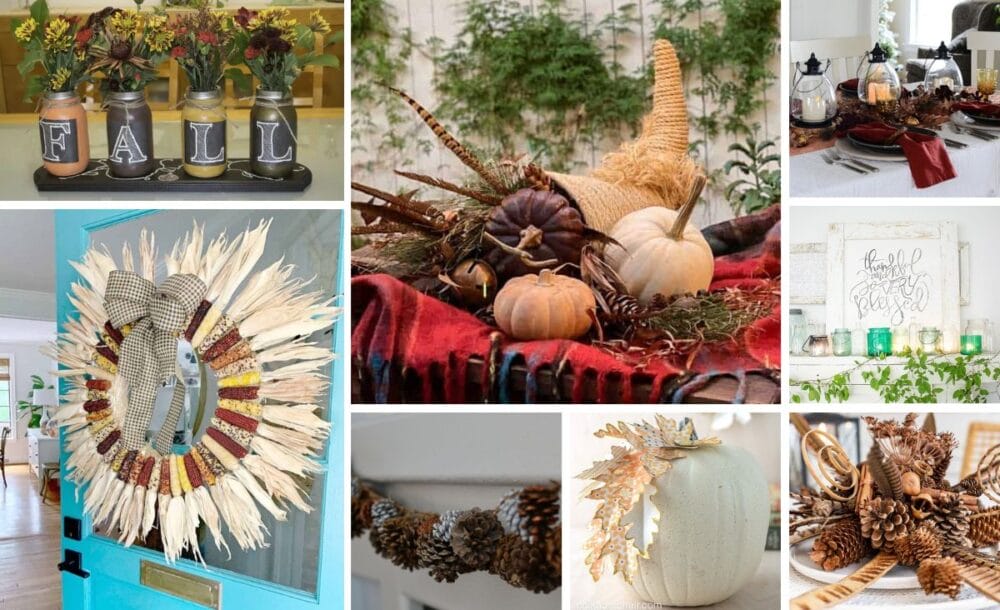 As the crisp autumn air settles over your homestead, it's time to infuse your Thanksgiving celebration with the warmth and charm of handmade decor. Enhance your holiday table with DIY centerpieces and decor crafted from the bounty of your own land.
From rustic arrangements to elegant displays, let's explore creative Thanksgiving decoration ideas that celebrate the spirit of homesteading.
Tip: For homestead-style Thanksgiving decor, incorporate natural elements and textures.
Stunning Thanksgiving Centerpieces
These centerpieces, when placed on a table runner next to a gorgeous holiday meal, will astound and amaze your guests.
Autumn's Bounty: The Homestead Harvest
Start by foraging your homestead for seasonal treasures. Colorful leaves, pinecones, dried herbs, and branches become the foundation for your centerpiece. Celebrate the unique character of your land by incorporating elements that showcase the essence of fall.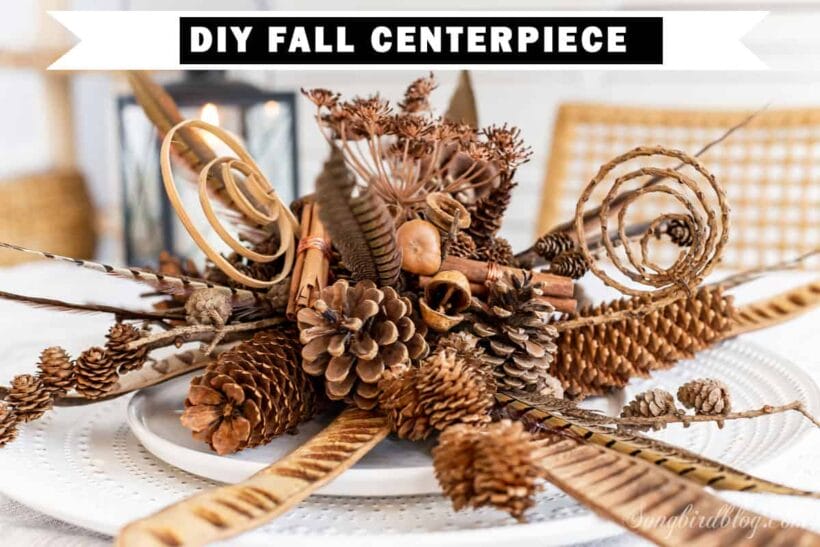 Songbird has an Easy Pinecone Centerpiece DIY that is cheap, rustic, and beautiful.
Rustic Elegance: Creating a Homestead Charm
Transform simple mason jars into charming vases. Fill them with wildflowers, wheat stalks, or dried lavender from your homestead. Wrap the jars with twine or burlap for a rustic touch. Arrange them in the center of your table for an understated yet elegant centerpiece.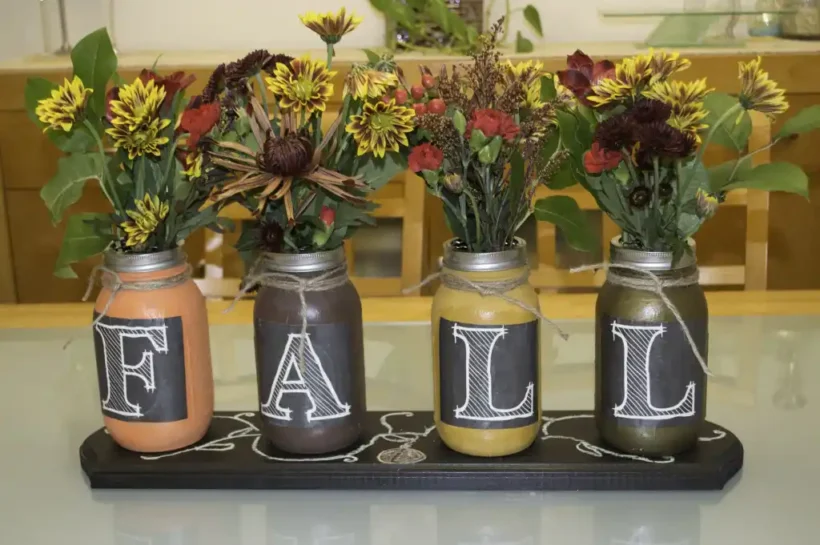 Sew Very Crafty has an adorable and simple Mason Jar Centerpiece DIY that will last year after year.
Harvest Cornucopia: A Bounty of Plenty
Craft a traditional cornucopia overflowing with homegrown goodness. Fill it with an assortment of seasonal fruits, vegetables, and nuts harvested from your homestead. This classic symbol of abundance adds a touch of harvest festival charm to your Thanksgiving table.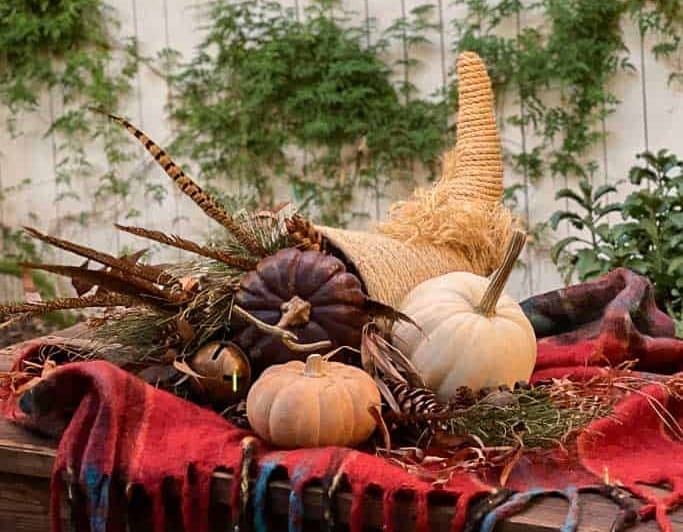 Make this DIY Cornucopia from W.M. Design House with rope and gifts from your garden as a symbol of a bountiful harvest for your table.
Candlelit Warmth: Cozy Evenings on the Homestead
Repurpose old lanterns or mason jars into charming candle holders. Place candles inside for a warm, inviting glow. Arrange these lanterns alongside your centerpiece to create an intimate and cozy atmosphere as you gather with loved ones.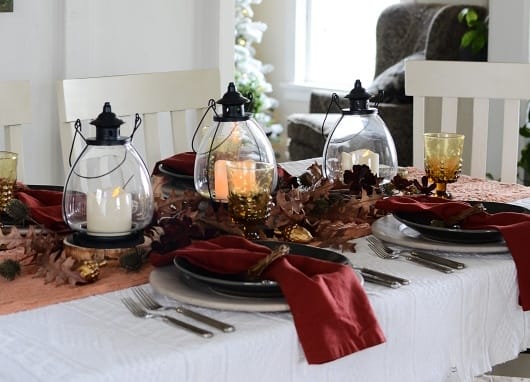 Town and Country Living considers her Lantern Fall Centerpiece a layered tablescape. I consider it stunning!
General Thanksgiving Decorations
The table is not the only appropriate place to celebrate Thanksgiving and the harvest. The home will feel more festive with subtle seasonal touches throughout.
Pinecone Garland
Pinecones are a lovely and inexpensive way to spruce up your home and mantle for the holidays. DIY pinecone garlands like this one are stunning, eye-catching, and long-lasting. You can make your own pinecone garland in a matter of minutes.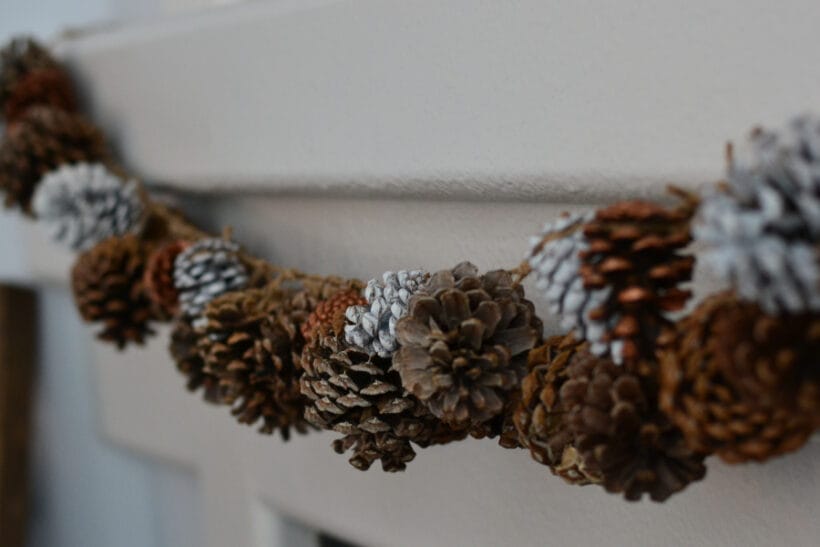 The Lavender Homefront has a tutorial for making Stunning Homemade Pinecone Garlands that are sure to wow.
Paper Leaf Pumpkins
Even though Halloween is over, that does not mean you have to put away your pumpkins for the year. Even through Thanksgiving, their country charm will make your house feel more at home.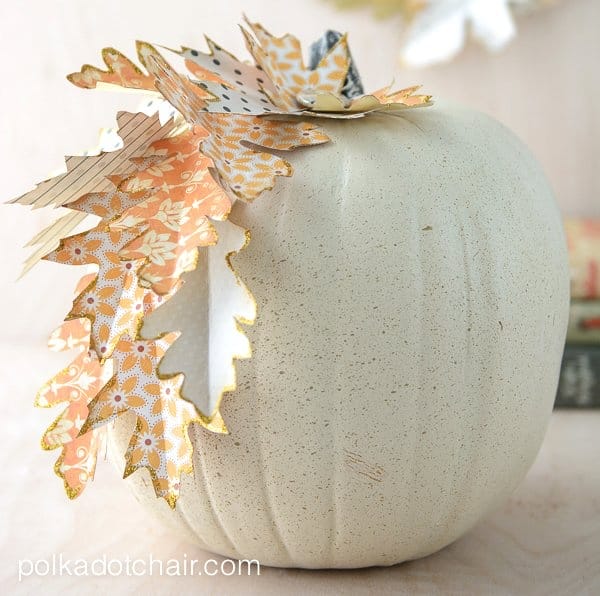 If you want to add some flair to your plain pumpkins, try this simple tutorial from Polkadot Chair. Real or fake pumpkins, scrapbook paper, and some glue and scissors are all you need to get started.
Distressed Wall Art to be Thankful For
Artwork on the walls makes for wonderful seasonal decor. It draws attention upward and enhances the rustic appeal of the farmhouse. Using wooden signs gives the room a homey, country vibe.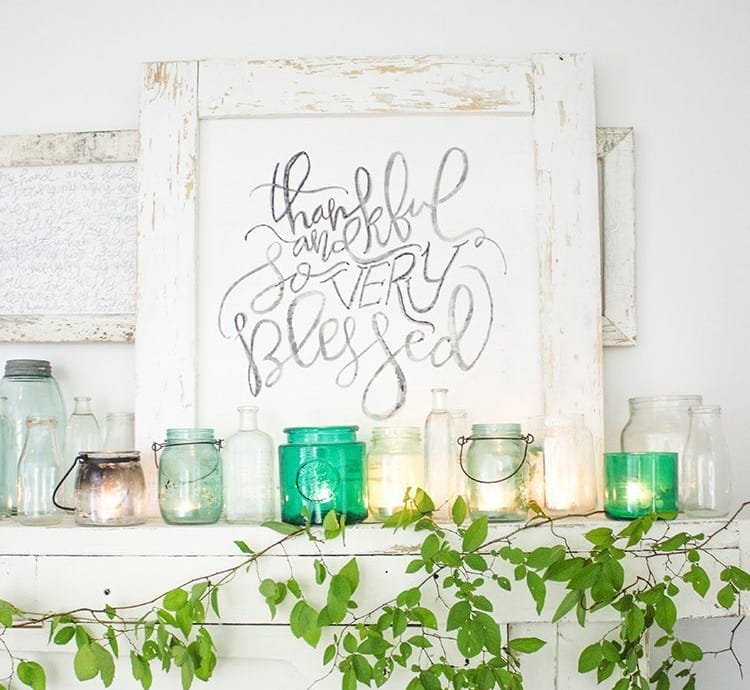 These do-it-yourself Thanksgiving signs from We Lived Happily Ever After are a great way to spruce up your walls.
Indian Corn Wreaths
The materials you can use to create a wreath are practically endless, but Indian corn is one option you might not have considered. Collect some cobs and use your artistic skills to create a seasonal masterpiece for your front door.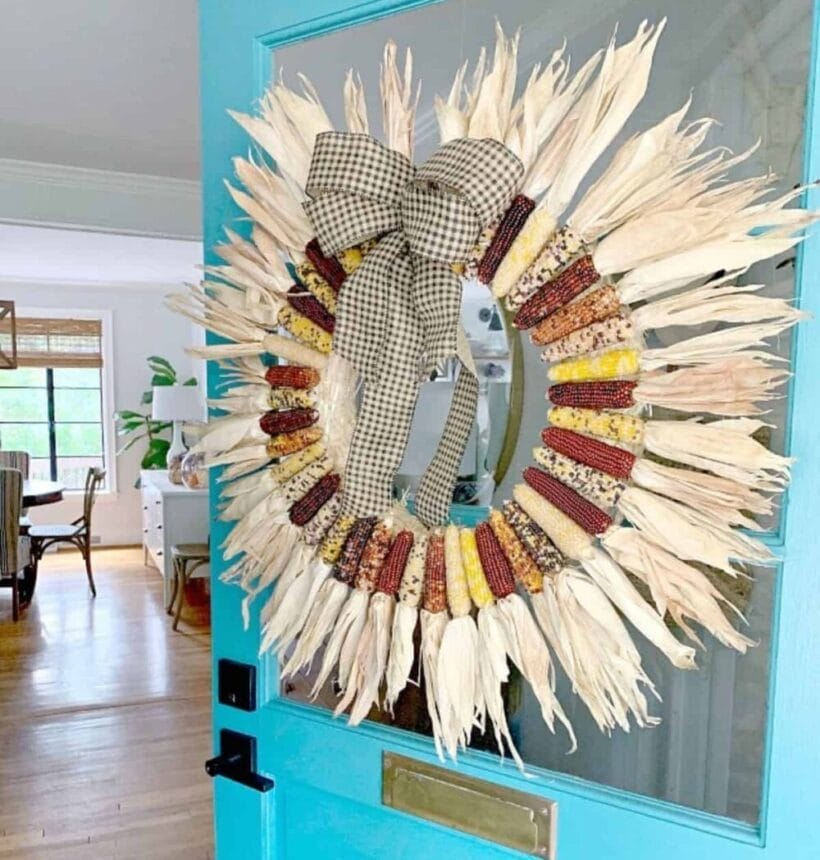 A stunning autumn wreath is easy to make with the help of Chatfield Court.
Frequently Asked Questions
Ready to transition your creative flair from Thanksgiving to Christmas? Explore our DIY Frugal Christmas Decor post for festive ideas to keep the holiday spirit alive in your homestead!
If you've found value in this blog post and enjoyed reading it, why not share it with your Pinterest community? Pin the image below and spread the love!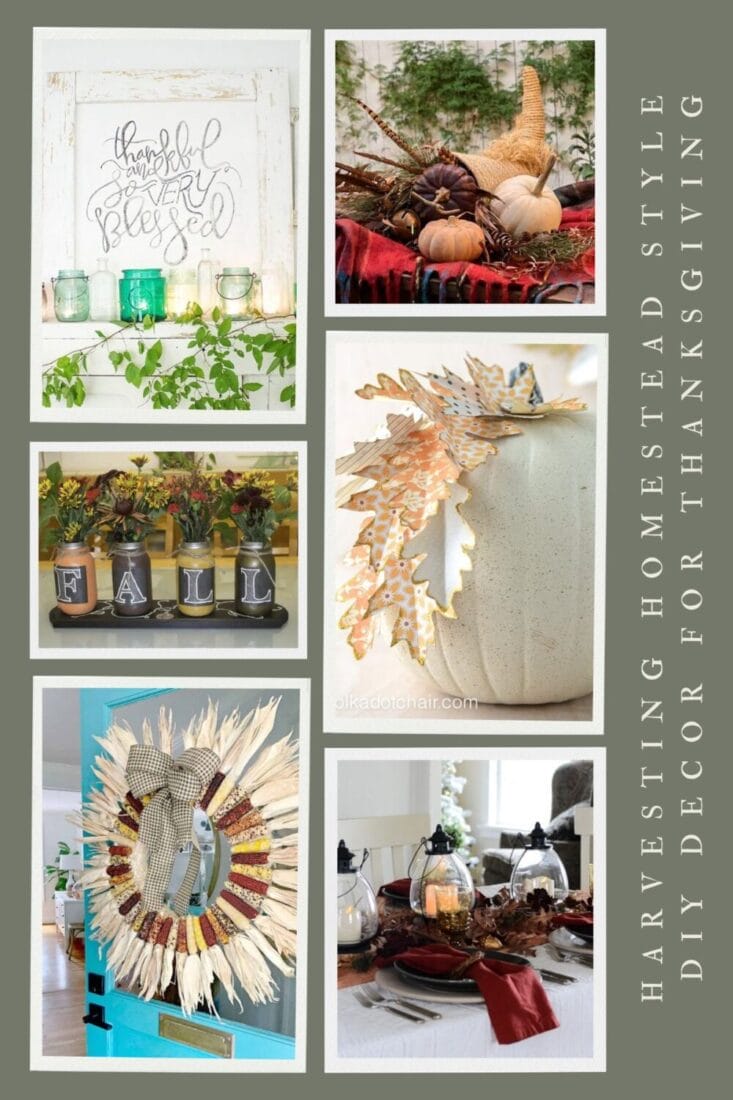 This Thanksgiving, let your homestead be the inspiration for decor that reflects the abundance and warmth of the season. Whether you opt for rustic simplicity or elegant charm, infusing your celebration with the spirit of your land adds a unique and personal touch to this cherished holiday.
Gather 'round, give thanks, and revel in the beauty of homestead-inspired Thanksgiving decor.
What are some of your favorite DIY Thanksgiving decor ideas? Share your thoughts and experiences in the comments below!