What Are Frizzles & Sizzles?
I am never short of amazed by the sizes and types of chickens in the world. Before my chicken days, I thought they all consisted of a standard hen in a handful of colors. I thought eggs came in brown or white and nothing more. Boy was I wrong.
Before I delved into chicken keeping, I researched. Narrowing the breeds I wanted down to the four I had agreed upon with my husband was going to be hard. I wanted a rainbow of hens that laid a rainbow of colored eggs. Mostly I wanted a frizzle.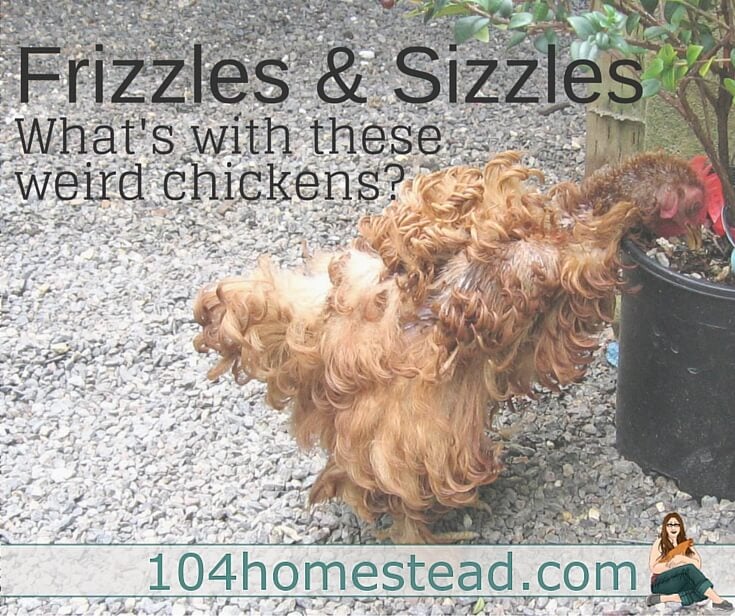 What the heck is a frizzle? Is a frizzle a breed? What makes a frizzle's feathers do that? A frizzle is a chicken whose feathers curl upward. This upward curling is created by a gene. Before we get into the nitty-gritty science, let's just say it looks like no other chicken you'll find and I thought they were the coolest.
Your Average Farm Frizzle
Your average farm frizzle is not a breed. They are made from breeding a frizzled bird to a smooth (or standard) bird. This practice usually is done with Cochins, Pekins, and Polish. When a frizzled bird and a smooth bird are bred, half their offspring will be frizzled and half will be smooth. Why not breed frizzle to frizzle and have all curly-feathered birds? Unfortunately, things don't work out so well that way. You will in fact get all frizzled chicks, but half will be so frizzled that the feathers will be brittle and break (or there may be no feathers at all in some spots!). Basically the birds that would have been smooth are frizzled and the frizzled ones are double-frizzled. This isn't a gum commercial. Double in this case isn't double the fun.
Your average frizzle can be any breed. My last hatching was a Frizzled Cochin/Silver Laced Wyandotte rooster over various hens. We kept two frizzles and two smooth. You can see my darling frizzles above. Our male came from a Barred Rock hen and our female came from an Easter Egger hen.
The Asian Frizzle
The Asian Frizzle is an actual breed. The breed is horrible for egg production and meat, but it shows beautifully. The SOP of this breed accepts black, blue, buff or white and it recognizes both standard and bantam sizes. There are also three varieties of plumage: frizzled, over frizzled and flat-coated (yes, the Asian Frizzle doesn't have to be frizzled).
The history of this breed is some what unknown and it's not very common in the U.S. For awhile it seemed the standard size bird was headed to extinction until a group of enthusiasts in Great Britain decided to bring the standard Asian Frizzle back.
Sizzles
Sizzles are the same thing as backyard Frizzles, only then hen is always a Silkie. The rooster is usually a Frizzled Cochin, but since this is a variety, not a breed, there are no hard fast rules. In order to be considered a Sizzle, the chick must have Silkie feathers, otherwise it's a Frizzle.
Things To Note
As incredibly awesome as Frizzles and Sizzles are, there are some thing to consider before getting one. Because of the shape of their feathers, they aren't a very weather resistant bird. Wind blows under the feathers causing chills, they can't "puff up" to insulate and since there is no feather overlap, rain can be an issue.
That being said, these birds may require special care in inclement weather. Make sure not to get a bird with these special considerations unless you are willing to provide it.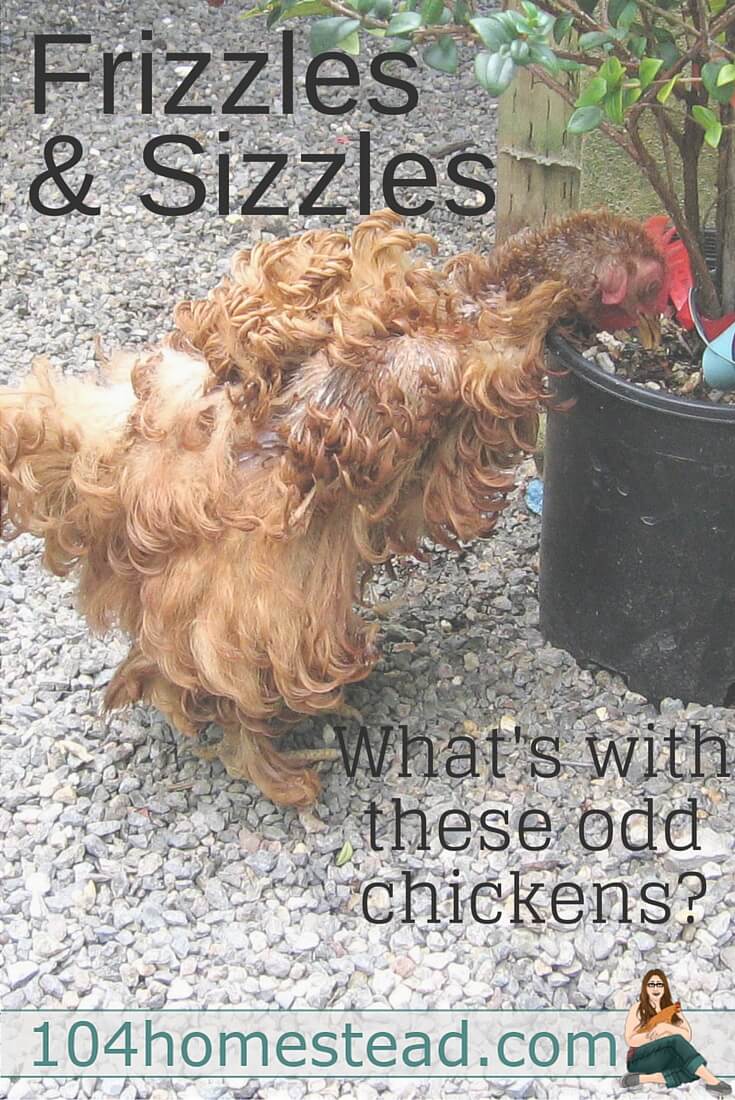 The following two tabs change content below.
I am a non-traditional homesteader. What is a non-traditional homesteader? I'd like to think we are the people who don't fit the mold. I am a busy mom on a small bit of property with not a lot of financial resources, but I am figuring out how to live the life I want. A homesteader's life.
Latest posts by Jessica Lane (see all)