Make KFC-Style Fried Chicken at Home with Healthier Ingredients
Learn how to make KFC-style fried chicken with fresh ingredients and no MSG, artificial sweeteners, or high amounts of saturated fat at home.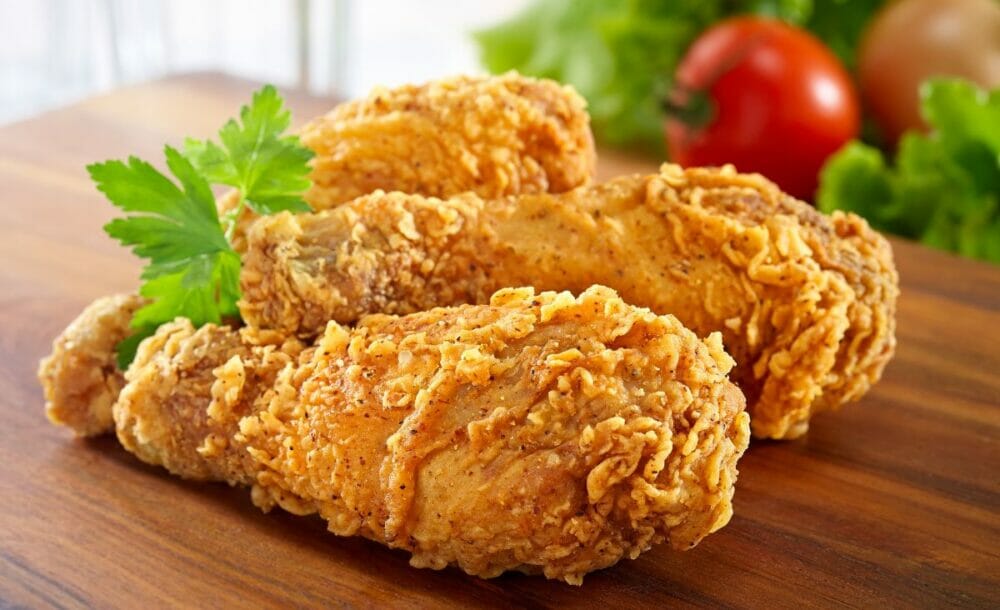 Fast food has an appeal that can't be denied. I'll admit that (though with a lack of quality vegetarian options, I don't have a love for fast food that most do). I am not anti-fast food… so long as it's consumed in moderation. However, the cost and questionable ingredients have me leaning towards making these luxuries at home. Let's talk KFC, and I'll tell you how I make it at home.
Even made at home, fried will never be deemed healthy, but like anything, in moderation, it's okay to indulge. Fried chicken made at home must be better than buying from KFC. Let's take a look at how KFC makes their mouth-watering famous fried chicken:
Starting With Kentucky Fried Chicken
Being a vegetarian does not make me opposed to the eating of animals. It's just not for me. I'm the only one in my household that doesn't eat meat. We prepare it regularly, and I'm okay with that. I am not okay with mass farming, where the health and well-being of the animals are neglected to increase profit.
It's not shocking news, but KFC gets their chicken from "farms" where there is not enough space for the chicken to move, it never sees the light of day, and it is fed the lowest quality feed, supplemented with hormones and antibiotics to make up for the lack of growth on a crappy diet. Keep this in mind: you're not just what you eat. You eat what your food eats. Yuck.
Those Secret 12 Seasonings?
Yeah, those twelve seasonings that they work so hard to keep secret under the cloak of a famous recipe contain some nastiness. Let's start with MSG.
Monosodium Glutamate is a flavor enhancer that has been in question for decades. I remember a particular episode of The Golden Girls where Sophia questions the use of MSG in Chinese food. According to research conducted in the US, Australia, and New Zealand, only some people have a sensitivity, and it would take quite a bit to be fatal. However, terms like "generally recognized as safe for human consumption" don't sit well with me.
Maltodextrin is an artificial sweetener used in the famous twelve spices. Maltodextrin is created using starches like corn with all of the protein and vitamins removed. The problem with this practice is that you are utilizing the proteins and vitamins stored in your body to break it down and digest it. In other words, not only does maltodextrin not benefit you in any nutritional way, it can deplete your body of nutrients.
The quantity of salt in a single piece of KFC fried chicken is startling. No one needs that much salt in one sitting. In fact, table salt contains additives and anti-caking agents. Real Salt is a much healthier alternative that actually has trace minerals in it.
Not All Oil Is Created Equal
Again, fried will never be deemed healthy, but the type of oil used certainly plays a part in how unhealthy it is. KFC fries its chicken in palm and soybean oils that are insanely high in saturated fats and calories. In your home, you can use peanut oil, which contains less than 1/3 of the saturated fats in palm oil.
My Fully Transparent Recipe for KFC-Style Fried Chicken
Introducing our mouthwatering fried chicken recipe – a delicious and healthier alternative to the famous Kentucky Fried Chicken! If you're looking for a crispy and flavorful meal without compromising on your health, you've come to the right place.
Their Ingredient List
Theirs
Factory Farm Chicken
Factory "Rejected" Eggs
Refined Table Salt
Sodium Phosphate
Monosodium Glutamate
Wheat Flour
Mystery Spices or Spice Extractives
Corn Starch or Modified Corn Starches
Baking Soda
Garlic Powder
Mystery Natural Flavorings
Citric Acid
Maltodextrin
Sugar
Corn Syrup Solids
Calcium Silicate
My Ingredient List
Local Farm Chicken
1 Farm Fresh Egg White
1 c. Organic Wheat Flour
1 tsp. Oregano *
1 tsp. Chili Powder
1 tsp. Sage *
1 tsp. Basil *
1 tsp. Real Salt
1 tsp. Onion Salt *
1 tsp. Marjoram *
1 tsp. Garlic Powder *
1 tsp. Black Pepper
2 tbsp. Paprika
Combine dry ingredients in a small bowl. Coat chicken in egg whites, roll in the flour and spice mix, and fry in peanut oil.
*Straight from my garden.
Which do you think is the better option? It's always best to eat what you can pronounce.
If you're looking for more great recipes to try, check out my Something from Nothing Fried Rice and Delicious Hush Puppies with Creamy Ranch Dressing.
If you've found value in this blog post and enjoyed reading it, why not share it with your Pinterest community? Pin the image below and spread the love!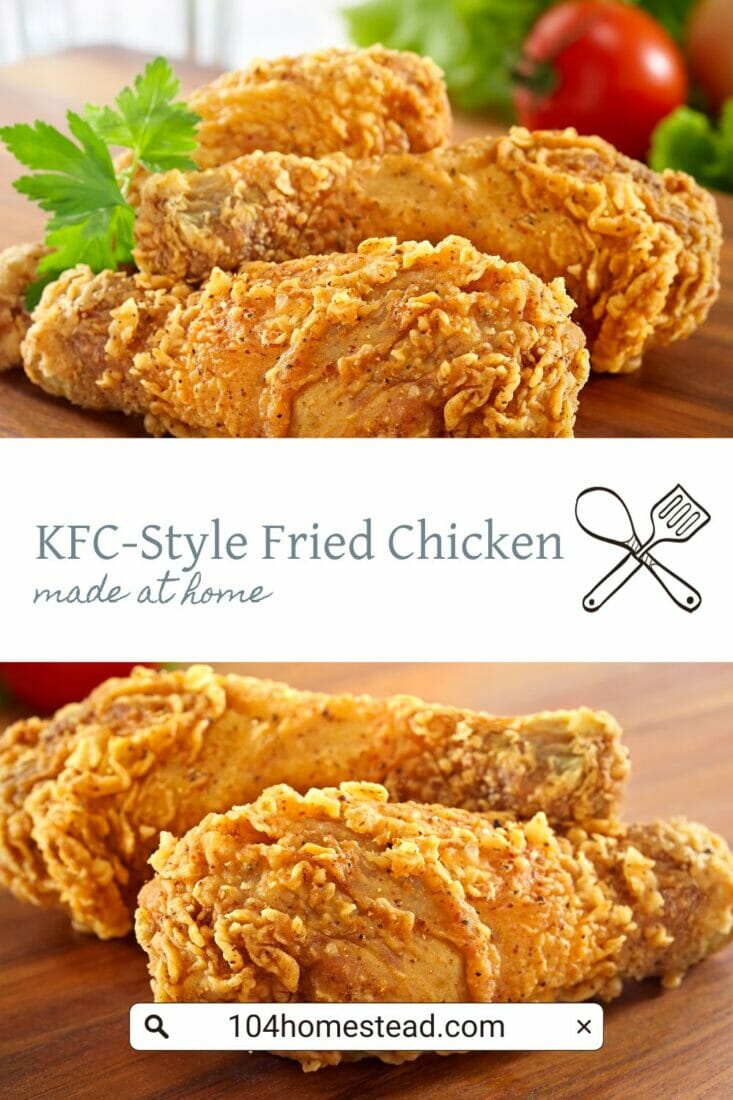 It is clear that fast food isn't the healthiest option, and KFC in particular, has some questionable ingredients. That being said, it is possible to make KFC-style fried chicken at home with fresher ingredients, without MSG, artificial sweeteners, and high amounts of saturated fat.
Though I don't love fast food, it doesn't mean I oppose it. I believe that with moderation and healthier ingredients, it shouldn't be a problem. I invite you to try making KFC-style fried chicken at home and see just how delicious it can be. So, if you're looking for a flavorful and healthier version of fried chicken, what are you waiting for? Get cooking!
Have you learned how to make any of your favorite fast foods at home? Share your recipes in the comments below.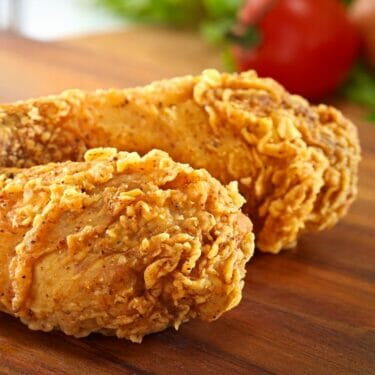 Delicious Home-Cooked Fried Chicken
Enjoy the flavors of home-cooked fried chicken without ever leaving your kitchen! Our easy-to-follow fried chicken recipe guarantees you delicious results every time. Try it today and satisfy your craving for some fried chicken.
Print Recipe
This post may contain paid links. If you make a purchase through links in this recipe, I may earn a commission.
Instructions
Combine the dry ingredients in a zip-top bag. Seal the bag and shake until well combined.

1 c. Wheat Flour,

1 tsp. Oregano,

1 tsp. Chili Powder,

1 tsp. Sage,

1 tsp. Basil,

1 tsp. Salt,

1 tsp. Onion Salt,

1 tsp. Marjoram,

1 tsp. Garlic Powder,

1 tsp. Black Pepper,

2 tbsp. Paprika

Crack an egg into a shallow bowl, removing the yoke, then dip the chicken (on both sides) until it's completely covered in egg. Place the soaked chicken in the bag with the flour mixture, seal, and shake well to coat.

Pour the into a skillet and bring it to high heat. Brown the chicken on both sides, reduce the heat, cover the skillet, and cook for about 30 minutes. Remove the cover, return the heat to high, and fry until extra crispy. Drain the chicken on paper towels.
Notes
To use an air fryer instead of pan frying, cook for 15 to 20 minutes at 400°F.
Nutrition
Calories:
353
kcal
|
Carbohydrates:
25
g
|
Protein:
25
g
|
Fat:
18
g
|
Saturated Fat:
5
g
|
Polyunsaturated Fat:
4
g
|
Monounsaturated Fat:
7
g
|
Trans Fat:
0.1
g
|
Cholesterol:
82
mg
|
Sodium:
816
mg
|
Potassium:
506
mg
|
Fiber:
5
g
|
Sugar:
1
g
|
Vitamin A:
2248
IU
|
Vitamin C:
2
mg
|
Calcium:
61
mg
|
Iron:
4
mg