You are going to love these sugar cookies for a variety of reasons. First, they are ridiculously easy to make and nearly impossible to mess up. Second, the dough can be made ahead of time and frozen in plastic wrap for up to six months. Third, these beautiful colors were made with an all natural food dyes. I'm thinking these sugar cookies are 3-for-3.
I used the Nature's Colors Decorating Set from India Tree for dying the icing on today's cookies. It's the same food coloring I used in my Pinwheel Cookies. These food colors are made from concentrated vegetable colorants and contain no corn syrup or synthetic dyes. Will your green cookies have a hint of zucchini or your orange cookies taste like carrots? Nope. There is no flavor associated with the colors. Just natural goodness. They also carry colored sugar crystals and cute little edible decor items worth checking out.
Sugar Cookies
Ingredients
5 c. All-Purpose Flour (I used Bob's Red Mill for this recipe)
2 c. Salted Butter
1 1/2 c. Sugar
2 Eggs
2 tsp. Vanilla Extract
1/2 tsp. Baking Soda
Instructions
In a medium bowl, combine the flour, baking soda, and salt. Set aside.
Using a hand mixer, beat the butter, vanilla, and sugar until smooth. Add the eggs and beat until fluffy (about 2 minutes).
With the mixer on low, gradually add the flour mixture.
Shape into a ball, wrap in plastic and refrigerate for at least 1 hour or up to 3 days.
Preheat oven to 350F and line cookie sheet with parchment paper.
Create tablespoon sized balls of dough and flatten slightly with your palm. Space 2″ apart.
Bake for 12-15 minutes or until the edges being to brown.
Move immediately to a cooling rack or cookies will dry out.
Rainbow Icing
Ingredients
Confectioners Sugar
Milk or Light Cream
Nature's Colors Food Coloring by India Tree
Instructions
To create the icing, start with 1 c. of confectioners sugar in a small bowl. Starting with 2 tbsp. of milk, add milk slowly to get the thickness you desire. Divide the icing into parts and add the colors of your choice. You can create everything from pastels to jewel tones with Nature's Colors.
As I said, this is one of those recipes that can be made in bulk and frozen into sections. I usually make a double or even triple batch this time of year so I can quickly get cookies baked without the mess if I'm invited to a holiday party. Just pull the cookies from the freezer the night before the event and pop them in the fridge. They will be ready to go by mid-morning (in other words, after the kids are in school and you've had a cup or two of coffee).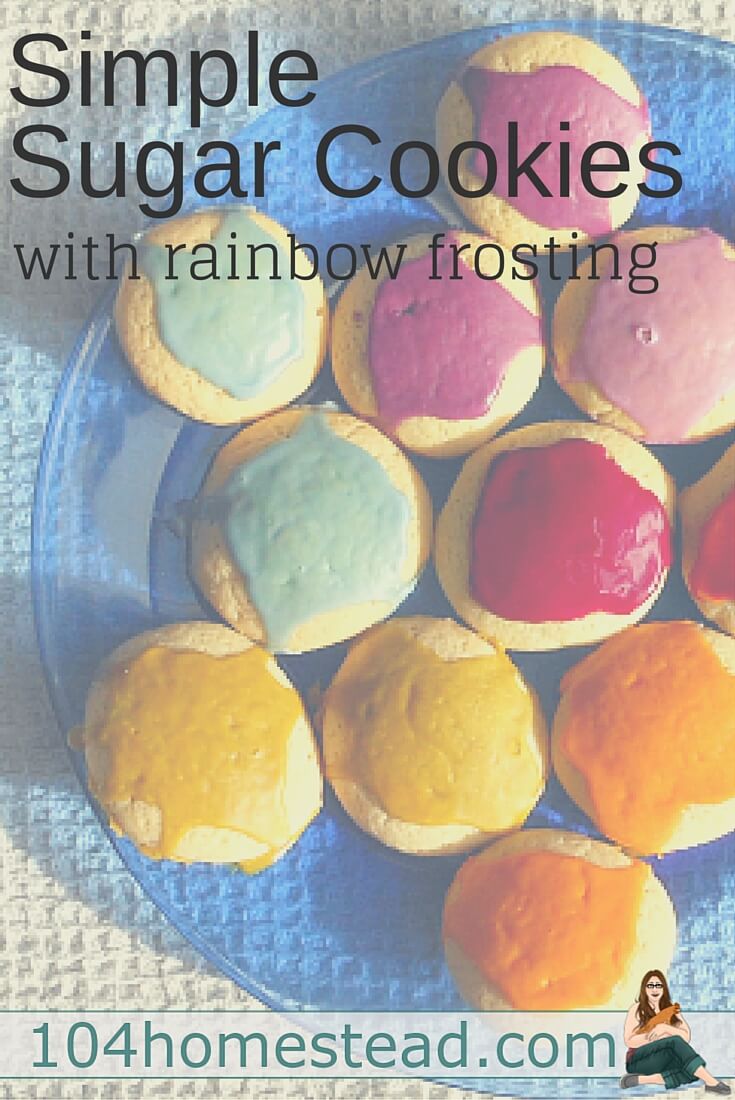 The following two tabs change content below.
I am a non-traditional homesteader. What is a non-traditional homesteader? I'd like to think we are the people who don't fit the mold. I am a busy mom on a small bit of property with not a lot of financial resources, but I am figuring out how to live the life I want. A homesteader's life.
Latest posts by Jessica Lane (see all)