Heads up! I link to products and services that I love from time to time. More often than not I have an affiliate relationship with these providers. What does that mean? I might make a small percentage from any purchases you make, but don't worry, you won't pay even a penny more. Thanks for supporting The 104 Homestead. You can see our full disclosure statement here.
Once you've made a PB&J on homemade bread, you'll never go back to store bought again. If taste isn't enough to convert you, the ease of spreading the peanut butter and the jelly will win you over in a heartbeat. No holes caused by sticky peanut butter. No jelly rolling over the surface without actually spreading.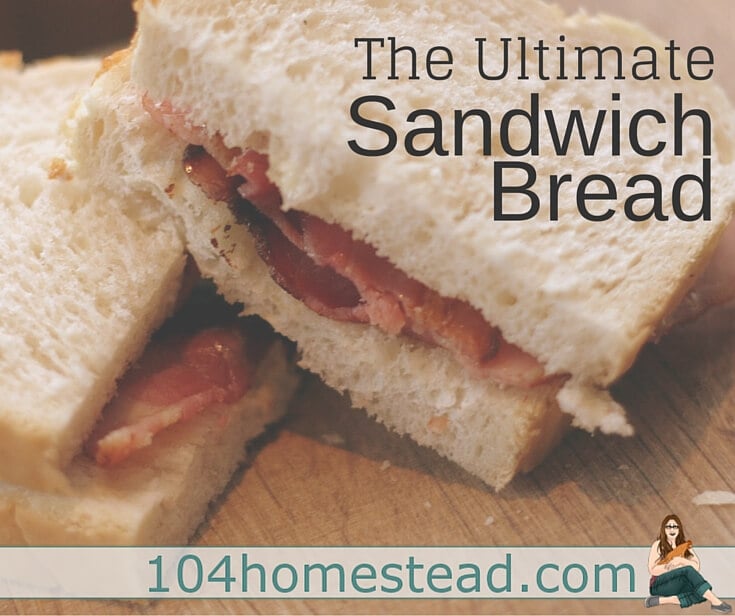 I'm going to share with you my ultimate sandwich bread. I don't have a stand mixer and I don't have a bread maker. This is an easy homemade sandwich bread that can be made with no fancy equipment. It's been kid tested and I certainly approve.
Making Sandwich Bread
Ingredients
5 1/2 – 6 c. All-Purpose or Bread Flour
1 c. Milk
1 c. Warm Water
2 tbsp. White Sugar
2 tbsp. Salted Butter
1 tbsp. Salt
2 1/4 tsp. Instant Yeast
Instructions
Pour warm (not hot) water in a large mixing bowl. Sprinkle yeast and sugar on top and let stand for 5 minutes. Melt butter in the microwave in a medium mixing bowl. Stir in milk and salt. Pour in 1 c. of flour and mix. Pour milk mixture in with the yeast mixture and stir until it creates a loose, lumpy batter. Add another 4 1/2 c. of flour. Using a stand mixer, a dough hook with an electric mixer or by hand, knead dough for 8-10 minutes. Add additional flour (1 tbsp at a time) if the dough seems too sticky.
Clean out medium mixing bowl and film it with a bit of oil. Create a ball with the dough and roll it in the oiled bowl to lightly coat it. Let the dough rise until it has doubled in size (about 1 hour).
Divide the dough in two and form both sections into two balls. Allow balls to rest for 10 minutes. Grease two standard size loaf pans with non-stick spray or olive oil. Shape and fold dough into loaves and place them into pans. Let loaves rise a second time for 30-40 minutes. Heat over to 425°f halfway through the second rise.
See how to shape a loaf of bread:
Slash the tops of the loaves down the middle and put them in the oven. Reduce heat to 375°f and bake for 30-35 minutes. Tops will be dark golden brown.
Helpful Tip
Allow bread to cool to room temperature and then refrigerate before cutting loaf. This makes the slices come out more uniform and reduces crumbling.
Are you new to bread making? Check out 9 Secrets to Successful Bread and you will be well on your way to successful bread.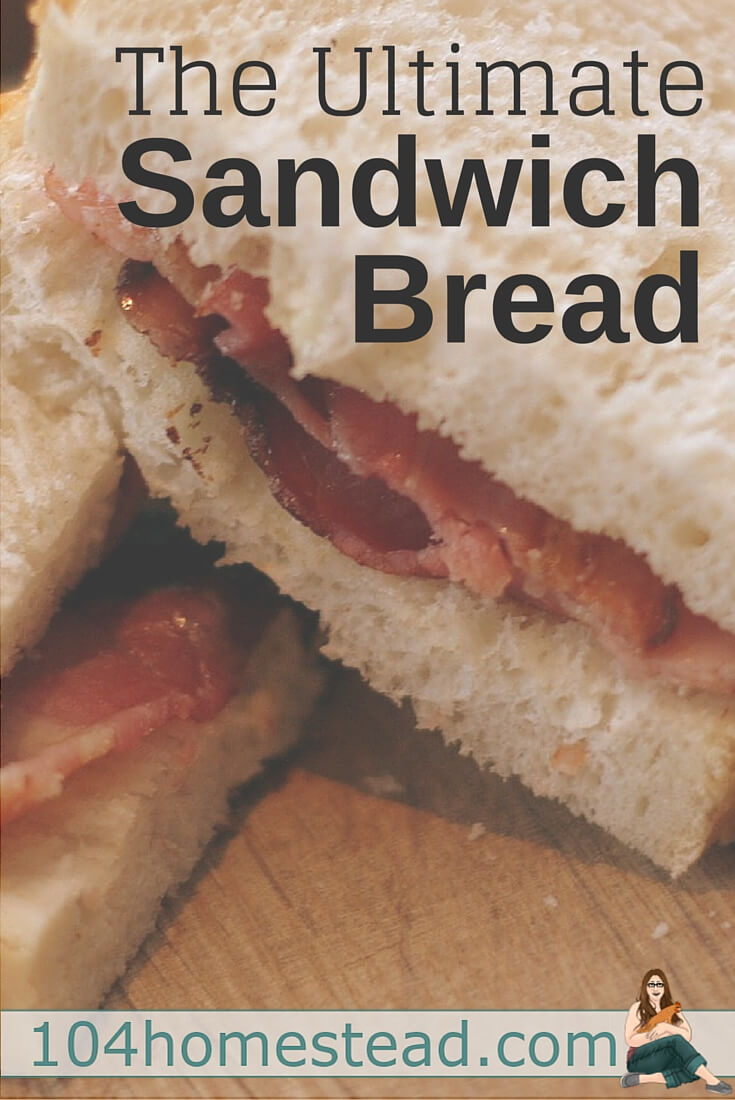 The following two tabs change content below.
I am a non-traditional homesteader. What is a non-traditional homesteader? I'd like to think we are the people who don't fit the mold. I am a busy mom on a small bit of property with not a lot of financial resources, but I am figuring out how to live the life I want. A homesteader's life.
Latest posts by Jessica Lane (see all)