How to Safely Clip Chicken Wings: Wing Clipping 101
Do you have well-behaved birds that stay behind their decorative fences? Do you have your birds enclosed like Fort Knox? Do you're birds have the luxury of wandering wherever they please? If you said yes to any of these questions, I'll see you next week. Today's post is for those of us that have naughty birds who are constantly trying to fly the coop… literally.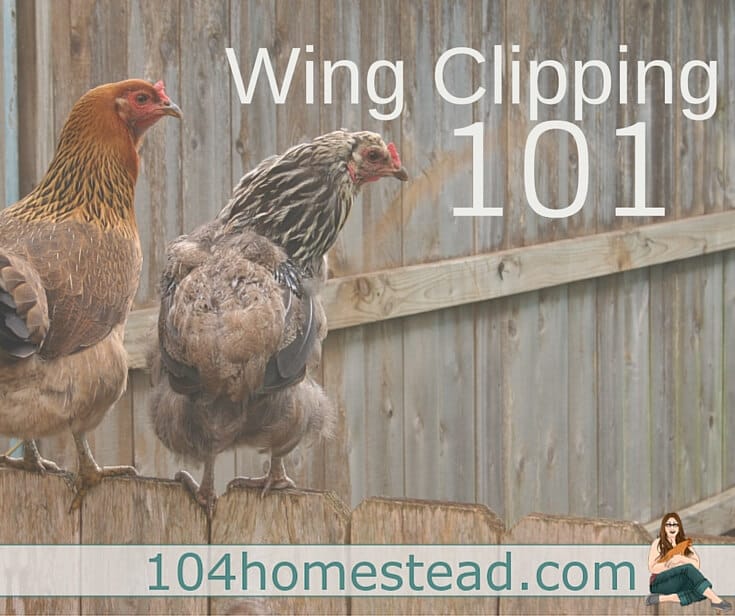 I have a 4′ fence that suggests to my birds that they stay in the back part of the property, but a few prefer to wander into the front or even to the neighbor's house. The neighbors have the best bird seed (or so the chickens tell me). When the girls get a little overzealous, the troublemakers get their wings clipped.
Wing clipping can be scary. Here are answers to some of the frequent questions that come along.
Does wing clipping hurt?
Not if it's done correctly. You need to be sure you are cutting the proper feathers while avoiding the secondary feathers or coverts.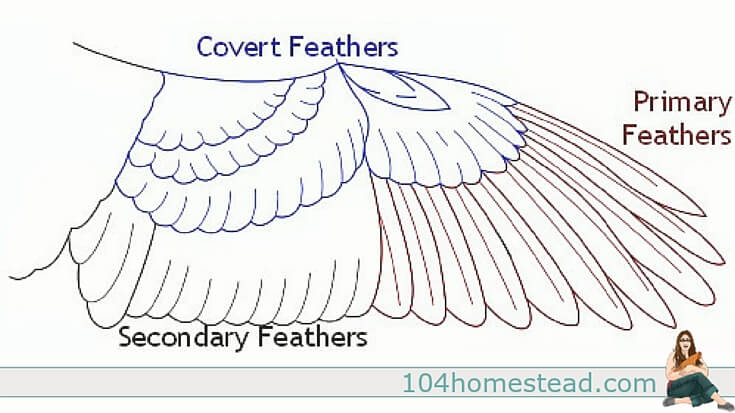 How early can I begin wing clipping?
You can do it at any time, but you will be better off waiting until it becomes a problem. Why? Birds learn to adapt to the clipped wing. It's sort of like someone who loses a leg or a hand early in their lives versus late in their lives. A child learns to adapt much faster than an adult. Adults have years of programming that their brain has to overcome to adapt.
Birds are the same. If you clip a non-flying pullet, they are learning the skill of flying without any barriers of how it use to feel. For an adult hen, you are messing up how things use to feel.
Can a chicken with clipped wings still fly?
Depending on factors such as weight and tenacity, yes, they still can. As mentioned above, it is a matter of them learning to adapt. Making it harder to adapt will help the results, but wing clipping may not ground every bird (I refer to my leghorns). Want to know how to make it harder to adapt…
Do I clip both wings or just one?
Just one! So many people clip both their chicken's wings and then ask me why their bird is still escaping. You made it too easy to adapt. We are all symmetrical beings. We do best with things being the same on each side. Look at it like this. If you are swimming in the water with a flipper on each foot, you are fast. If you have no flippers, you are slower, but you can still swim. If someone took just one flipper, you aren't going anywhere quickly. Could you figure out how to swim with one flipper? Yes, but is it worth it?
Is wing clipping permanent?
Sorry to say it isn't. The cut feathers will shed out over time and new ones will take their place. Because I live where there is cold and snow almost half the year, I only clip in the spring. My birds have no desire to traverse outside of their packed down area in the winter. If you live in a warmer climate, you might need to do it two or three times in a year. Before re-clipping, give your bird time to fly a bit. Again, if they get use to a feeling and you change it, it makes it hard to adapt.
Dangers of Wing Clipping
Wing clipping isn't all rainbows and sunshine. There are definite hazards associated with wing clipping. The most obvious is predators. Chickens flee predators. Very few will fight (which is good since most predators would win hands down). If you have taken the bird's ability to flee, you have made it easy pickings. When it comes to this danger, you need to look at pros and cons. If your neighbor has a dog or you live where there is a lot of traffic, assuring your bird doesn't get out near those dangers outweighs the chance that a weasel will get into the pen.
Other dangers seem mild in comparison, but are worth taking a look at. Chickens roost. We all know that. My lighter birds can still get on and off the roost easily (maybe a bit more flapping than there use to be). I have an Australorp that is too heavy to get on the high roost when her wing is clipped. She has also wiped out when getting down because she can no longer glide. She has hit the wall (literally) a few times which has the risk of breaking a neck or other injury. She now has a ladder which she uses. You need to remember how wing clipping is going to affect your birds' daily activities.
How to Clip a Chicken's Wing
This is my favorite video tutorial for wing clipping. This lady does a great job at describing the process and does it with the comfort of her chicken in mind.
If you have any questions about clipping wings or any other poultry topic, contact me. I am happy to help!