Keeping Quail on the Ground
When I first decided to raise quail I noticed through research the majority of quail were raised in wire cages or some type of cage that looked similar to a rabbit hutch. This wasn't how I wanted my quail experience to end up. The vision I wanted was for these little birds to roam the grass hunting for bugs, much like they would do if they were living in the wild.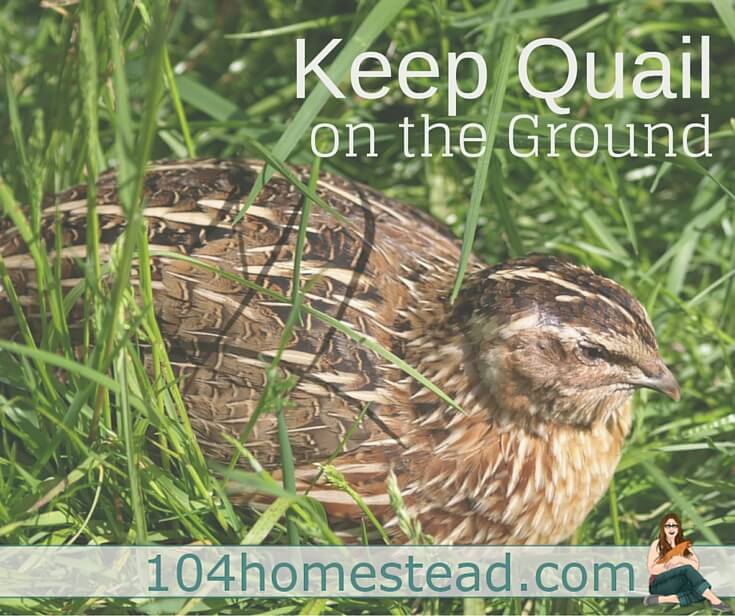 Knowing this I couldn't open free range due to sky predators and the chance of them flying away. There was this desire to implement housing that was covered with access to the ground and that's what I came up with.
My Experience with Quail
I began my experience with the Coturnix quail; they are the hardiest of all quail and a perfect choice for beginners. I knew very little about this breed in the early stages; later I discovered there were sub-categories within this variety. This was exciting and a little confusing at first because they all have beautiful color patterns, making it difficult to just have one so I ended up with a mixed flock. This is not always the best idea if you plan to incubate eggs later on.
The Coturnix quail adapted beautifully to the ground. They had the opportunity to live in three different housing options which I'll share later. I wasn't sure if raising these quail on the ground would be a positive experience because for the most part this breed has been rather domesticated and primarily raised for the purpose of eggs and meat.
It was like they wanted to be on the ground because they adapted over night.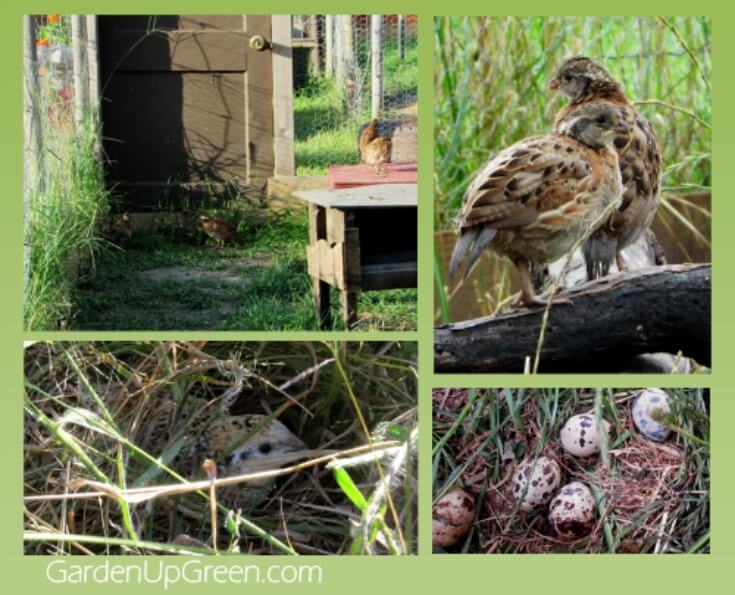 I now raise a native breed, the Bobwhite quail. These birds are not as hardy but they are more active and have blessed the quail sanctuary with life again. I'm amazed at their activity, it's very entertaining. They can be found hunting, flying and sometimes just perched on a log enjoying their natural environment. I like to sit inside their home and bird watch.
Learning through their instincts is amazing and has given me the opportunity to discover a great deal about both the Coturnix and Bobwhite quail.
I've used three coop options to house my quail, one is mobile and the other two are stationary. Each one allows for interaction with the ground with suitable square footage for any backyard or homestead. Quail like their space; provide one square foot per bird, never over crowd it's simply asking for trouble.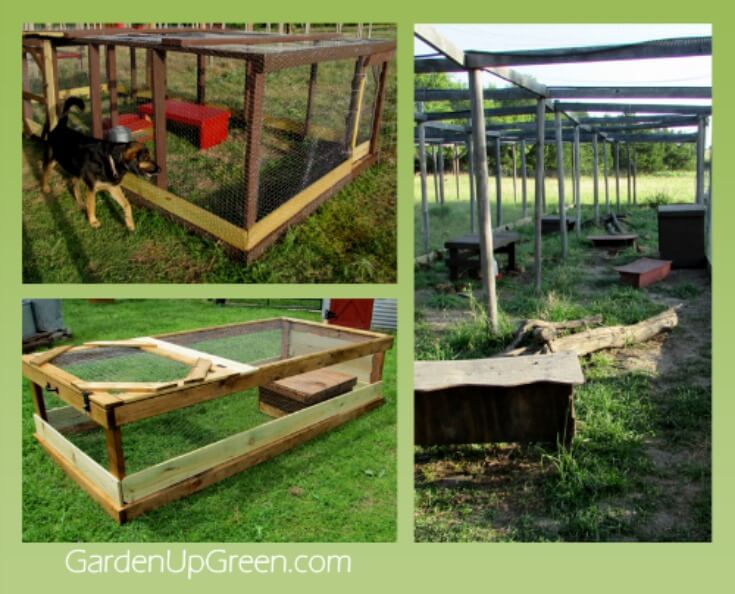 The Mobile Coop
This coop is in the bottom left photo is a 4 x 8 frame with a small shelter house inside that can also be moved. This is perfect for backyards or those who want to raise quail on a small scale. You can easily move it on fresh grass always providing a clean environment. This helps keeps costs to a minimum with the benefits of natural fertilizer feeding the grass.
There are two doors to this coop allowing for easy access to add food, water and gathering eggs.
The Rotation Stationary Coop
This coop is in the upper left photo. It has four sections that measure 8 x 8. Each section can be blocked off with a door or remain open. I used this with the idea of rotational housing in mind. This is where you allow the quail to live in one space for a week and then move forward to clean grass area the following.
This coop requires more space but offers the same benefits as the mobile coop without having to move it every week. It is also 4 ft tall which came to be difficult when entering, but if you have kids you can send them in do quail chores. For that reason we moved to the Quail Sanctuary.
The Quail Sanctuary is the right photo, it was implemented from an existing structure we already had on our farm. We weren't using it so I wired off a 60 x 12 x 6 ft. space. I completely closed this area in using chicken wire and deer netting. This happens to be my favorite housing option because the quail can live and explore without limitations. Quail love to fly and in this set up they have that opportunity to glide through the air instead of marching in a line from north to south.
The thing to remember about quail is they're natural instinct is to be on the ground, if you have the opportunity and space to raise these birds outside in a protected environment then I highly recommend one of these options. Your birds will be happier and healthier.
For more on raising quail, check out Carole's new book, Quail: Getting Started.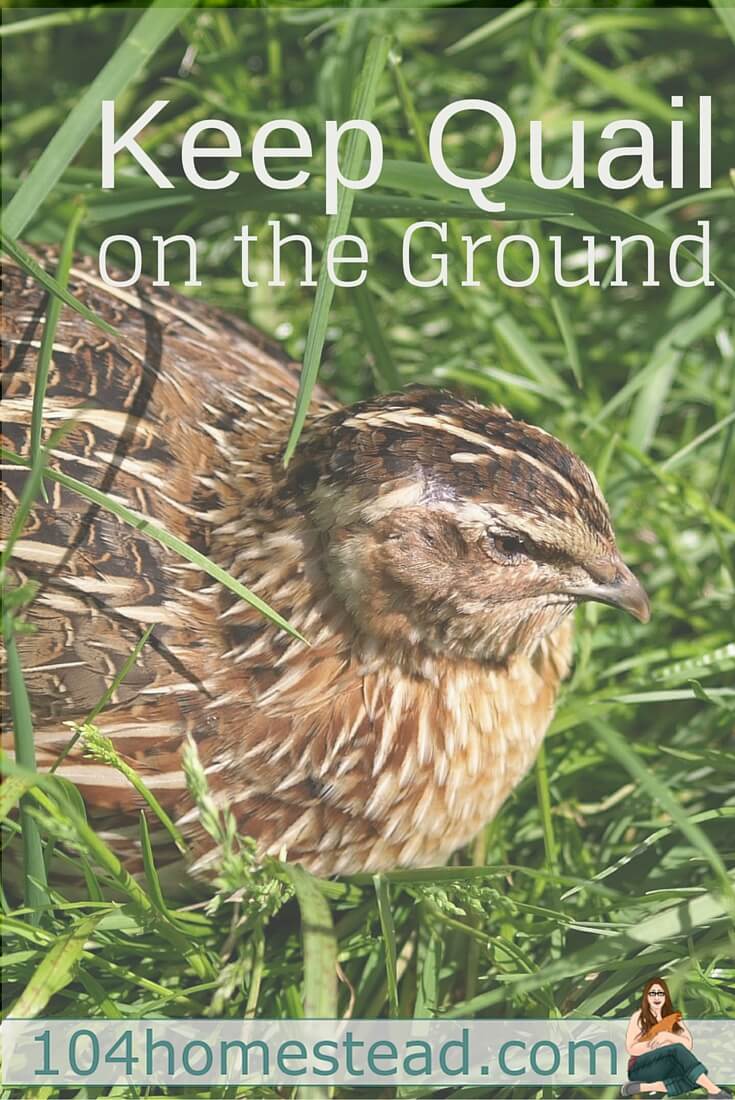 BCH
The following two tabs change content below.
Carole is the author of
Garden Up Green
, the natural home and garden. You'll learn simplistic gardening tips inherited from her Italian grandmother and building projects that compliment. Discover free range backyard birds like quail, chickens and emus, there's never a dull moment at this North Texas farm.
Latest posts by Carole West (see all)