Everyone wants their home to smell nice, but many feel they are forced to go a chemical route to get that smell. It's especially difficult in the cold winter months where it's hard to get things like fresh flowers to add that pleasant scent. I'm going to let you in on a secret of how to make a nice fruity-scented potpourri for pennies that is natural and family-friendly.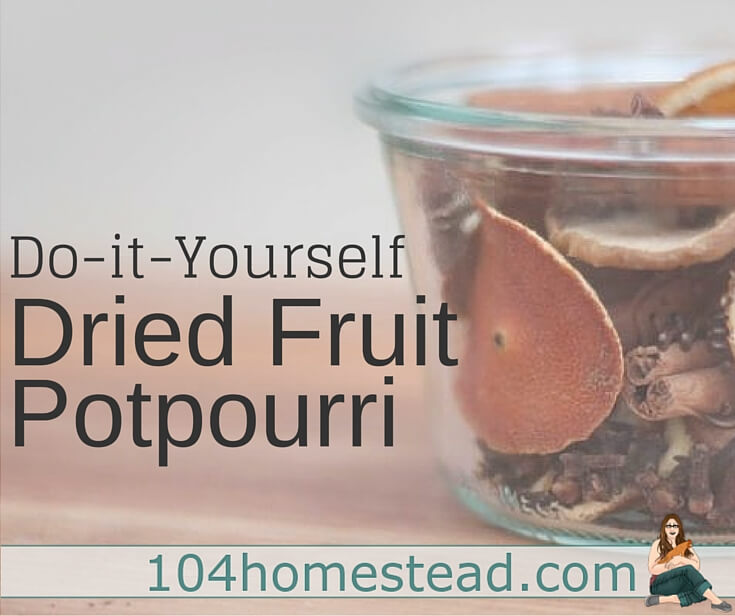 Making Your Homemade Potpourri
Supplies
Fruit (almost any will do – I like apples and oranges – I like to do this when I'm making fruit salad so I'm not wasting the peels)
Sharp Knife
Cookie Sheet
Cooling Rack
Ziplock Baggie
Salt
Spices (any will do, but cinnamon, cloves, vanilla beans, and nutmeg are great)
Preparing Your Fruits
Cut citrus peels such as orange and lemon into small pieces no larger than 1/2″ wide. Cut them into thin slices no larger than 1/4″ thick. Slice apples, peaches and pears into thin slices no larger than 1/4″ thick. Save the peels and dehydrate these as well to add to your potpourri.
Drying Your Fruits
Place the cookie sheets with the fruit in the oven. Set the oven for 250ºF. Leave the fruit in the oven for 2 hours. If the fruit begins sizzling, turn the temperature down, or leave the oven door cracked to prevent the fruit from cooking. If you have a dehydrator, you can use that instead.
Check on them to see if they are dried. Remove pieces of fruit and squeeze them. If no moisture comes from the fruit and they feel rubbery, then you can set them off to the side while the others finish up.
Remove the remaining fruit from the oven and set the fruit on a rack to cool.
Assembling the Potpourri
Place all of the cooled dried fruit into a zipper lock plastic bag. Add 1 tablespoon of salt and one 1 tablespoon of spice(s) of your choice into the bag. Shake the bag to spread the spices over the fruit.
Allow the potpourri to set overnight. Then place the fruit potpourri in a container to enjoy the aroma.