Create a Natural and Fruity-Scented Home: DIY Potpourri
Transform your home with a budget-friendly DIY fruity-scented potpourri! Discover easy steps to create a natural and family-friendly aroma.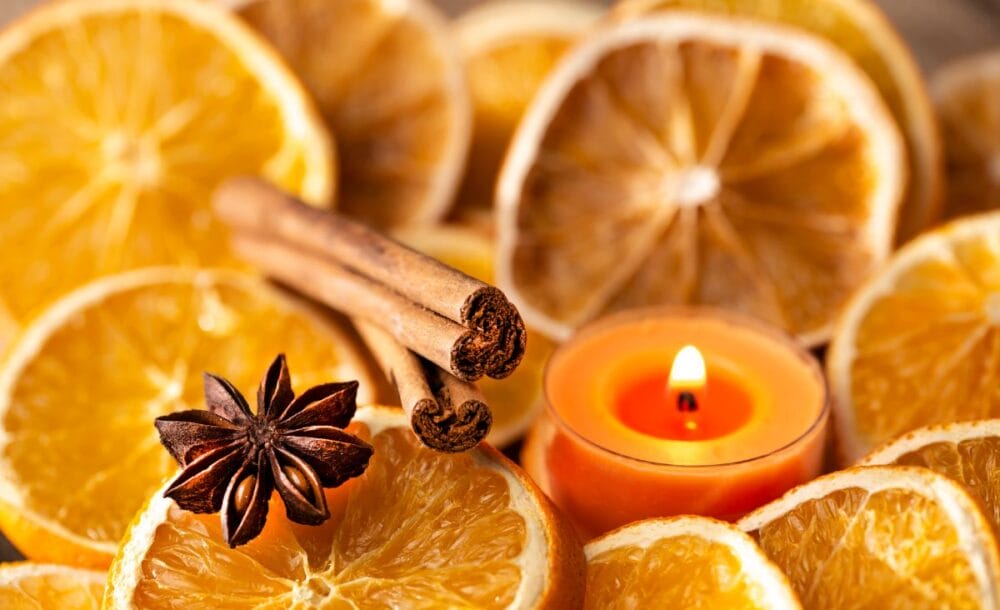 Everyone desires a pleasant-smelling home, but the use of chemical air fresheners can be a turn-off. This challenge becomes even more significant in the cold winter months when obtaining fresh flowers can be difficult. However, fear not! I have a secret to share—discover how to make a delightful fruity-scented potpourri for just pennies, using natural and family-friendly ingredients.
Homemade potpourri has several advantages over store-bought options. First and foremost, it allows you to control the ingredients, ensuring a natural and chemical-free fragrance for your home. You can personalize the scent by choosing your favorite fruits and spices, creating a unique blend that reflects your preferences. Additionally, homemade potpourri is cost-effective, as it can be made with everyday kitchen supplies, reducing the environmental impact of packaging. The process of making your own potpourri can also be a creative and enjoyable experience, adding a personal touch to your home decor.
Making Your Homemade Potpourri
Making your own potpourri is super simple. Are you ready to make your own?
Supplies Needed:
Fruit (almost any variety works; I prefer apples and oranges, especially when making fruit salad to avoid wasting peels)
Sharp Knife
Cookie Sheet
Cooling Rack
Ziplock Baggie
Salt
Spices (cinnamon, cloves, vanilla beans, and nutmeg work exceptionally well)
Preparing Your Fruits
For the citrus peels, begin by cutting orange and lemon peels into small pieces, ensuring that each piece is no larger than 1/2″ wide. Slice these peels thinly, with a thickness no greater than 1/4″.
As for other fruits like apples, peaches, and pears, slice them into thin pieces, maintaining a thickness of no more than 1/4″. It's advisable to save the peels for dehydration, as they can be later included in the potpourri mixture, adding an extra layer of fragrance.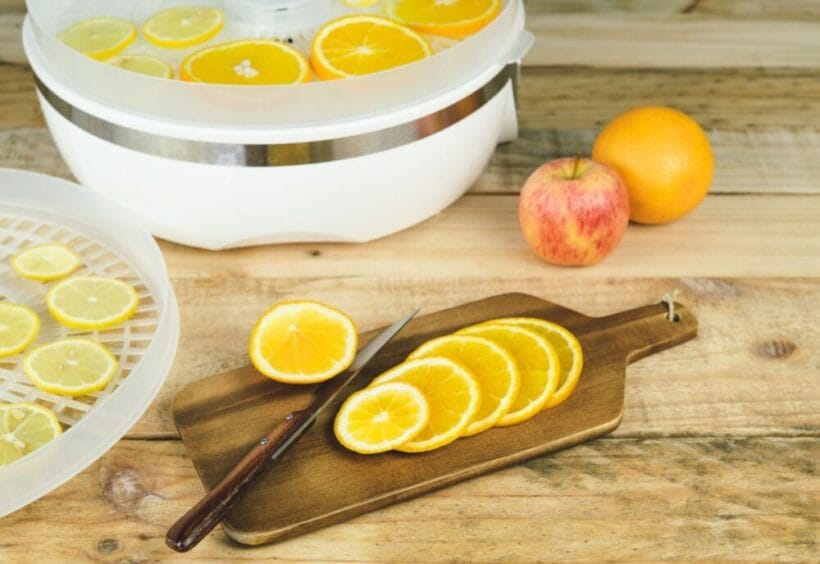 Drying Your Fruits
After preparing the fruit, arrange them on cookie sheets and preheat the oven to 250ºF. Let the fruit remain in the oven for approximately 2 hours. If you notice sizzling during this time, consider adjusting the temperature or cracking the oven door to prevent overcooking. Alternatively, if you have a dehydrator, it can serve as an effective alternative for this process.
To ensure the fruits are adequately dried, perform a simple check by squeezing a few pieces. You can set them aside if they feel rubbery with no signs of moisture.
Once the drying process is complete, remove the remaining dried fruit from the oven and allow it to cool on a rack. This step ensures that the fruit maintains its texture and aroma for the perfect potpourri blend.
Assembling the Potpourri
Once all the fruit has cooled and dried, transfer it into a Ziplock plastic bag. Add one tablespoon of salt and another tablespoon of your preferred spice or combination of spices into the bag. Give the bag a good shake to ensure that the spices are evenly distributed over the fruit.
Allow the potpourri to sit overnight, allowing the flavors to meld and intensify. The next day, place the fruit potpourri in a container and revel in the delightful natural aroma that will now permeate your home, creating a warm and inviting atmosphere.
Frequently Asked Questions
If you've found value in this blog post and enjoyed reading it, why not share it with your Pinterest community? Pin the image below and spread the love!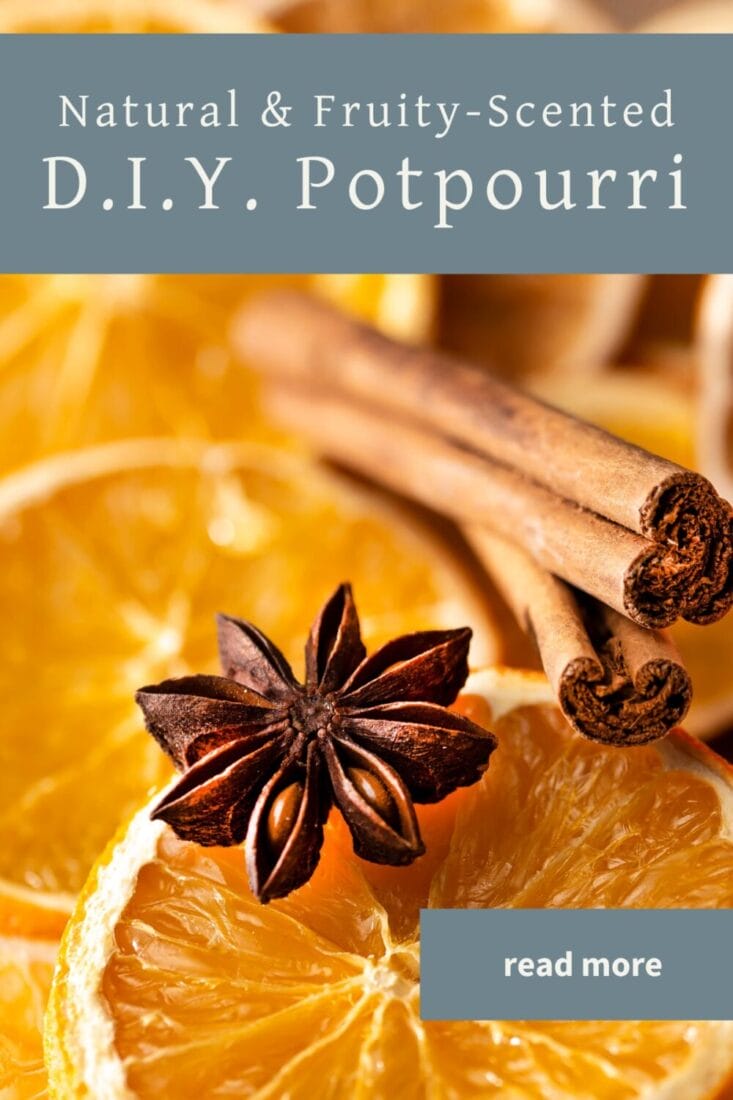 Embracing the art of crafting homemade potpourri not only elevates the olfactory experience of your living space but also provides a fulfilling and creative DIY endeavor. By choosing specific fruits and spices, tailoring the drying process, and exploring ways to extend its lifespan, you unlock the potential for a uniquely aromatic home. Say goodbye to store-bought solutions and relish in the satisfaction of a budget-friendly, natural, and personalized fragrance that truly makes your space feel like home.
What fruits and spices would you choose to create your signature potpourri blend, and how do you envision transforming your home's ambiance with this personalized fragrance? I'd love to hear about your unique combinations and experiences—share your creative ideas in the comments below!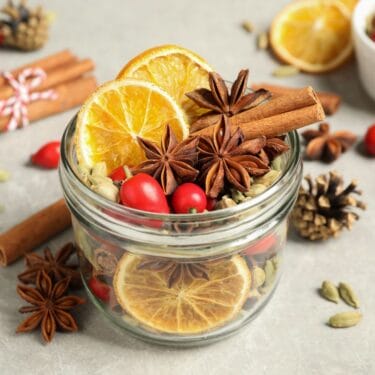 Fragrance Fusion: Personalized Potpourri Perfection
With every whiff, experience the personalized perfection that only your unique combination of fruits and spices can bring to your home.
Print Recipe
This post may contain paid links. If you make a purchase through links in this recipe, I may earn a commission.
Equipment
1 Sharp Knife

1 Cooling Rack

1 Ziplock Baggie
Ingredients
Fruit

any will work

1

tbsp.

Salt

1

tbsp.

Spices

cinnamon, cloves, vanilla beans, nutmeg, etc.
Instructions
Cut citrus peels into small pieces no larger than 1/2″ wide. Slice them thinly, no larger than 1/4″ thick. Slice apples, peaches, pears, and similar fruits into thin slices, keeping them no larger than 1/4″ thick.

Place the prepared fruit on cookie sheets and set the oven to 250ºF.

Leave the fruit in the oven for 2 hours. Adjust the temperature or crack the oven door if sizzling occurs to prevent overcooking.

Check for dryness by squeezing pieces. If they feel rubbery with no moisture, set them aside.

Remove the remaining dried fruit from the oven and cool on a rack.

Place all cooled, dried fruit into a ziplock plastic bag.

Add one tablespoon of salt and one tablespoon of your chosen spice(s) into the bag.

1 tbsp. Salt,

1 tbsp. Spices

Shake the bag to distribute the spices over the fruit evenly.

Allow the potpourri to set overnight.
Notes
Place the fruit potpourri in a container and enjoy the natural aroma that permeates your home.