31 Yummy Christmas Cookies for Your Holiday Pleasure
Christmas cookies are one of the best parts of the holiday season. Get in on the fun with these cookie recipes and baking tips.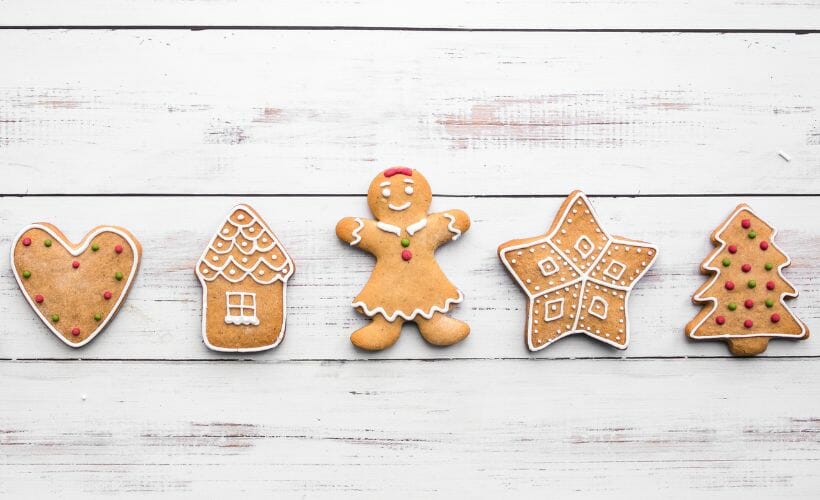 Check out these 31 easy Christmas cookie recipes you'll make all season long. They are easy to make and faster to disappear. The following recipes contain the classics as well as some fun newer recipe ideas. If this is your first time making cookies from scratch, this is the place to start.
If you're new to making cookies from scratch, make sure you check out my 8 tricks for extraordinary cookies.
And make sure you scroll to the bottom for tips on storing your delicious Christmas cookies.
Austrian Linzer Cookies
Linzer cookies are soft, buttery, and filled with jam. These are traditional Christmas sandwich cookies from Austria, which are usually filled with apricot or strawberry jam.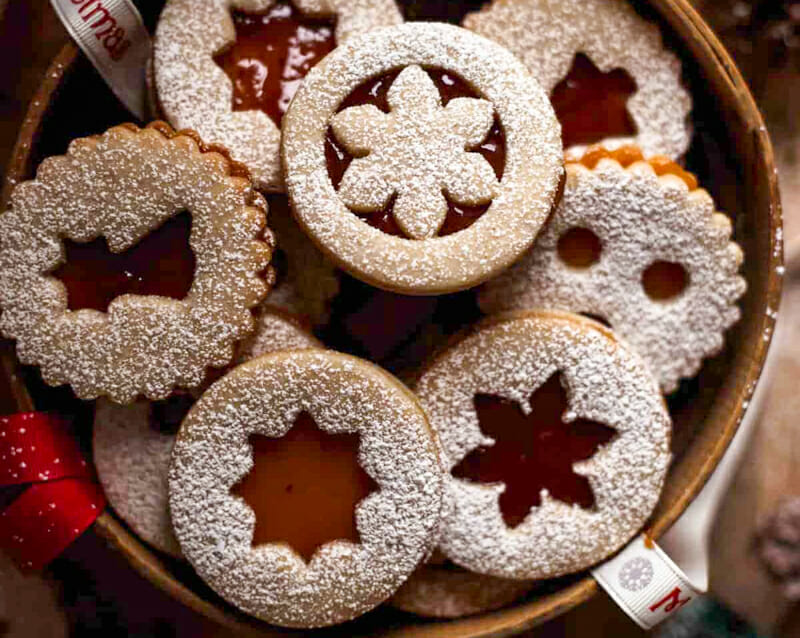 Heavenly Bacon Chocolate Chip Cookies
Chocolate chip cookies are a classic cookie recipe, so everyone's tried them and has an opinion. I have a bunch of tips and tricks to bring this beloved treat into the 21st century. Take your tastebuds on an adventure with this amazingly sweet and salty chocolate chip and bacon cookie recipe.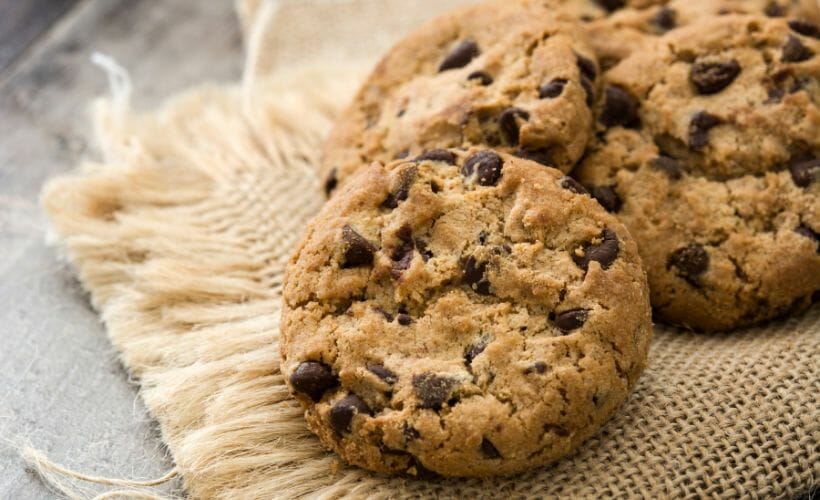 Caramel Mocha Sandwich Cookies
Sandwich chocolate cookies around a caramel buttercream frosting for a truly special and delicious dessert! Unlike whoopie pies, which tend to combine soft cookies with creamy filling, here it is the one-two punch of crunchy cookie with a sweet filling that makes this cookie sandwich recipe so very decadent.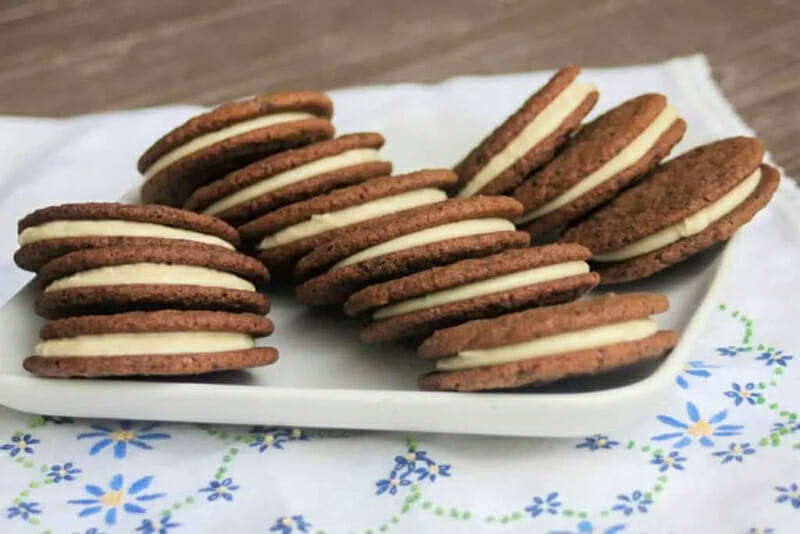 Cinnamon Sugar Cookies
This cinnamon sugar cookies recipe takes your traditional sugar cookie recipe and bumps it to the next level with a double helping of cinnamon. These cookies melt in your mouth, and the cinnamon in the dough and on the outside makes you forget you're eating a simple sugar cookie. This recipe comes together with ingredients straight from the pantry.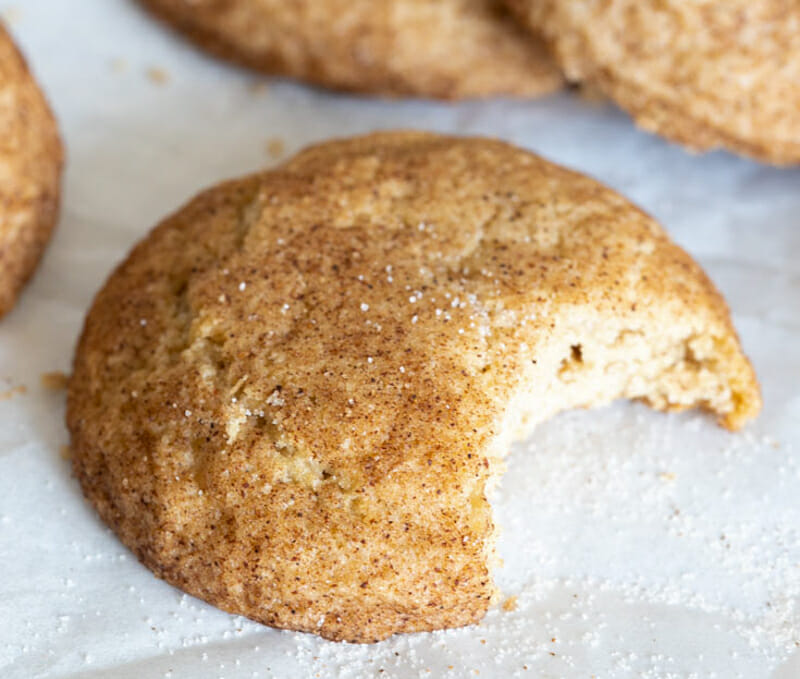 Chocolate Chip Cookie Bars
Make some for a family gathering, church gathering, or even as a Christmas Gift. Tell me you wouldn't love to get a container of these as a Christmas present. Put them in a pretty box with a bow and a recipe card and… instant amazing present!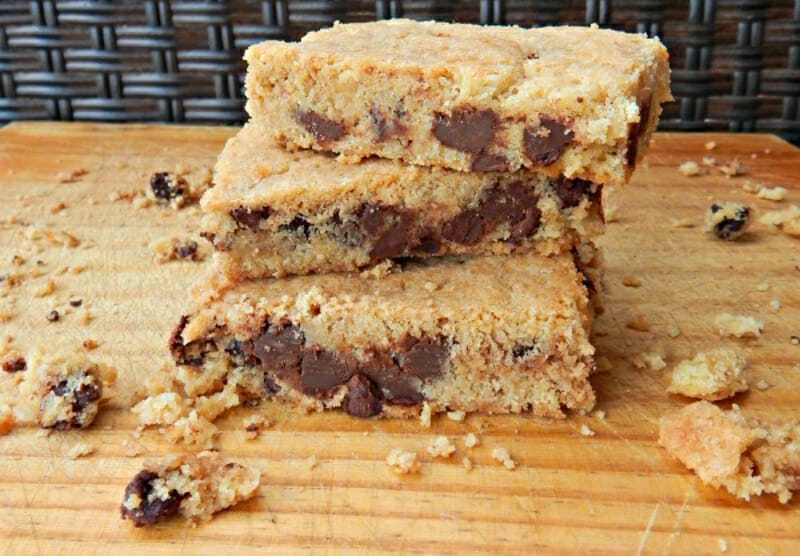 Chocolate Crinkle Cookies
Chocolate Crinkle Cookies are soft melt-in-your-mouth fudgy chocolate brownie-like cookies. The dough is rolled in a thick coating of powdered sugar and then baked giving it that beautiful crinkled appearance.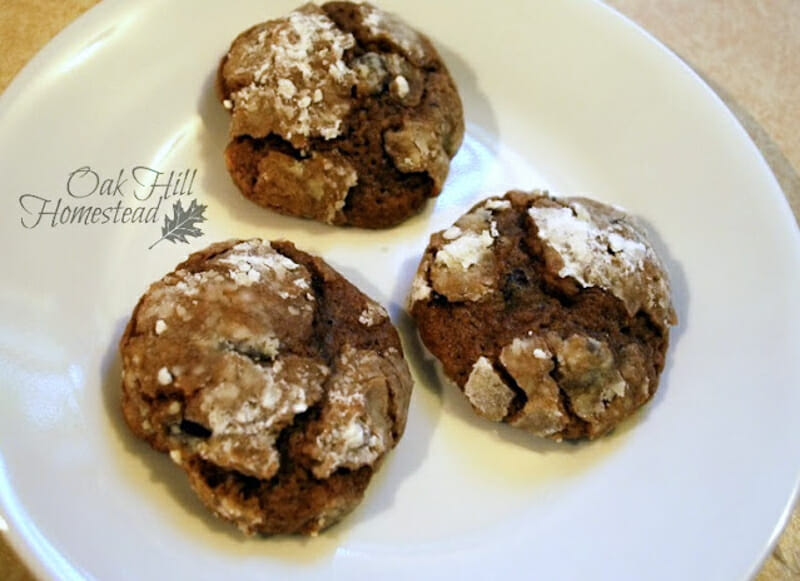 Chocolate Mascarpone Sandwich Cookies
These mascarpone cookies will delight you with their buttery and crumbly exterior and creamy chocolate mascarpone cheese filling. They are also incredibly easy to make, yet a perfect treat to amuse your weekend or make something special for those celebratory moments.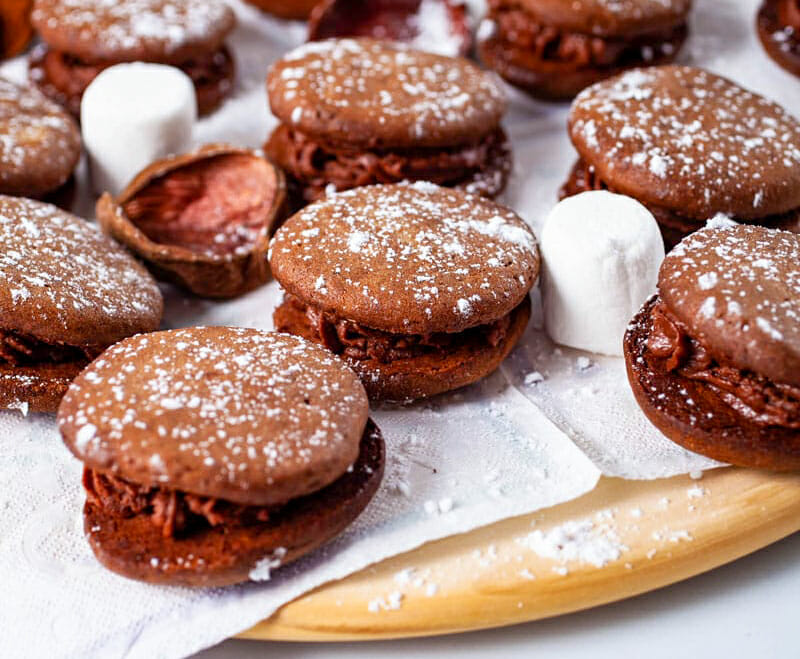 Classic Peanut Butter Cookies
The flavor of a peanut butter cookie is just hard to beat. They're perfectly sweet and buttery rich, and they're sure to satisfy that peanut butter craving. And who doesn't love that traditional fork-pressed crisscross pattern?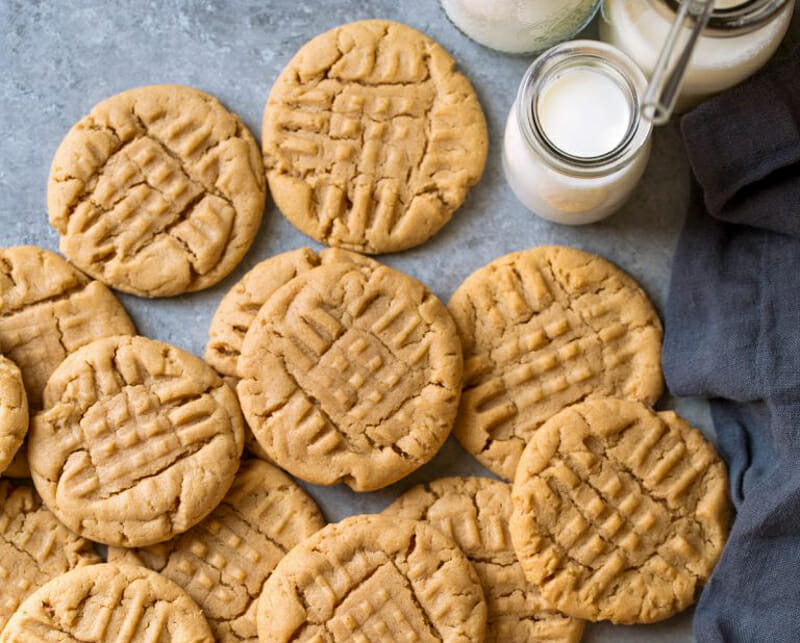 Coffee Chocolate Chunk Cookies
Crisp on the edges, soft and chewy in the middle. Large chunks of gooey, melty chocolate and little bits of vanilla-soaked crushed coffee beans make these coffee chocolate chunk cookies absolutely mouth-watering!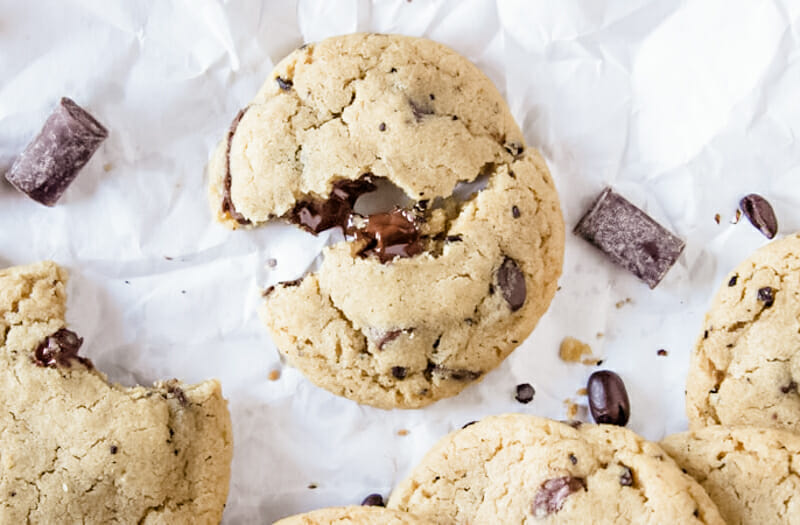 Double Chocolate Chip Cookies (Regular & Gluten-Free)
The best recipe for double chocolate chip cookies must obviously include extra doses of chocolate. These soft-baked thick and chunky cookies are as indulgent as they look: rich and fudge-like with chewy centers, slightly crisp edges, and oodles of melty chocolate chips in each glorious bite.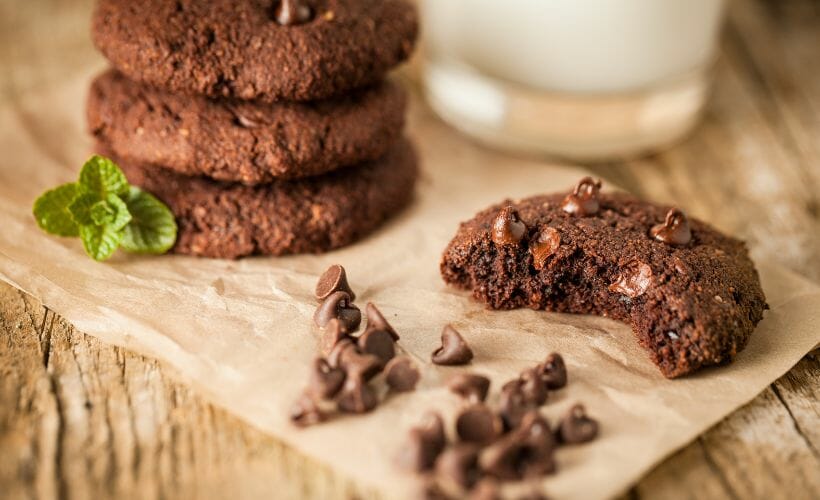 Easy 3-Ingredient Brown Sugar Cookies
Buttery, crisp but flaky and not-too-sweet, these deliciously easy cookies are the perfect Holiday Bake for fall and winter! Lots of flavor for very little work, they're the perfect under-30-minutes bake for when you're feeling lazy and don't have eggs.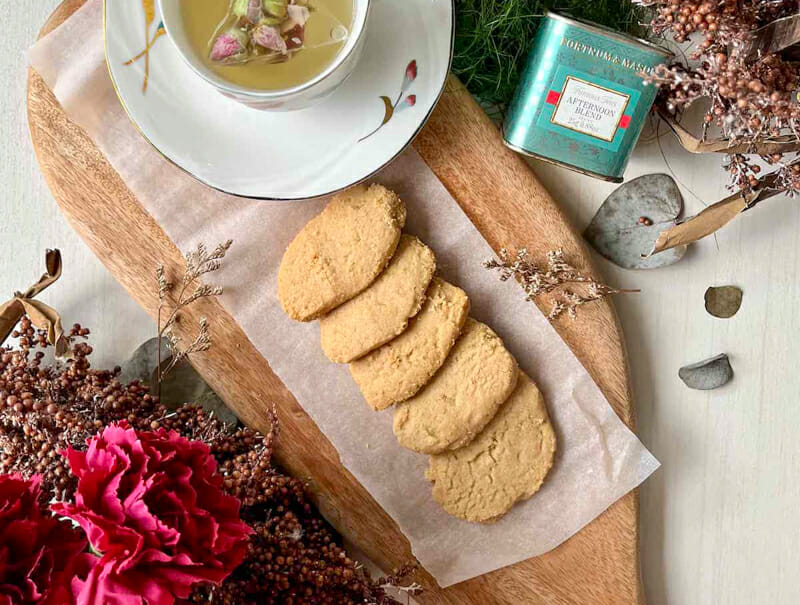 Einkorn Christmas Cookies
Christmas is the traditional time to indulge in the bliss of baking all your family's favorite holiday cookies. Making them with Einkorn wheat flour will impress them with the depth of flavor and you'll know they're healthier for them.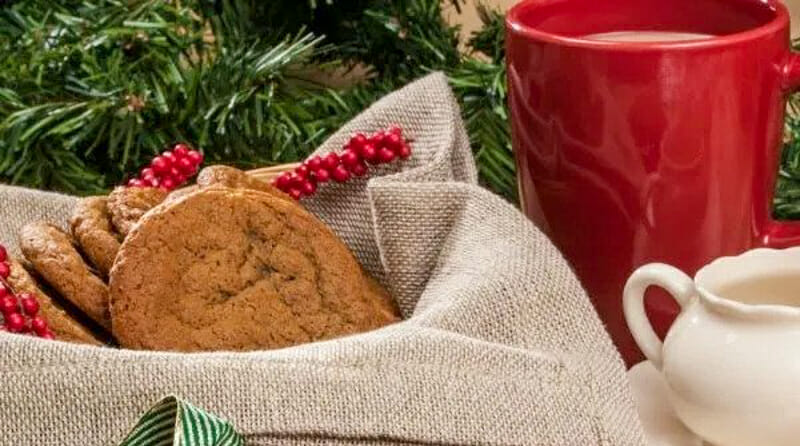 Fresh Ginger Cookies
Ginger cookies with fresh ginger can't be beaten for flavor. Serve these easy ginger cookies with a glass of milk or a hot cup of tea, or give them as gifts.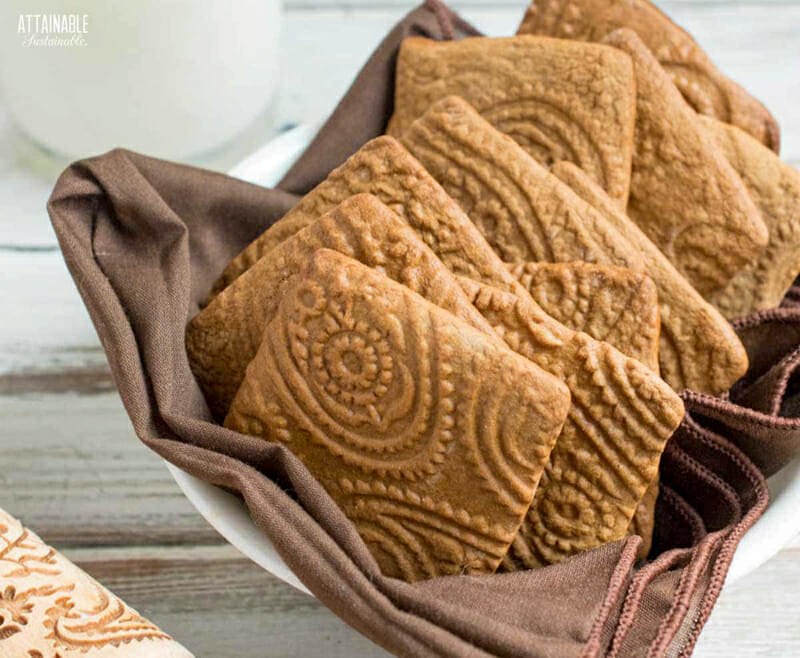 Frosted Sugar Cookies
These soft cream cheese frosted sugar cookies are so delicious! Who can say "no" to a soft cookie that is the perfect amount of sweetness? Adults and kids alike will love this cookie to the core!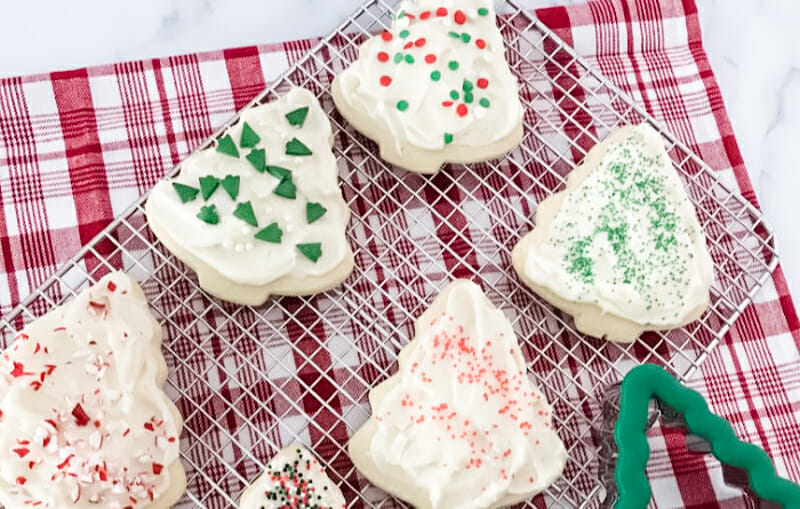 Glazed Apple Spice Cookies
These Glazed Apple Spice Cookies are wonderfully delicious, made soft and cake-like by the apple, which highlights the warm spicy flavors that embody fall baking. The spices in these cookies are balanced perfectly with the sweet glaze.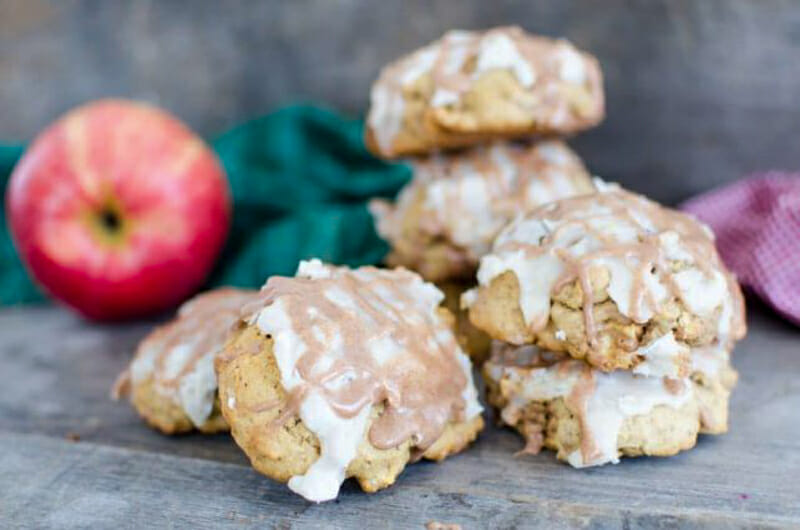 Gluten-Free Gingerbread Cookies
Gluten-free gingerbread cookies can be thin, crispy, and full of flavor. The perfect cookie to dunk in a mug of steaming coffee or leave on a plate for Santa. This cookie recipe can be rolled thin and cut with cookie cutters for crispy gingerbread. Then decorate them with Royal icing or leave them plain.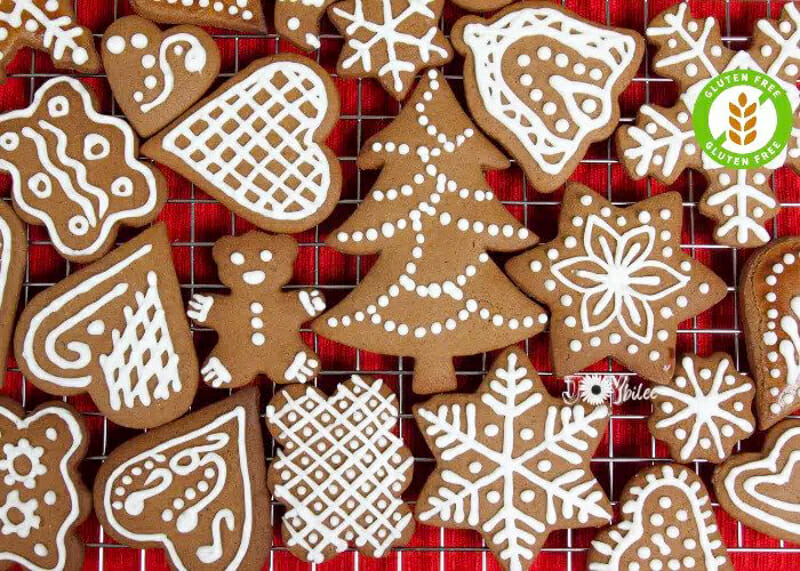 Hot Chocolate Cookies
These soft, chewy, and gooey Hot Chocolate Cookies are like cozying up to a cup of hot cocoa. Made with cocoa powder and topped with a soft and fluffy marshmallow, these cookies come together quickly and easily! They are perfect for the holidays or whenever you're in a cozy mood.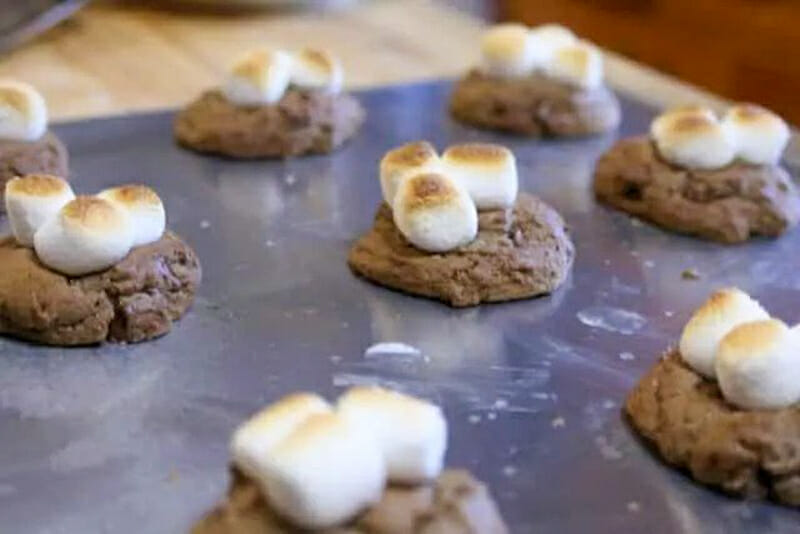 Italian Anise Cookies
Italian anise cookies stand out on the cookie tray because of their glazed top and colorful sprinkles. But, when you take a bite, you will be surprised by the soft interior and unexpected savory licorice-like flavor of the anise.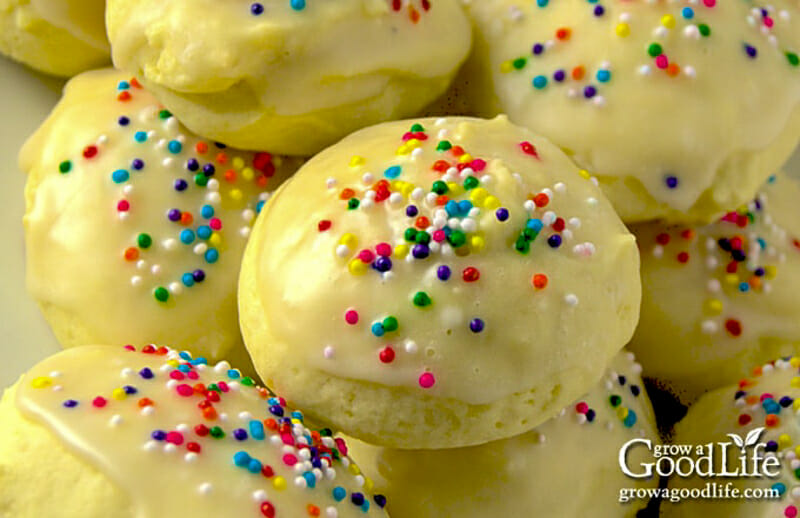 Kardamon Plätzchen (German Christmas Cookies)
Kardamon Plätzchen is a type of German Christmas cookie that is popular worldwide in the wintertime. The shortbread cookie gets its warm, comforting flavor from the ground cardamom that is its hallmark. The dough is very crumbly and must be refrigerated like an icebox cookie before baking. After baking, the cookies are cooled and dipped in melted chocolate.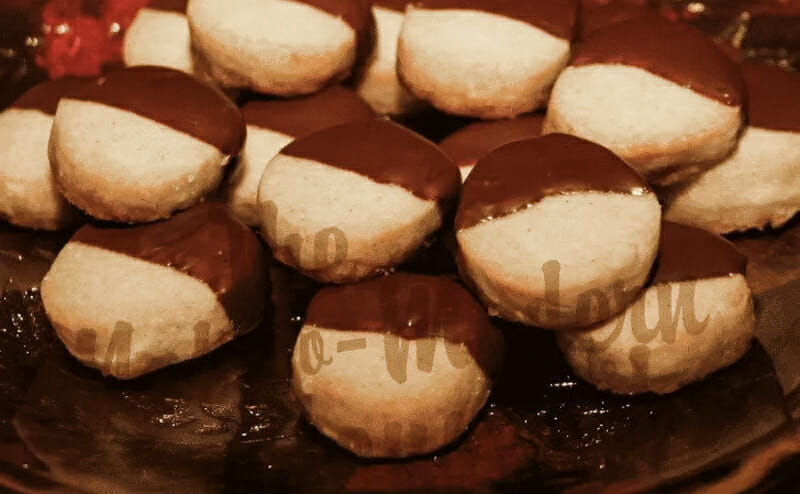 Maple Syrup Cookies
I don't think there's a cookie I love more than a crispy, old-fashioned butter cookie. This amazing recipe from the new book, Sweet Maple by Michelle Visser, takes the goodness of butter cookies one step further with the addition of maple syrup. Old-Fashioned Maple Syrup Cookies are simply wonderful!
Mulberry Cookies
Delicious, sweet, and very easy-to-make mulberry cookies. It's how I make thumbprint cookies filled with delicious mulberry jam. They are a great treat and a great way to celebrate the mulberry season.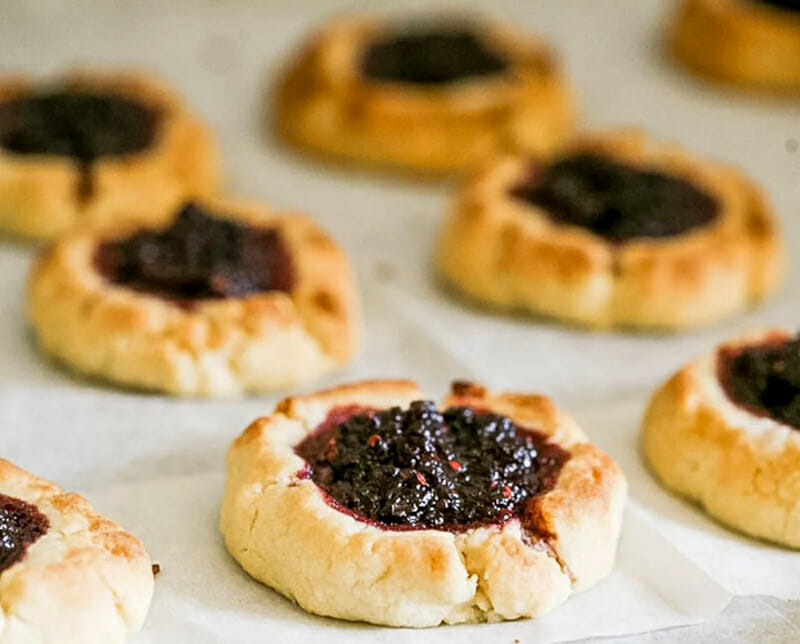 Peppermint Chocolate Cookies
Double chocolate peppermint cookies, thick, chocolatey chewy cookies, with chocolate chips and flavored with a hint of peppermint extract. The finished cookies are dipped or drizzled with white chocolate and sprinkled with crushed candy cane bits.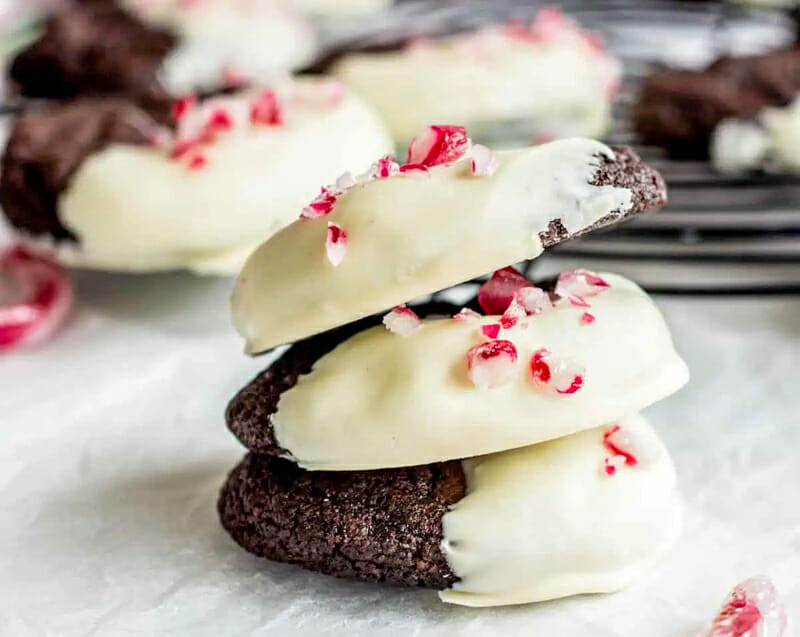 Pizzelle Cookies
Here's a gorgeous, Paelo-friendly (no-grain) pizzelle recipe with pumpkin spice. You will need a pizzelle maker for this recipe, FYI.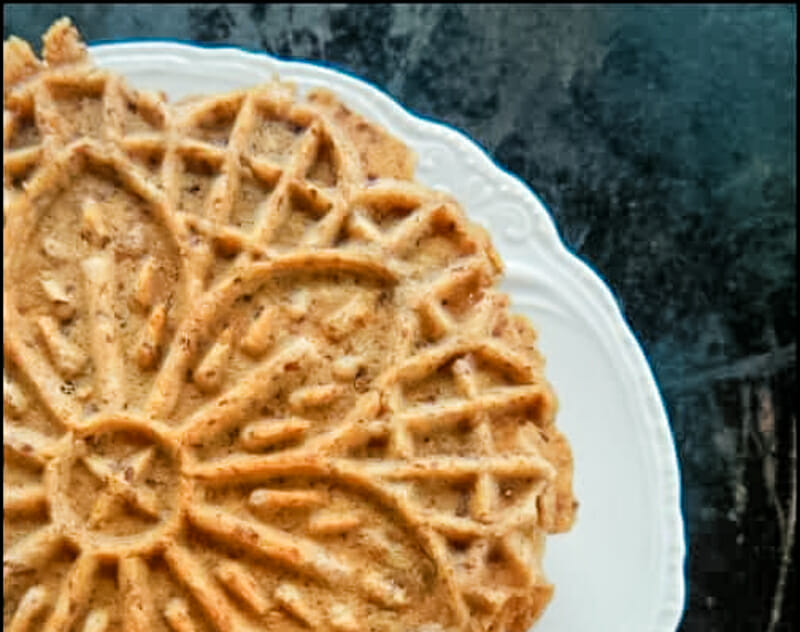 Seriously Soft Molasses Cookies
Homemade soft molasses cookies with crackly tops are super chewy and perfectly spiced. They stay seriously soft for days—if they last that long—and are always a holiday favorite.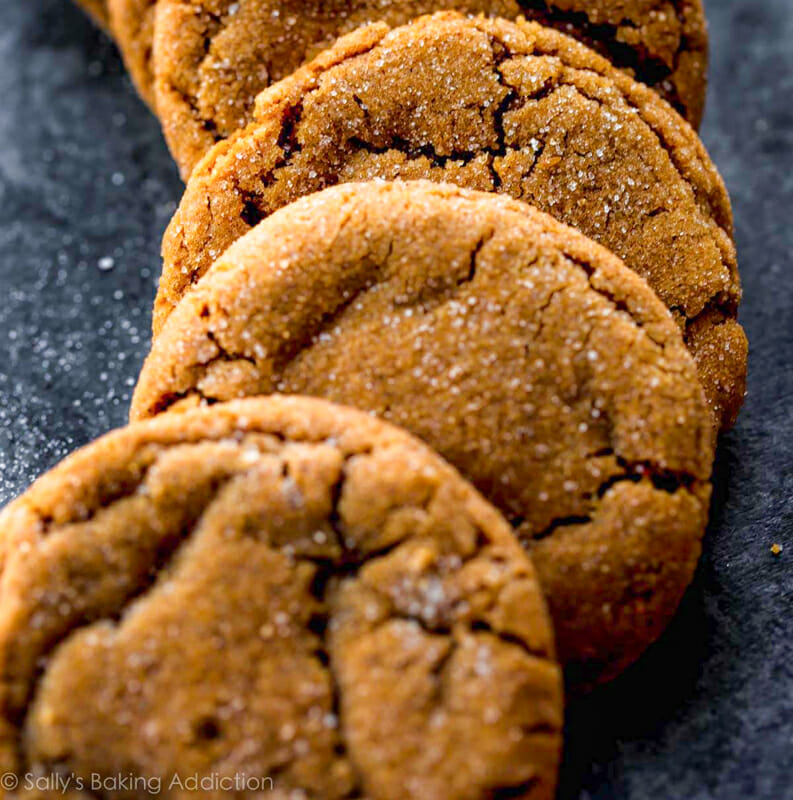 Shortbread Pinwheel Cookies
Pinwheels are buttery vanilla shortbread cookies presented in a fun pinwheel design by rolling two colors of dough together, with colorful sprinkles or edible glitter for an added touch of whimsy.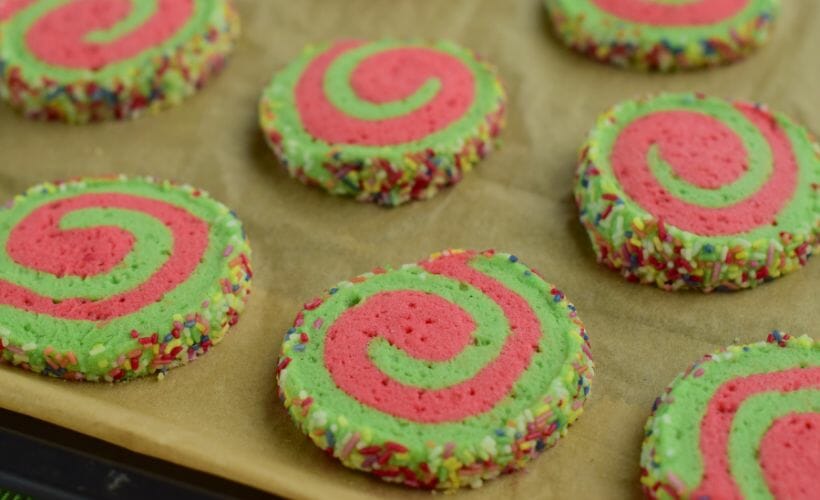 Simple Sugar Cookies with Rainbow Icing
You are going to love these sugar cookies for a variety of reasons. First, they are ridiculously easy to make and nearly impossible to mess up. Second, the dough can be made ahead of time and frozen in plastic wrap for up to six months. Third, these beautiful colors were made with all-natural food dyes.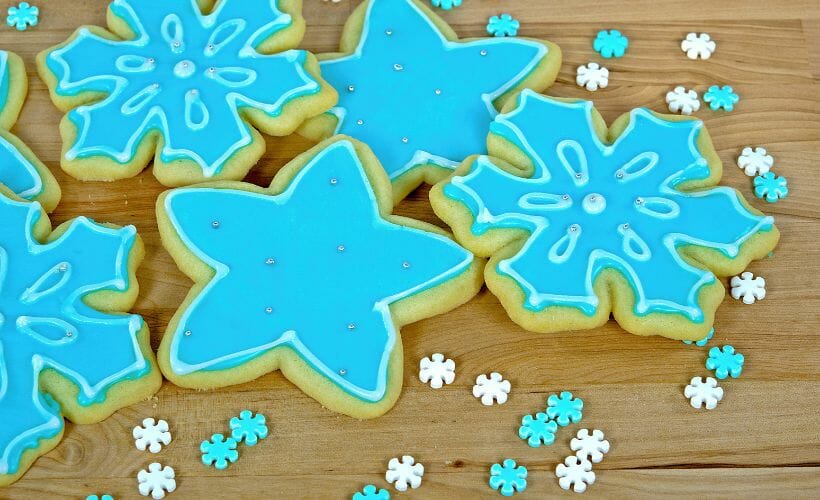 Sourdough Gingerbread Cookies
These sourdough gingerbread cookies are so fun! They're full of warming spices and molasses flavor and topped with royal icing. This recipe is a great way to use up sourdough discard starters.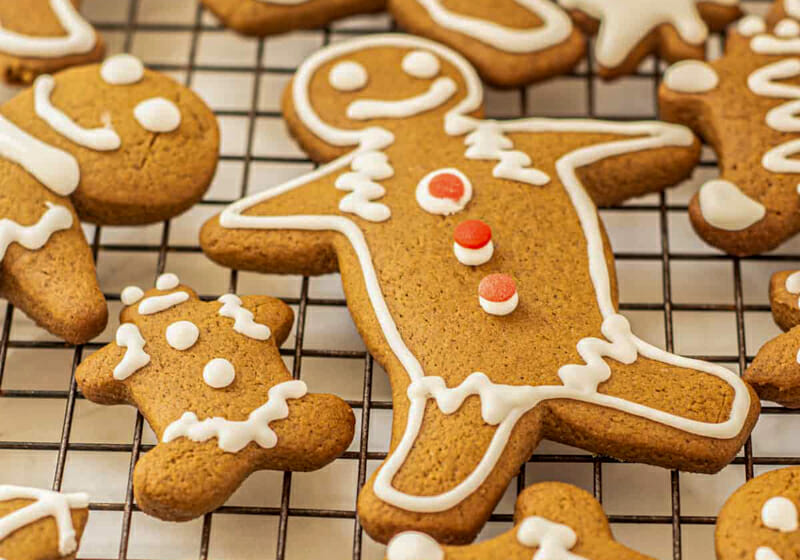 Speculaas Cookies
Ready to make irresistible Speculaas cookies (Speculoos) or the original Biscoff Cookies the easy way? You totally should put these buttery and spiced treats on your baking list this Holiday season or whenever you want to give the gift of unique homemade cookies.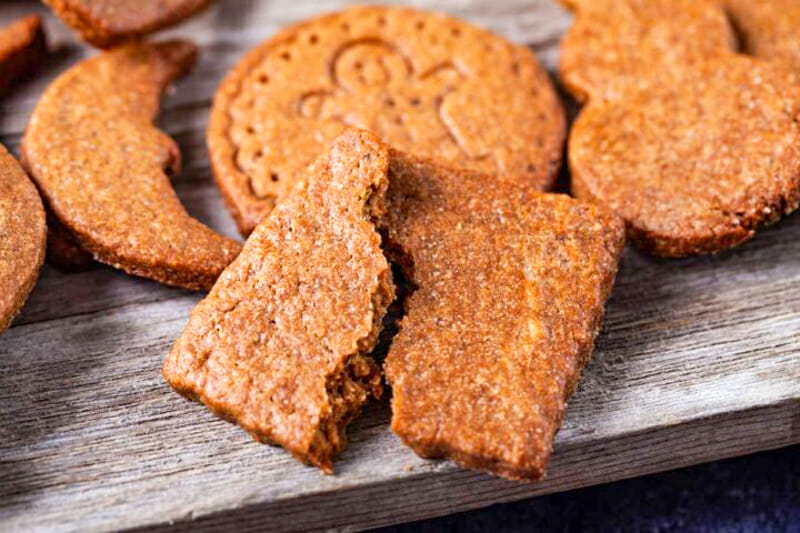 Swedish Almond Cookies (Gluten & Sugar-Free)
The instructions with this recipe advise forming a log of dough and placing the refrigerator then simply cutting coins of dough to place on the cookie sheet. This gives you a flat cookie. If you prefer a slightly domed shape then wrap the dough in parchment and place it in the refrigerator for 20 or so minutes then pinch off pieces of dough and roll them into balls with your hands, press one side gently in the almond pieces or slivered almonds, then place on the cookie sheet and brush with milk.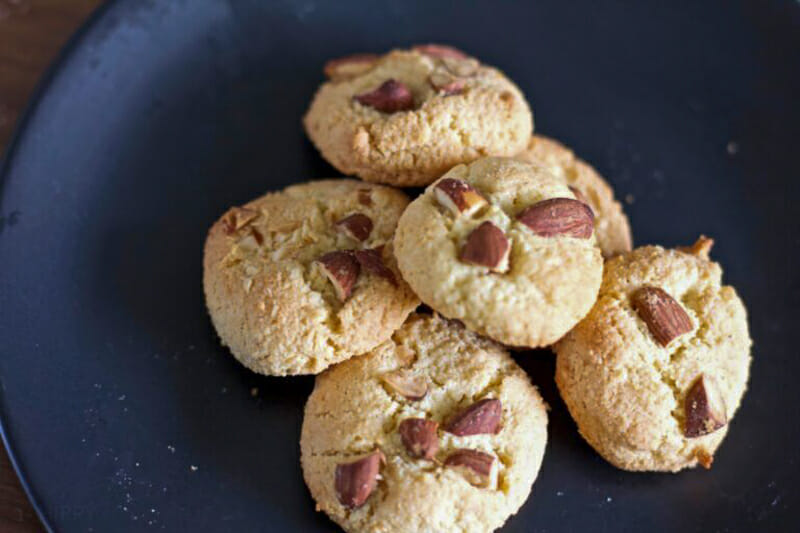 White Chocolate Candy Cane Cookies
Candy canes and peppermint aren't everyone's cup of tea. They're a staple during the holiday season, but not everyone likes the taste of mint, which is understandable. These White Chocolate Candy Cane Cookies are crispy, chewy, and delicious. The perfect sweet treat for the holidays.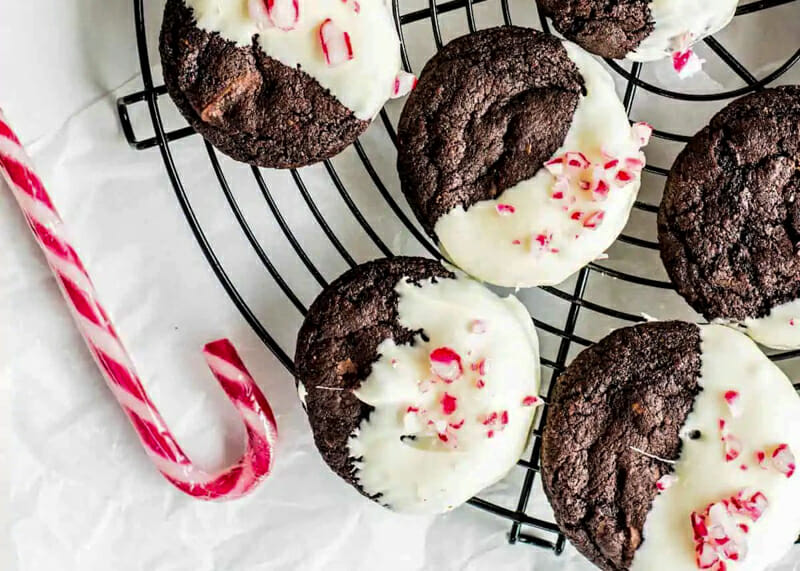 Whole Grain Cut Out Cookies
Add a healthy spin to your frosted Christmas cookies with this recipe for whole-grain cut-out cookies made with oats, whole wheat, and brown sugar. The delicious flavor that comes from whole grains and brown sugar perfectly compliments any frosting you use on them.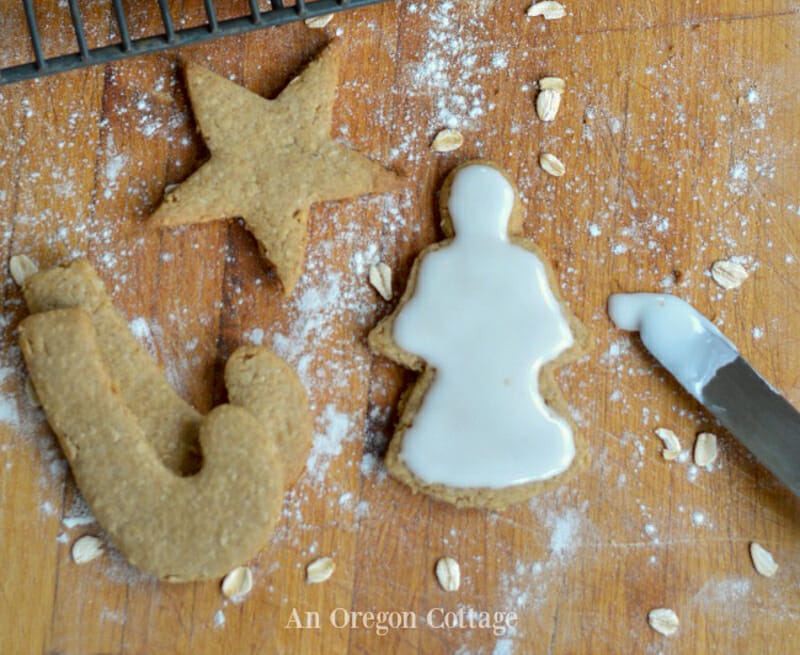 Fun Christmas Cookie Facts
What is the most popular Christmas cookie in America?
Based on this data from General Mills, Peanut Butter Blossoms are the most popular Christmas cookie in the country; it's the most-visited cookie recipe in seven states, which means it's the most common favorite cookie in the United States.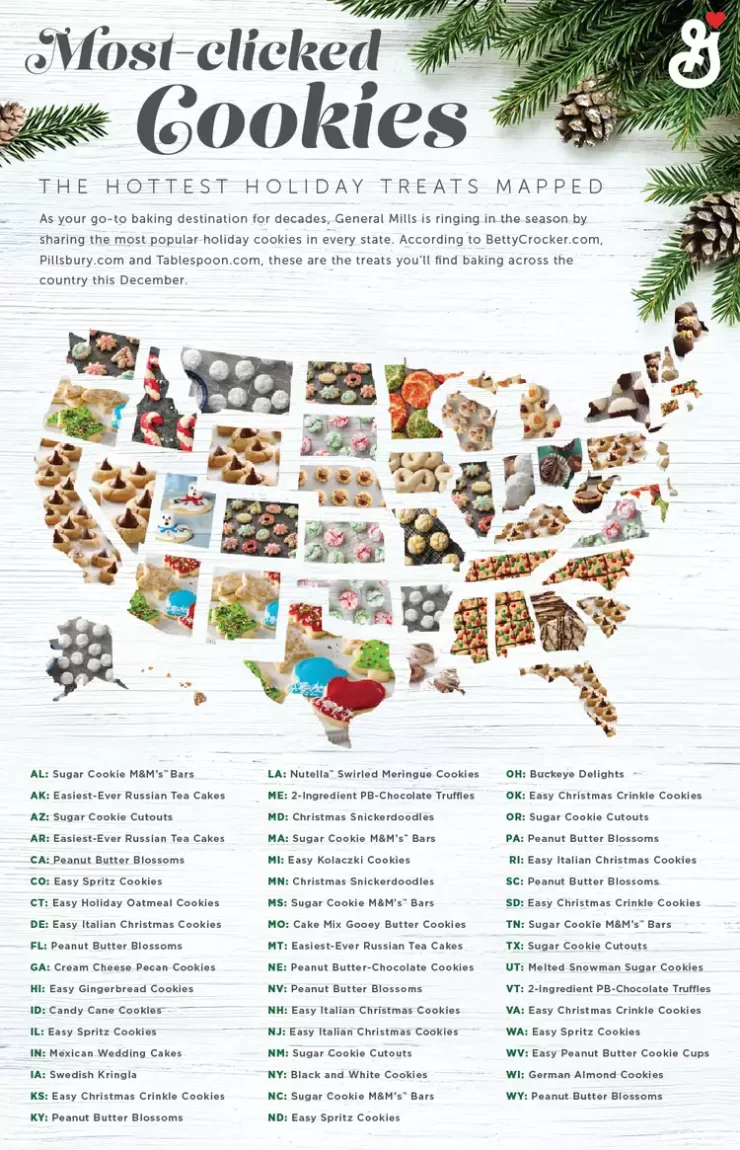 When did cookies become a Christmas tradition?
Modern Christmas cookies can trace their history to recipes from Medieval Europe biscuits when many modern ingredients such as cinnamon, ginger, black pepper, almonds, and dried fruit were introduced into the west. By the 16th century, Christmas biscuits had become popular across Europe.
The earliest examples of Christmas cookies in the United States were brought by the Dutch in the early 17th century.
Holiday Cookie Cutters
Cookie cutters were not invented by one person, but rather, they evolved over time. They became popular with the gingerbread man shape in the 16th century. By the 1800s, they were made of tin and came in many shapes and sizes. Today, cookie cutters are made of plastic, aluminum, and copper. Here are a few of my favorites!
Christmas Cookie Cutters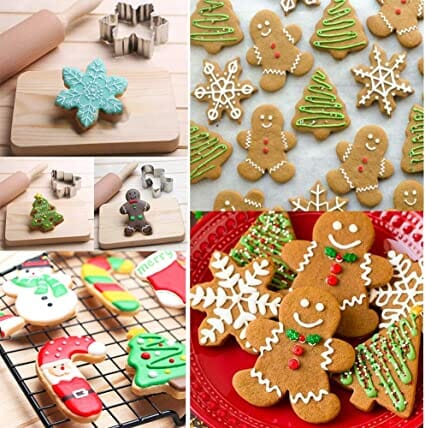 Farmy Cookie Cutters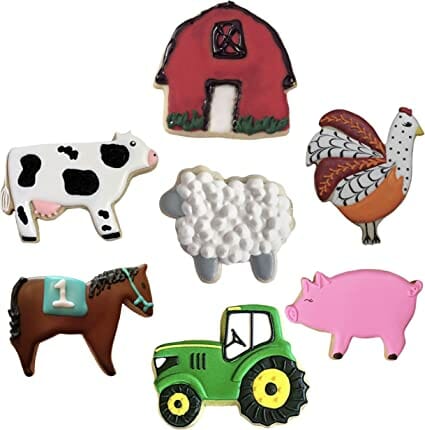 Classic Cookie Cutters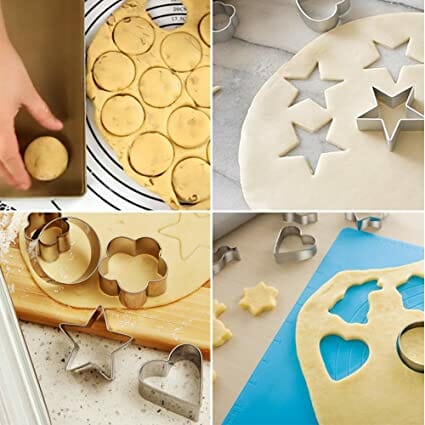 Storing Christmas Cookies
How long are Christmas cookies good for?
In general, baked cookies will be fine at room temperature for about five days. The following list shows approximately how long each cookie type should last at room temperature.
Cutout cookies last about a week
Delicate cookies (like pizzelles) last about three days
Drop cookies last about a week
Baked icebox/slice-and-bake cookies last about five days
Royal icing frosted cookies last about two or three days
Shortbread cookies last about two weeks
Twice-baked cookies (like biscotti) last about two weeks
How to store Christmas cookies?
Christmas tins are popular for cookie storage because they work! Once your cookies have cooled, store them in layers in airtight containers. Separate each layer with a sheet of wax paper to prevent the cookies from sticking together.
Can Christmas cookies be frozen?
If properly frozen, you can freeze unfrosted cookies for up to 1 year. If cookies are frosted, they can be stored frozen for up to three months. For details on how to properly freeze your homemade cookies, check out The Complete Holiday Guide to Freezing Cookies.