Planting Potatoes in a Back to Eden Garden
Planting potatoes in a Back to Eden garden increases your yield and produces a cleaner and less marred harvest.
I have heard marvelous things not only about the yield of potatoes that come from a Back to Eden Garden but the cleanliness of the potatoes as well. Being a Mainer, it is my duty to plant and harvest great potatoes (our state produces 1.5 billion pounds of the US's potatoes each year). Planting potatoes are one of the only times you break the "Back to Eden" rules. When planting in a Back to Eden Garden, it is crucial that you plant in the soil, not in the wood chips. Today, we're breaking that rule.
If you are just joining our Back to Eden adventures, be sure to check out The Theory Behind Back to Eden Gardening.
The Usual Potato Business
When you start planting potatoes, you follow the same steps you would in any other gardening style. You can plant a whole, intact potato or you can cut the potato into pieces, with each piece containing one or two eyes. We cut our potatoes this year, but from here on out, I'll be taking a page from Paul's book. Paul is the creator of the Back to Eden gardening style. He harvests and plants at the same time by picking out the largest potato from the harvest and placing it right back into the ground. Yup, no crop rotation required with Back to Eden potatoes.
If you plan to cut your potatoes, be sure that each piece is at least 1″ in diameter and that you allow the potato to scab over for a day or two before planting. It is important to only plant Certified Seed Potatoes. Grocery store potatoes often will grow (as you've probably noticed if you ever forgot a bag in the pantry), but they may contain diseases that you can't see until the plant begins to grow. Also, seed potatoes purchased at your local farm supply or garden center are often well-suited to your climate whereas your grocery store potatoes might not even be from this country.
Planting Potatoes
To plant your potatoes in your Back to Eden garden, start by pushing back your wood chips in the area you intend to plant. If you remember from our Theory Behind Back to Eden Gardening post, our first delivery of chips contained large amounts of juglone-producing walnut. Although Paul says that you can use any wood chips except eucalyptus, walnut came with many warnings regarding potatoes. I chose not to apply the Walnut chips in the area I intended to plant my potatoes. Instead, I waited for my fabulous tree guy, Eli of Hutch's Tree, to deliver a nice hardwood mix.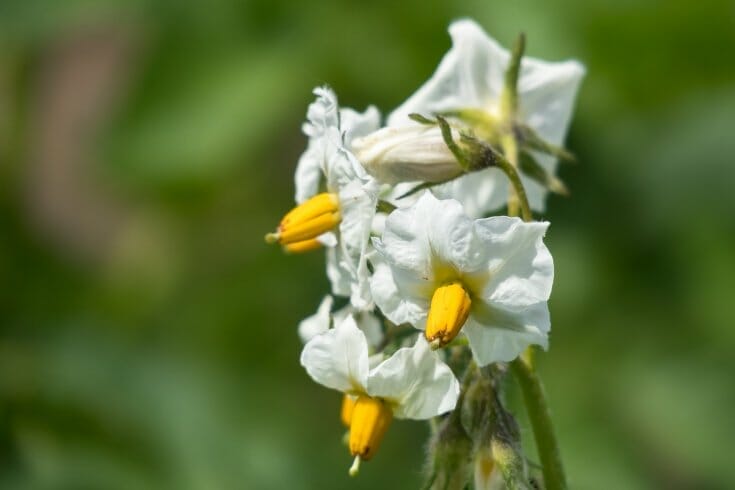 After you have cleared your area, place your potatoes on top of the soil. This is where we are breaking the rules. The potatoes will gain their nutrients from the soil (you may want to add a bit of completed compost while you've got the soil exposed), but the potatoes will grow in the wood chips. Cover your exposed potatoes in 6-8″ of wood chips and be sure to mark your bed. I went with canning lids to mark my garden plots. I got that idea from a fun post from Homespun Seasonal Living.
Harvesting Your Back to Eden Potatoes
Harvesting your potatoes from a Back to Eden garden couldn't be easier. The plant pulls right up and most of the potatoes will still be attached. No digging with a fork with these guys (which is great since I inevitably spear the prize-winning potato). To find any that came off the plant, just shuffle through the wood chips with your hands. As I said earlier, Paul plants at the same time he harvests. He chooses the best of the best potatoes from his harvest and places it back on the soil, covering it with wood chips for the next year. You can see more about that in this video.
Two quick things to add to the video: First, don't feed your chickens the potato plants. It's on the list of poisonous plants and even the smartest of chickens would probably peck at it enough for bad results. Even I (the chicken compost queen) wouldn't risk it. Second, the plants will remove easier if you wiggle them a bit versus just tugging. Otherwise, the video is a good one.
Happy gardening and as always, feel free to share what's happening in your garden on our Facebook page.