The Trick to Separating Eggs In Under 30 Seconds
If you've ever struggled to separate eggs cleanly, just try this new technique for separating eggs utilizing an empty plastic bottle!
Estimated reading time: 4 minutes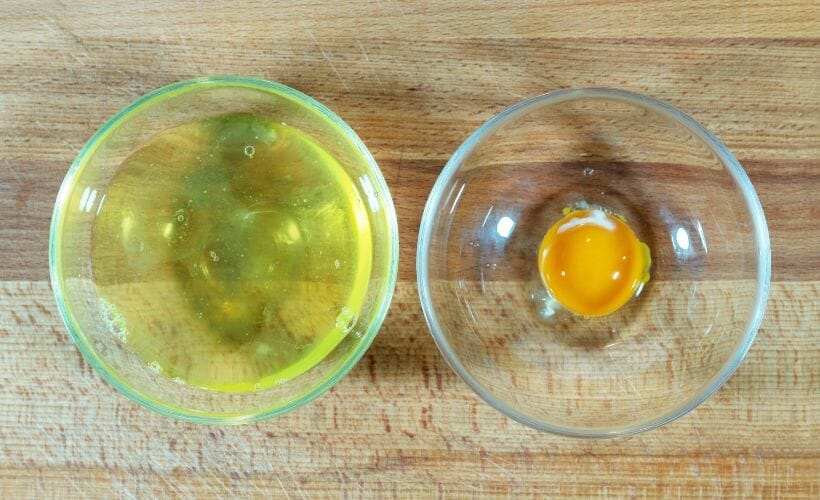 The other day I was making my homemade KFC (not-a-secret recipe) fried chicken. Mister Homestead peeked over my shoulder while separating the farm fresh yolks from the egg whites. That is so cool! Have you shared it with your readers? he said as he admired my technique. I figured it was common knowledge, so I never realized I should share it. His amazement convinced me that I should.
So how do I separate eggs quickly without worrying about eggshells getting into my recipe? I use a soda bottle. We don't drink soda at home, but I use Coke to clean my chalkboards. It works better than anything else, and one bottle lasts me about a year. If you're not a soda purchaser, use an empty water bottle instead.
Here's how I go about separating eggs…
Start by cracking your eggs in a bowl.
Grab an empty, clean plastic water bottle with the cap off.
Squeeze it slightly, place it over the yolk, and release the bottle.
Watch the egg yolk enter the plastic bottle.
The bottle creates a suction that pulls the egg yolk away from the white. From there, simply dump the egg yolk into a separate bowl and continue separating.
Recipes that use only egg whites…
Now that you have a bowl of egg whites, it's time to get baking (or drinking — yes, I have a boozy beverage for you).
Kale Frittatas
This kale frittata is a bit thinner than other frittatas (similar to tortillas in Spain). It is reminiscent of the French crespeù, a Provençal quick-cooked frittata thinner than its Northern French counterparts.
Raspberry-Coconut French Macaroons
These Raspberry-Coconut French Macarons are the perfect treat. Spend quality time on them and then share them with your loved ones.
Hugging Thyme Cocktail
Thyme is toasted in a pan to enhance flavor, then muddled with chamomile leaves and lemon juice. Add a bit of floral and sweet elderflower liqueur plus vodka, then shake with an egg white for a light and frothy drink.
Airy Angel Food Cupcakes with Naturally Pink Icing
If you have only had those styrofoam approximations of angel food cake from the grocery, dry and gritty in the mouth, try again with this homemade angel food cake recipe. You don't need a tube pan; these bake in cupcake form.
How to Make Meringue: The Ultimate Guide
Meringue intimidates many home cooks, but this guide unravels the mystery and gives you the confidence to grab your egg whites and start whipping the next time you see it in a recipe. You will be making it like a pro in no time!
Recipes that use only egg yolks…
The fat in egg yolks gives baked goods extra-rich flavor and a velvety texture. The yolk also can bind liquids and fats together, creating an emulsion that prevents them from separating.
Burnt-Caramel Custard
Peggy Loftus, a contributor to Food52, devised these stellar caramel custards.
Fettuccine Alfredo
This is not the healthiest dish in the world, but like I always say, everything is fine in moderation. Treating yourself to this classic pasta dish occasionally won't kill you.
Cheese Straws
Flaky, buttery cheese straws are a party hit with kids and grown-ups. Crank up the mustard and pepper if you want more zing.
Strawberry Paczki
Paczki is actually Polish donuts typically made on Fat Tuesday to get rid of all the goodies one would normally forego for Lent. If you're wondering whether paczki is healthy for you, that should give you an idea of the answer.
Egg Yolk Chocolate Chunk Cookies
Chocolate chip cookies got a makeover: all brown sugar, egg yolks, and European butter make these the most flavorful and chewy cookies yet. Dark chocolate spreads throughout the cookie, and it is flaked with sea salt for the perfect finishing touch.
Recipes that require egg separation…
Some recipes call for a whole egg, but not the whole thing at once. These recipes are delicious examples.
Homemade Mayonnaise
This easy, creamy Homemade Mayonnaise recipe is healthy and can be made in just 2 minutes with fresh ingredients.
Calumet Sugared Crullers
This old-fashioned cruller recipe is not to be confused with the common soft French cruller. These crullers are the real deal — cake-like, sweet, and wonderfully crisp on the outside.