Heads up! I link to products and services that I love from time to time. More often than not I have an affiliate relationship with these providers. What does that mean? I might make a small percentage from any purchases you make, but don't worry, you won't pay even a penny more. Thanks for supporting The 104 Homestead. You can see our full disclosure statement here.
Homemade Tortillas Recipe
Print this easy homemade tortilla recipe and add it to your binder of real food recipes. See the step-by-step instructions and other recipe "hacks" here.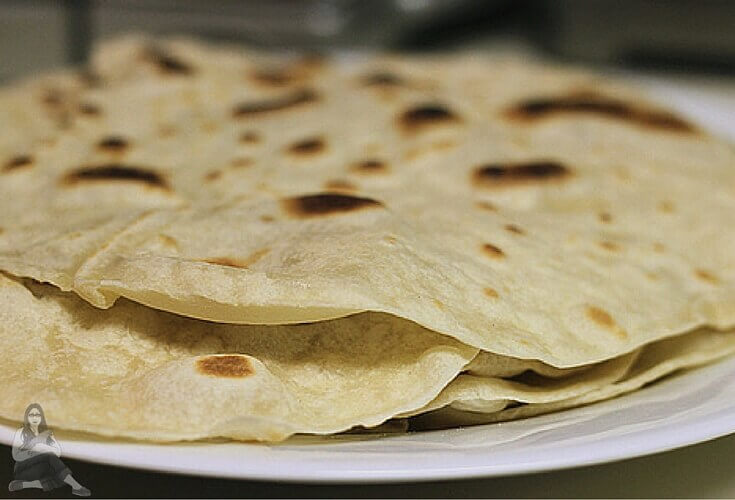 Homemade Tortillas
Ingredients
2

c.

All-Purpose Flour

3/4

c.

Water

3

tbsp.

Olive Oil

1/2

tsp.

Salt
Instructions
Combine flour and salt then mix in water and olive oil. Once it's combined, plop it on the counter and knead until it's smooth.

Let the ball of dough rest for about 10 minutes.

Divide dough into 8 equal parts and then roll into something resembling a circle.

Spray skillet or griddle with non-stick spray or this better alternative and cook tortilla for about 1 minute on each side until brown.
Recipe Notes
While the dough is resting is a good time to prep the rest of dinner.
Hang soft tortillas over the grate on the oven and cook at 375°F for 7-10 minutes to create hard taco shells.
Don't forget to yum this recipe! Yum

See all our yummy Yummly recipes here.
The following two tabs change content below.
I am a non-traditional homesteader. What is a non-traditional homesteader? I'd like to think we are the people who don't fit the mold. I am a busy mom on a small bit of property with not a lot of financial resources, but I am figuring out how to live the life I want. A homesteader's life.
Latest posts by Jessica Lane (see all)