Polenta: A Gluten-Free Alternative to Grains
You can make polenta from scratch, but a busy lady has to decide what is important in life. In my case, making polenta from scratch isn't important to me. I'm happy to purchase it premade from time to time. Premade polenta may appear a bit odd. Many people see it in the health food store and just keep on walking, but you don't want to miss out on this awesome side dish substitute.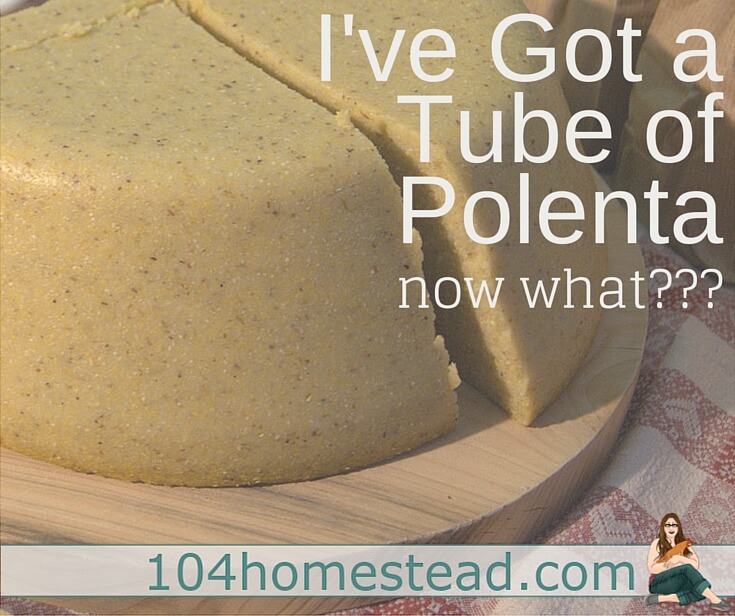 What is polenta?
Depending on how you buy it, polenta is an ingredient or a meal. Polenta is a coarsely ground cornmeal and can be prepared in a similar fashion as grits. Once cool, it forms a near-solid and can be used as a breakfast dish, side dish, or pasta substitute.
This is one of those foods that homestead-y people have known about for a while, but it's just now becoming a thing. Fancy-schmancy restaurants are adding it to their menus and hipsters are making it cool. I'm not one to follow trends, but it is pretty darn good.
Nutritional Values of Polenta
Polenta is an excellent source of natural carotenoids. If that's a word you haven't heard before, you're not alone. Carotenoids are food pigments found in orange, yellow, and red fruits and vegetables like pumpkins, carrots, and tomatoes. Why would pigments be good for your health, you ask? First, they support eye health. Did your mother ever tell you that carrots are good for your eyes? She was right! Second, they improve cardiovascular health. Third, they keep your skin healthy because they contain beta-carotene (that word you see on expensive skin care products).
According to Dr. Mario Ferruzzi of Perdue University…
"It is easier to digest the carotenoids from milled corn foods than those in carrots and spinach."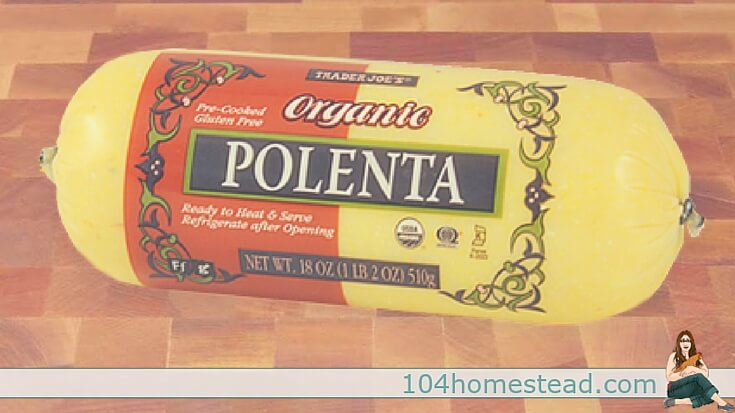 Because polenta is made from corn, it's important to buy organic if avoiding GMO intake is important to you. As of 2012, 88% of the US's corn crop is genetically modified.
Polenta Recipes
Here are just a few of great recipes for polenta in a tube…
Top it with braised chicken thighs and mushrooms. The best part of this meal is how cheap and easy it is to throw together in under an hour.
The combination of creamy polenta made with home ground cornmeal and delicious tomatoes in this oven baked recipe is tough to beat!
Goat cheese will be something I use a lot when we get our goats in the spring. This vegetarian meal-in-a-bowl using goat cheese, pesto, and chickpeas might be a frequent dinner on our menu.
Switch out your traditional pizza crust with polenta. This recipe tops it with tomatoes and fresh herbs, but you can make your pizza any way your heart desires.
Saute it with marinara sauce for a fun, family-friendly pasta alternative.
Do you like roasted vegetables? Do you like cheese? This side dish brings all those good things together.
Polenta cakes with a chili-garlic sauce are a delicious appetizer or snack to serve on date night.
Did you know you can use polenta as a pancake substitute? Try it with fresh summer berries and a healthy (okay, maybe not so much) dose of butter.
For another breakfast option, try topping it with poached eggs in tomato sauce. It uses simple ingredients, it's inexpensive, fairly easy to make, and very filling.
When prepared french-fry-style, it's referred to as scagnuozzi (a popular pizzeria side dish in Italy). Make your own at home with parmesan cheese.
If you have the time and ambition, it's really not that hard to make it from scratch. See a tutorial and more recipe ideas at Oh My Veggies. Are you ready to add polenta to your diet? Here's a final hint: Don't inform your family that it's something different. My husband hated it the first time I made a recipe with it. The second time I kept my mouth shut and he loved it. A little sneakiness goes a long way.