Over the years ducks have been bred for different purposes, primarily meat production and egg production. If you plan to raise ducks on your homestead, it is important to choose a duck breed that best suits your particular needs. All domesticated duck breeds originated from the mallard. The male mallard has a couple of curled tail feathers, called sex feathers. No other non-domesticated ducks have these sex feathers.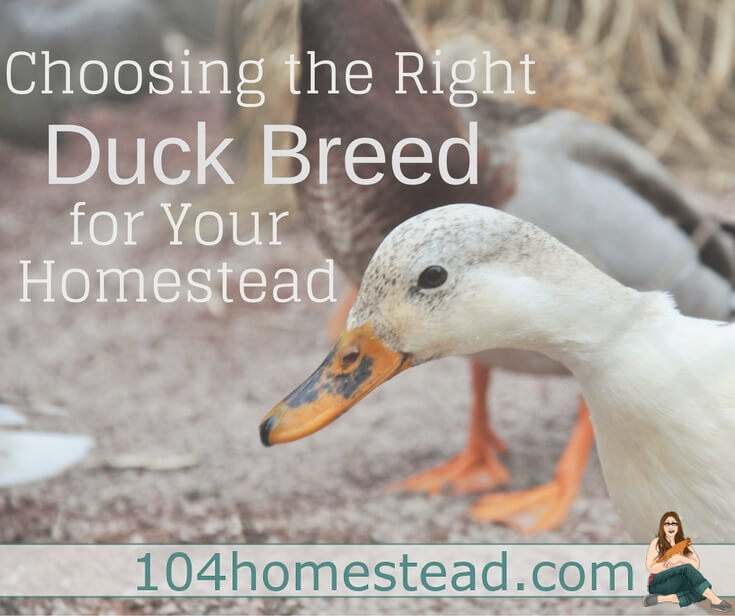 Duck Breeds for Meat Production
Heavy and medium weight ducks typically are raised for meat production. The main breeds are the Pekin and the Muscovy.
Pekins
Most of duck meat produced in the United States is from the Pekin. A Pekin usually reaches six to seven pounds in around two month's time. They are popular because of their fast growth rate and yellow skin. They are considered a general purpose breed because the hens lay fairly large numbers of white-shelled eggs.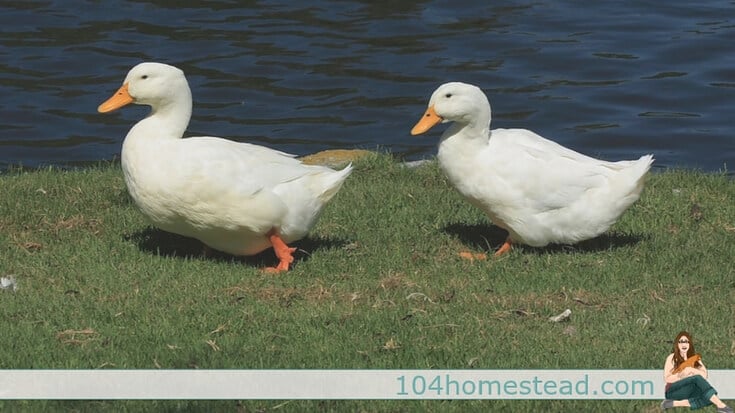 Muscovies
Muscovies are a wonderful choice because they free-range well. Their meat is leaner than meat from ducks, which tends to be fatty. Wait, Muscovies aren't ducks? Well, maybe not. Skip to the end for more details. Male Muscovy can become very large at ten to twelve pounds. Females tend to be much smaller at five to six pounds.
Duck Breeds for Egg Production
Runner and Campbells are excellent egg laying duck breeds, often laying more eggs than most chickens over the course of the year. Both tend to be nervous and flighty and they will stampede when startled. Both duck breeds are good foragers, but also do well in confinement if they are provided with a good layer feed.
Runners
Runner ducks cannot fly, are lightweight, and stand upright like skinny little penguins. They run rather than waddle, which is how they get their name. Typically, a runner duck lays four eggs per week for about eight months, but specialty bred ones can produce more than 300 eggs in a year. Darker varieties of runner ducks lay a blue-tinted egg. Runner ducks don't make nests and often drop their eggs wherever they happen to be. Because of their small size, runners eat less feed than meat ducks.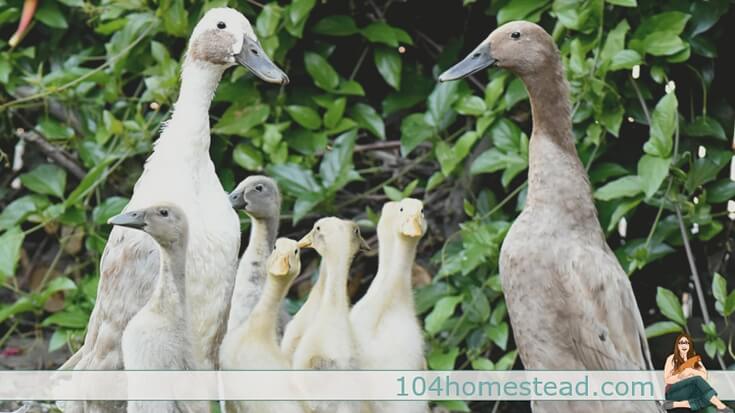 Campbells
Campbells were developed by Adele Campbell in the late 1800's. They are a cross of a runner and a rouen in an attempt to create a breed of ducks that would lay well but have bigger bodies. The offspring were crossed with mallards to increase their hardiness. There is only one variety of Campbell ducks—khaki. We have khakis and have been very happy with them. They seldom become broody, but we have a couple that have brooded in the past. They lay an off-white egg. As long as you provide supplemental lighting, Campbells will continue to lay through the winter months.
Dual Purpose Duck Breeds
If you have a small homestead and you want to raise a bird that can be used for meat and eggs, you'll want a dual purpose duck breed. These birds are heavy enough to make processing worthwhile, but also have high productivity.
Welsh Harlequins
Another stellar layer is the Welsh Harlequin duck. This colorful breed can serve as a meat duck and as a prolific producer of white or tinted eggs, producing 240-330 white shelled eggs yearly. They are highly adaptable, active foragers, excellent producers of lean meat, and beautifully colored.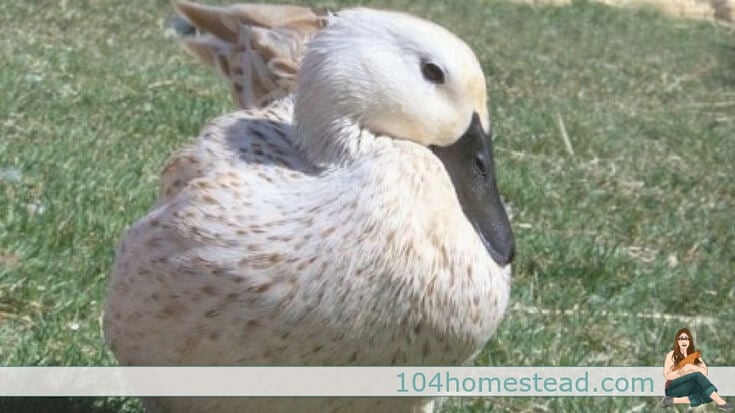 Swedish
Swedish ducks come in two colors which are actually considered different breeds. Blue and black. Swedish are similar in size to the Rouen and are very hardy ducks. They are heavy enough to be used for meat, weighing in at 5-6 1/2 pounds, and they lay approximately 180 eggs per year. We have Blue Swedish and have fallen in love with this flightless duck.
A Note on Muscovies
Another bird widely kept in domestication is the Muscovy. Unlike all other domesticated ducks, the Muscovy isn't derived from mallards. In fact, it's been called into question whether Muscovies are actually ducks or a separate perching waterfowl classification of it's own. Only in body shape are they like ducks. They nest, attack predators, and hiss like a goose and they roost like a chicken. Their plump breast is similar to the breast of a turkey. Muscovies are still found in the wild in the warm regions of South America and are raised domestically throughout the world.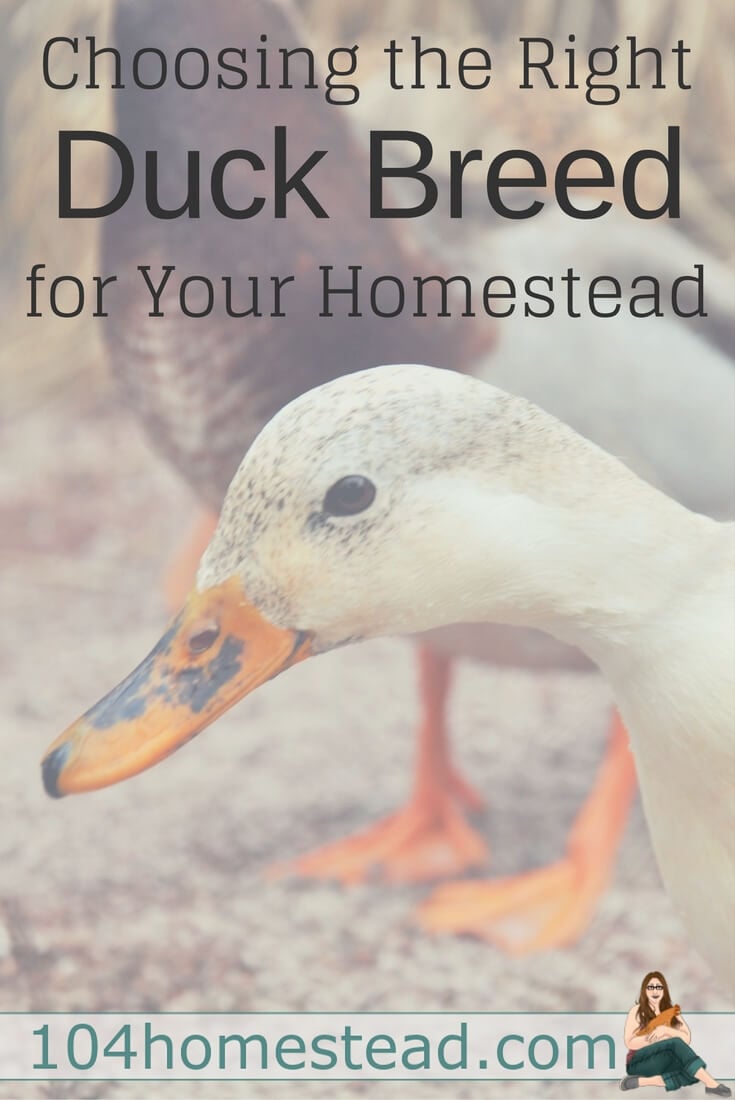 The following two tabs change content below.
I am a non-traditional homesteader. What is a non-traditional homesteader? I'd like to think we are the people who don't fit the mold. I am a busy mom on a small bit of property with not a lot of financial resources, but I am figuring out how to live the life I want. A homesteader's life.
Latest posts by Jessica Lane (see all)