Grocery Gardening for Healthier Plants
I am constantly looking for new ways to improve my soil and enhance my gardening experience. I also prefer to use all natural elements. And cheap frugal. Don't forget about frugal. That is where Grocery Store Gardening comes into play.
With Grocery Gardening, you often don't need to look any further than the pantry or fridge. Its great finding uses for things that you already have on hard or better yet, things you would have otherwise disposed of.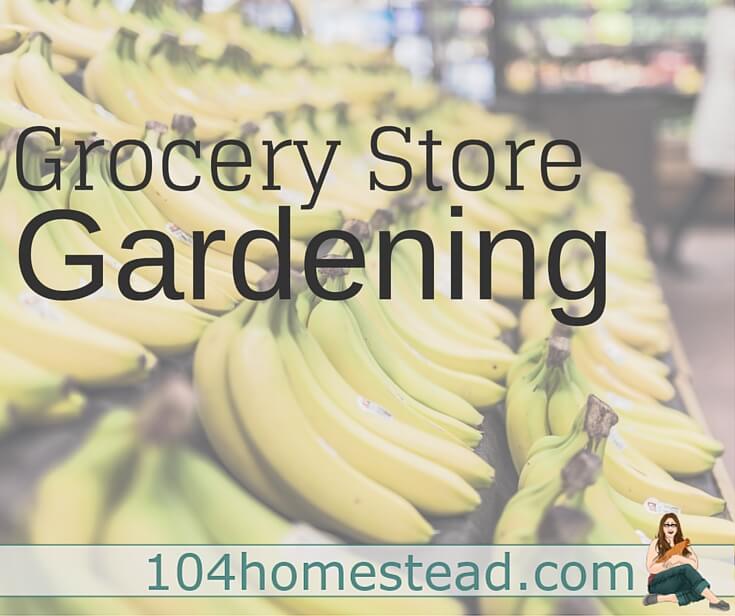 What is grocery gardening?
Grocery gardening uses things you can find in any grocery store in new ways to transform your garden. Here are a few of my favorites:
Eggs
Rotten eggs will repel deer better than anything you find on the market. Mix five whole eggs in five quarts of water and drench plants with the solution plus you can bury a hard-boiled egg 6-8″ deep in the center of your cucumber hill and it will feed your plant all season long.
Bananas
Banana peels are an amazing amendment for roses. They contain the potassium, sulfur, calcium, and magnesium that roses love.
Powdered Milk
1/2 cup of powdered non-fat milk mixed with 1/2 cup of Epsom salts, 1 tbsp. of baking soda, and 3 cups of compost will ward off tomato blight.
Milk
1 cup of sour milk, 2 tbsp. of flour, and 1 quart of warm water misted on your plant will deter whiteflies.
Liquor
1 shot of bourbon, scotch, vodka or gin mixed in a gallon of water can revive the soil of your potted plants. Water in the usual quantity with the liquor-laced solution.
Beer
Speeds up composting, so dump the partial empties left around into your compost pile.
Cayenne Pepper
Protect spring bulbs from rodents like squirrels and chipmunks digging them up and eating them. Mix cayenne pepper into the soil you cover the bulbs with.
Sugar
Mix 1/8 cup sugar with your tiny seeds before sowing. It will help even the amount of seeds that drop and the sugar will help amend the soil.
Tea
Get more seed germination than every before. Steep 1 tea bag in a gallon of water. Place seeds between two paper towels and moisten towels with the highly diluted tea. Place in fridge overnight.
Oatmeal
To reduce stress on transplants place a handful of dry oatmeal into the hole before adding the plant.
Vinegar & Corncobs
Do you have a problem with rabbits, squirrels or chipmunks chewing on your veggies? Soak corn cobs in white vinegar for a couple of hours or even overnight. Place the corn cobs strategically around your garden. Re-soak them every couple of weeks and the critters will stay away.
Epsom Salt
Tomatoes and peppers are prone to magnesium deficiency towards the end of growing season and just before harvest. This deficiency displays as yellow and brittle leaves and stems. Water them with 1-2 tbsp. of Epsom salt in 1 gallon of water every two weeks.
Black Pepper Corns
Want an insecticide that is safer and works faster than almost anything on the market? Black peppercorns kill and repel a large variety of pests. Most notably pine sawflies and the eastern tent caterpillar.
Coffee Grounds & Citrus Peels
Is your cat (or maybe your neighbor's cat) attempting to use your garden as one big litter box? Coffee grounds and citrus peels sprinkled on the soil will repel cats. As an added bonus, the citrus peel will burn the legs of ants and both "groceries" do wonders at enriching your soil as they break down.
Books on Grocery Gardening
These are a few of my favorite grocery gardening books. Make sure you check out the comments for even more suggestions from our readers. Do you have a grocery gardening book you enjoy? Comment below.
50 Homemade Fertilizers & Soil Amendments by Cindy Rajhel
The Vegetable Gardener's Bible by Edward C. Smith
Backyard Problem Solver by Jerry Baker (reader recommended)
Carrots Love Tomatoes & Roses Love Garlic by Louise Riotte (reader recommended)
Do you have any grocery tips that work well in your gardens? Be sure to share your secrets in the comments below.