DIY Men's Products: Prepping & Homesteading for the Modern Man
Men, don't let stigma prevent you from taking control of what you use on your body. Learn how to make DIY men's personal care products.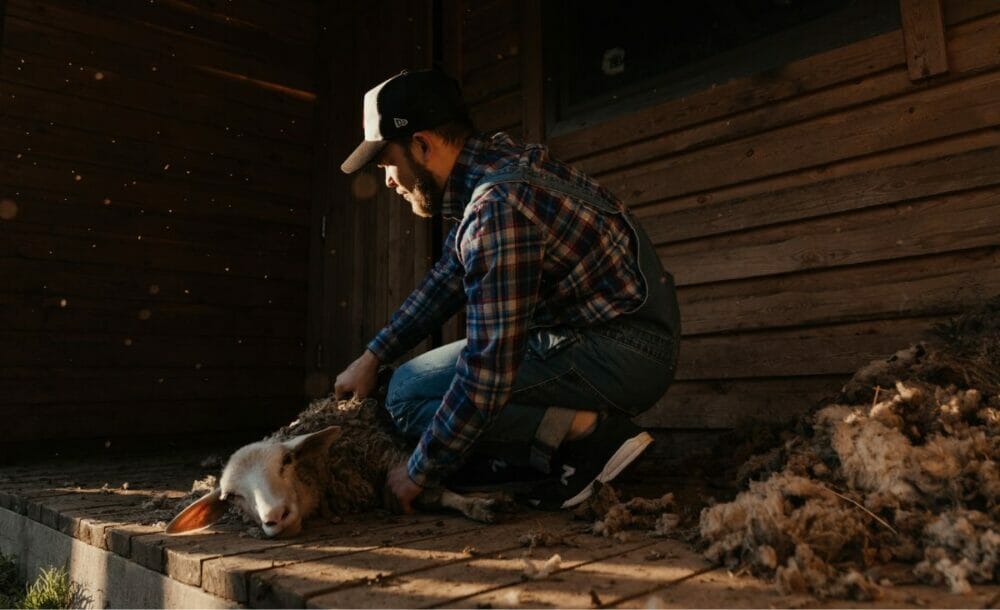 A friend of mine mentioned that most homesteading blogs are geared toward women. He's not wrong. Most homestead bloggers are female, with male writers tending to lean a bit more towards prepping than day-to-day living. I have some inside info, though…
Prepping is self-sufficiency (if all hell breaks loose tomorrow, I'll be ready). Homesteading is self-sufficiency (I would rather control what I eat and use in my home than the government or other parties). I think prepper just has a more manly vibe to it.
In my head, I am picturing these two tough-looking guys saying "Dude, I just canned some asparagus, and I am stoked to eat it this winter." "Really, dude? I just pickled some rock star beets." I digress…
Today's post is on homemade men's products. Men have to stay clean and well-groomed. They are often just as opposed to harmful ingredients as women (plus, who doesn't love to save a buck). So here we go…
Making Your Own Men's Products
Essential Oils
Wow, I probably just lost half the crowd starting with that.
Many standard recipes go from being "girl-friendly" to "guy-friendly" just by the essential oils you add. While some essential oils serve purposes, such as tea tree for antimicrobial properties, many just smell nice. Here is a list of oils I would deem perfect for men's products:
Bay Laurel
Cedar
Cypress
Fir
Juniper Berry
Lime
Myrrh
Oakmoss
Orange
Sage
Sandalwood
Spruce
Thyme
Tobacco
Keep these in mind when checking out the following recipes. I like to get my oils from Plant Therapy because of their great prices, high-quality products, and availability through Amazon, but if you've got a favorite distributor, go through them.
How to Make After-Shave Spray
Mix all of the ingredients and pour them into a small spray bottle. To use, spray into your hand, rub hands together, and smooth on your face post-shave.
How to Make Soothing After Shave Cream
Soften the shea butter and coconut oil, mix by hand or using a blender. Store in the fridge. I discovered that those travel soap containers that they sell at most box stores are perfect for storing this cream.
How to Make Old-School Shaving Cream
This one is perfect if you've got a straight razor, but it also works with standard razors.
Soften the shea butter and coconut oil. Add in the almond oil and essential oils. You can mix by hand, but I've found an electric mixer does a much better job. Let it chill in the refrigerator until it's solid. Put it in a blender (or use an electric mixer) and whip until it's a light and fluffy cream consistency. Spoon it into a jar, and you are good to go. This is a rinse-optional cream. Rubbing dry is sufficient, but you certainly can rinse it off if you prefer.
Caution: If stored at a high temperature, coconut oil may cause separation. It's wise to keep this in a cool, dark closet or somewhere not exposed to bright sunlight or heat.
Making Your Own Dry Shampoo
Dry shampoo is great for everyone's hair. You can use this recipe for DIY dry shampoo and use your man-friendly essential oils.
Men's Deodorant from Scratch
You can use this recipe for homemade deodorant, again using essential oils more appropriate for men. I have noticed that switching out the corn starch for arrowroot has had better results for men.
I hope you all enjoyed these recipes for homemade men's products.
If you've found value in this blog post and enjoyed reading it, why not share it with your Pinterest community? Pin the image below and spread the love!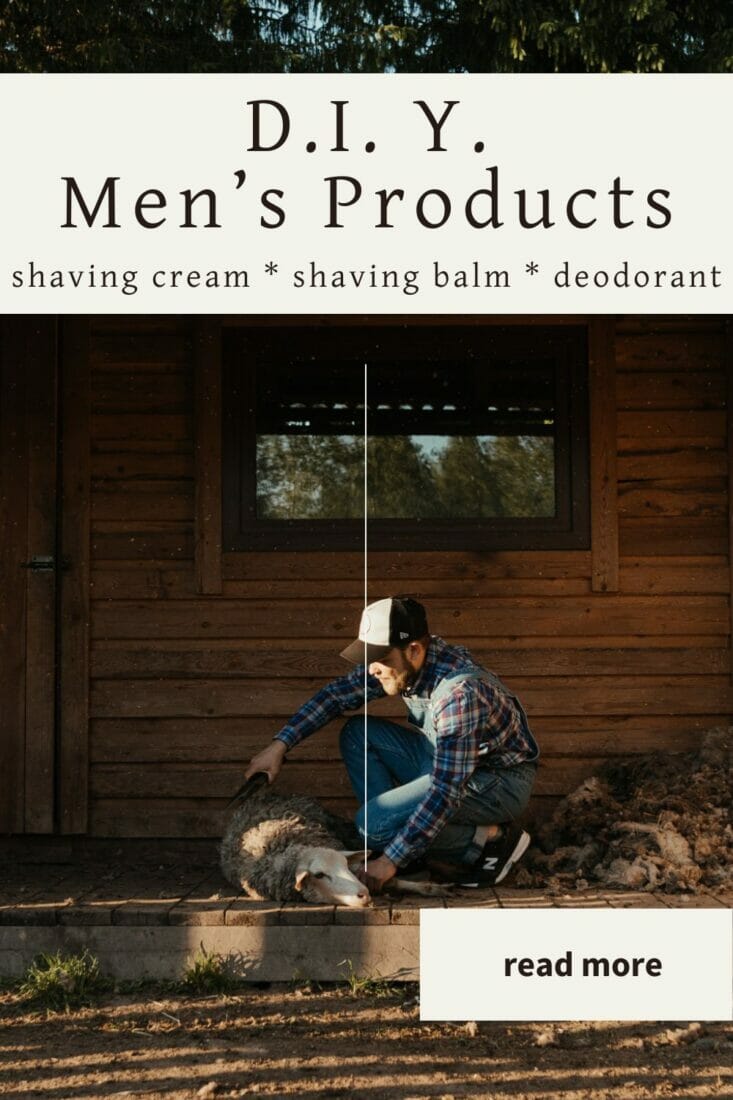 Manly Homesteaders to Follow Online
Before I go, I want to give a shout out to my favorite male homestead bloggers. These are guys you'll want to follow.
Patrick at Survival at Home is also a rock star in my book. He balances survivalist/prepper content well as the day-to-day do-it-simple content. I'm always getting great ideas from his site; if I ever have questions, he's right there with the answer.
Brandon of Lonestar Farmstead is also a great guy to keep tabs on. He covers a wide variety of homesteading topics, and the recipes he shares are ah-may-zing. My kids absolutely loved his Boy Scout Meals. Of course, they love any opportunity to play with fire. Boys…
Blake of Daddy Kirbs Farm brightens up my day. Not only are his posts incredibly helpful, but I also love his YouTube videos. With his son, Luke, by his side, Blake shows you how he homesteads where he lives, and you can tell he has a lot of fun doing it.
Gregg of The Rural Economist dabbles in all aspects of homesteading, from how-to's to food production and, yes, even hunting. Gregg is a down-to-earth guy, and he's wonderful about answering any of the questions I pepper him with.
Jared of J&J Acres is my YouTube guy, and not even always on purpose. I'm a visual learner, and when I google a how-to video, Jared often shows up first on the list. I'm pretty sure I've seen every one of his videos at least once. I absolutely love his transparency about what works and what doesn't.
Do you have a male homesteader's blog you enjoy reading? Comment below.